The watches Rolex are synonymous with luxury and elegance. They are often considered an investment, as their value can increase over time. Nevertheless, it is legitimate to wonder what is the cheapest Rolex watch available on the market. In this article, we'll explore the different models and show you the most affordable option.
The Oyster Perpetual range: The entry level Rolex
The collection Oyster Perpetual is an excellent gateway to the world of Rolex. It brings together classic, timeless and refined watches. Their sober and elegant design makes them suitable pieces for any occasion, whether it's a formal event or a casual outing. This range includes the following models:
Oyster Perpetual 39
Oyster Perpetual 36
Oyster Perpetual 34
Oyster Perpetual 31
Oyster Perpetual 26
These watches all have a stainless steel case, a simple dial with no special complications and a matching bracelet. The difference between the models is mainly in the size of the case, expressed in millimeters.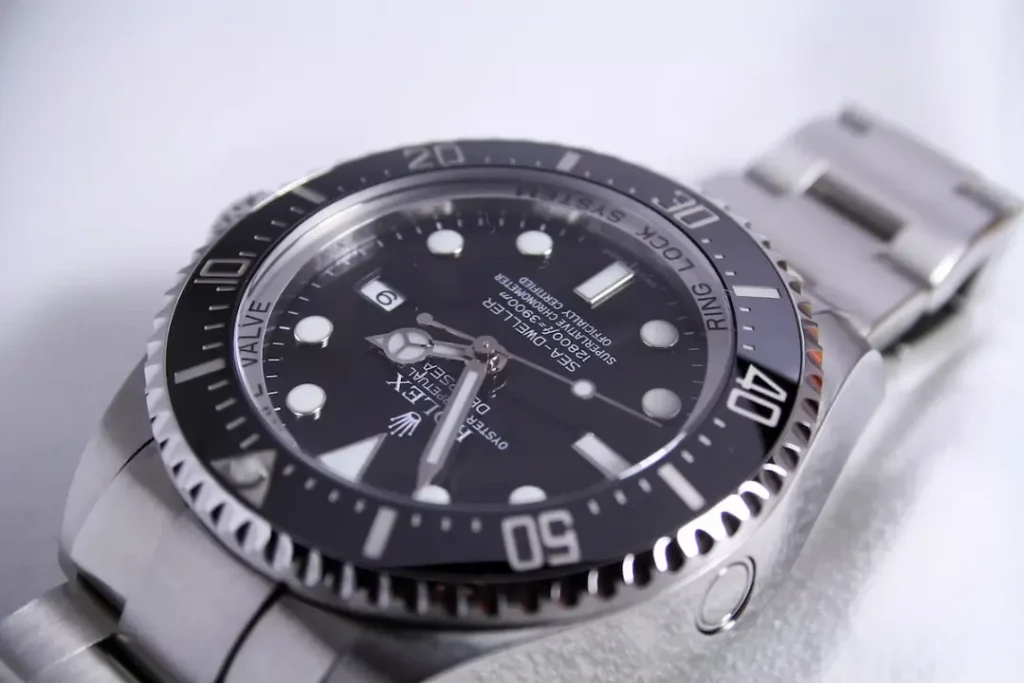 The choice of dials
Another aspect that varies from model to model is the choice of dial colors. Depending on individual preferences, it is possible to choose from a varied color palette, ranging from pure white to intense black, passing through more daring shades such as green or deep blue.
What is the cheapest Rolex watch?
Of all these options, the most affordable model is hands down the Oyster Perpetual 36. This watch has a medium sized case (36mm) and stainless steel bracelet, making it a versatile piece suitable for both men and women. Its price is usually around 5000 euro depending on exchange rate variations and availability at retailers.
The Oyster Perpetual 36: Technical characteristics
Although priced lower than other Rolex models, the Oyster Perpetual 36 does not compromise on quality and performance. Here are some of its technical characteristics:
Caliber 3230 self-winding mechanical movement
Power reserve of approximately 70 hours
Screw-down crown guaranteeing water resistance up to 100 meters
Scratch resistant sapphire crystal
Smooth stainless steel bezel
Thus, although the Oyster Perpetual 36 is the least expensive Rolex watch, it nevertheless benefits from all the technologies and watchmaking know-how for which the brand is renowned.
Other low-cost alternatives
If your budget is less than 5000 euros, there are still alternatives to acquire a quality watch at a lower cost. Here are some options to consider:
Buy a vintage or used watch
The second-hand market is full of Rolex watches that have been used before but are still in good condition. It is possible to find older models, such as Datejust or Air-King, at lower prices than new Oyster Perpetuals.
Opt for another luxury brand
Rolex is not the only brand offering quality watches. Other brands such as Omega, TAG Heuer or Breitling also offer high-end models at sometimes more affordable prices.
Should you turn to the counterfeit market? A very bad idea.
Although this option is not recommended for legal and ethical reasons, it is undeniable that some counterfeits are of very good quality and can fool even the most seasoned connoisseurs.
However, it is important to keep in mind that the purchase of a counterfeit contributes to the financing of illegal networks and can lead to criminal penalties. We therefore strongly recommend that you do not opt ​​for this illegal, dangerous and unfair option. A true connoisseur of luxury watchmaking would never turn to such a choice.
Better to opt for a quality model from a more accessible brand like Seiko or a more affordable Swiss watchmaker than Rolex.
All in all, if you are looking for the cheapest Rolex watch, the Oyster Perpetual 36 is an excellent option, combining quality, elegance and versatility. However, do not hesitate to explore the other possibilities mentioned above (except counterfeiting of course) in order to find the watch that will best meet your expectations and your budget.