Mobvoi , this company name may not mean anything to you. It must be said that in the field of consumer electronics, competition is fierce. However, smartwatch enthusiasts may have already heard of the Mobvoi TicWatch. Especially since the release of the TicWatch Pro 5 , the first to integrate the new Snapdragon W5+ Gen 1 chip for more endurance and precision. Running on Wear OS 3 – an efficient, but very energy-intensive operating system made by Google – the addition of the Snapdragon W5+ Gen 1 suggests very interesting performance. Does the TicWatch 5 Pro keep its promises? We'll let you decide!
Presentation of the connected watch TicWatch Pro 5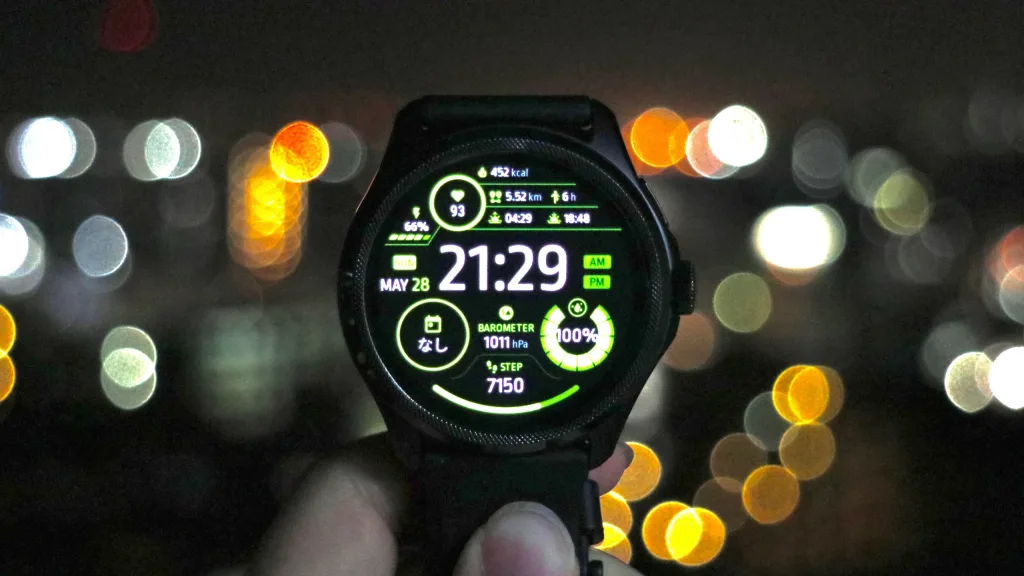 Produced by the Chinese brand Mobvoi, the TicWatch Pro 5 is, as its name suggests, the 5th generation of the TicWatch Pro connected watch . It has a modern, almost high-end appearance. Primarily intended for athletes, its quality of manufacture, its waterproofness and its various sensors (compass, GPS, barometer, etc.) make it possible to precisely monitor many health markers: heart and respiratory rates, number of steps, oxygen saturation , caloric expenditure… And this, in all situations!
The qualities of the TicWatch Pro 5 do not stop there. In addition to being the first smartwatch running Wear OS 3 and equipped with a Snapdragon W5+ Gen 1 chip, it also has an adaptive dual screen. Its primary role is to limit energy consumption. On the TicWatch Pro 5, everything seems to be in place to extend the autonomy of the device; good news when you know the battery life under Wear OS.
In view of such a presentation, the TicWatch Pro 5 has something to seduce. It remains to be seen whether it will live up to our expectations during the test…
Video Review of the Mobvoi TicWatch Pro 5
About the Mobvoi brand
Behind TicWatch smartwatches, such as the newest Pro 5, is tech company Mobvoi. Founded in 2012, it quickly established itself in the field of technological innovation in China. His specialty is the development of solutions based on artificial intelligence and voice recognition. The company is also renowned for its range of wearable products, including its smart watches and wireless headphones . Mobvoi's mission is to enable people to interact more naturally with the technology that surrounds them, making it more intuitive and efficient to use. Its AI-powered virtual assistant, TicPods Control, allows users to control their smart devices by simply speaking to them. The company's expertise in voice recognition technology has also been leveraged to develop solutions for smart home automation.
In addition to wearable technology and AI, Mobvoi also offers a range of translation products, such as the TicWatch Translator and the TicTalk, which enables real-time communication between people who speak different languages. These solutions are designed to make communication easier and more efficient, particularly for travelers and businesses.
Mobvoi has established partnerships with major tech companies, such as Google, and has received recognition for its innovative products and technologies. The company's commitment to artificial intelligence and wearable technology has positioned it as a leading player in the rapidly growing field of smart devices.
TicWatch Pro 5: Data sheet
| | |
| --- | --- |
| Dimensions | 50.1×48×12.2mm |
| Weight | 44.3g |
| Materials | Stainless steel, 7000 series aluminum and high strength nylon with fiberglass |
| Screen | AMOLED with Corning Gorilla anti-fingerprint protection glass |
| Display | 1.43 inch, 466 x 466 px |
| Memory | RAM: 2 GB / ROM: 32 GB |
| System of use | Wear OS 3 by Google |
| Chip | Snapdragon W5+ Gen1 |
| Connectivity | Bluetooth 5.2, 2.4GHz Wi-Fi |
| Sensors | Accelerometer, gyro sensor, PPG HD heart rate sensor, SpO2 sensor, skin temperature sensor, low latency body stop sensor, barometer and compass |
| NFC payments | Yes (Google Wallet) |
| Loud speaker | Yes |
| Microphone | Yes |
| Battery capacity | 628mAh |
| Compatibility | Android 8.0 and above |
| Price | €359.99 |
Features of the TicWatch Pro 5 smartwatch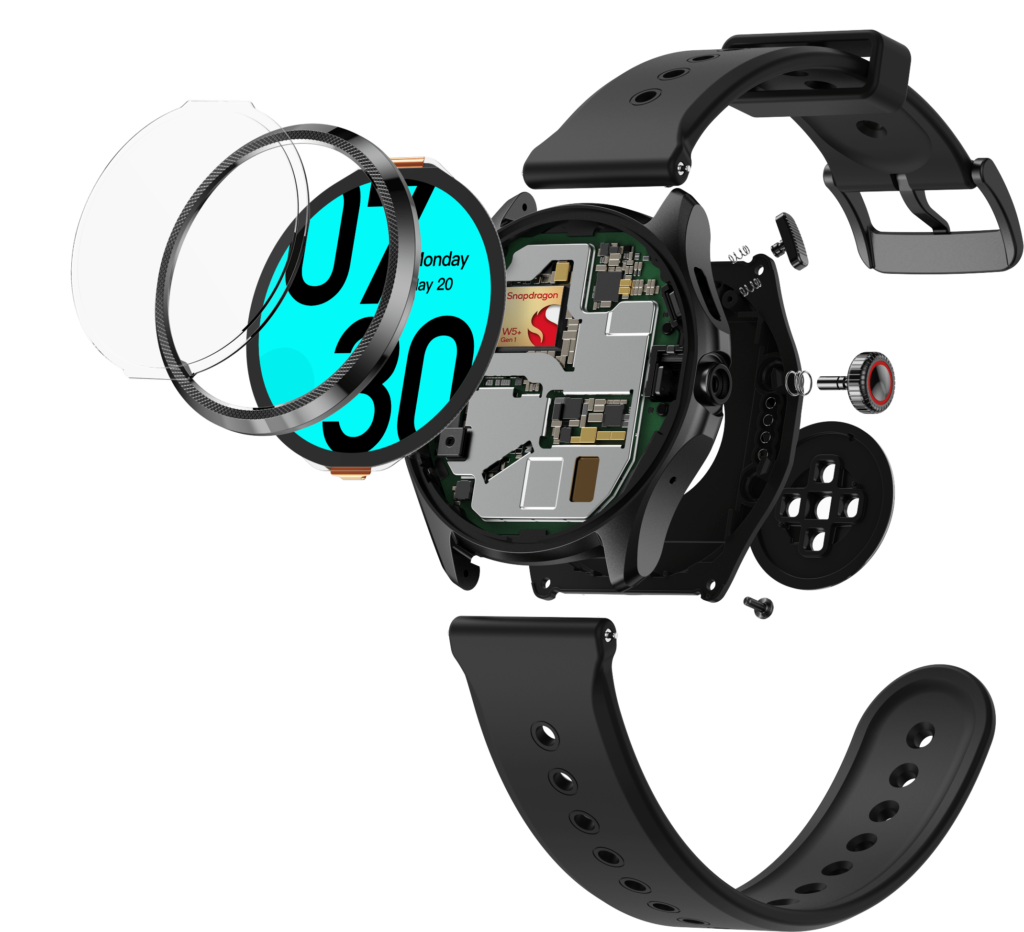 Design and ergonomics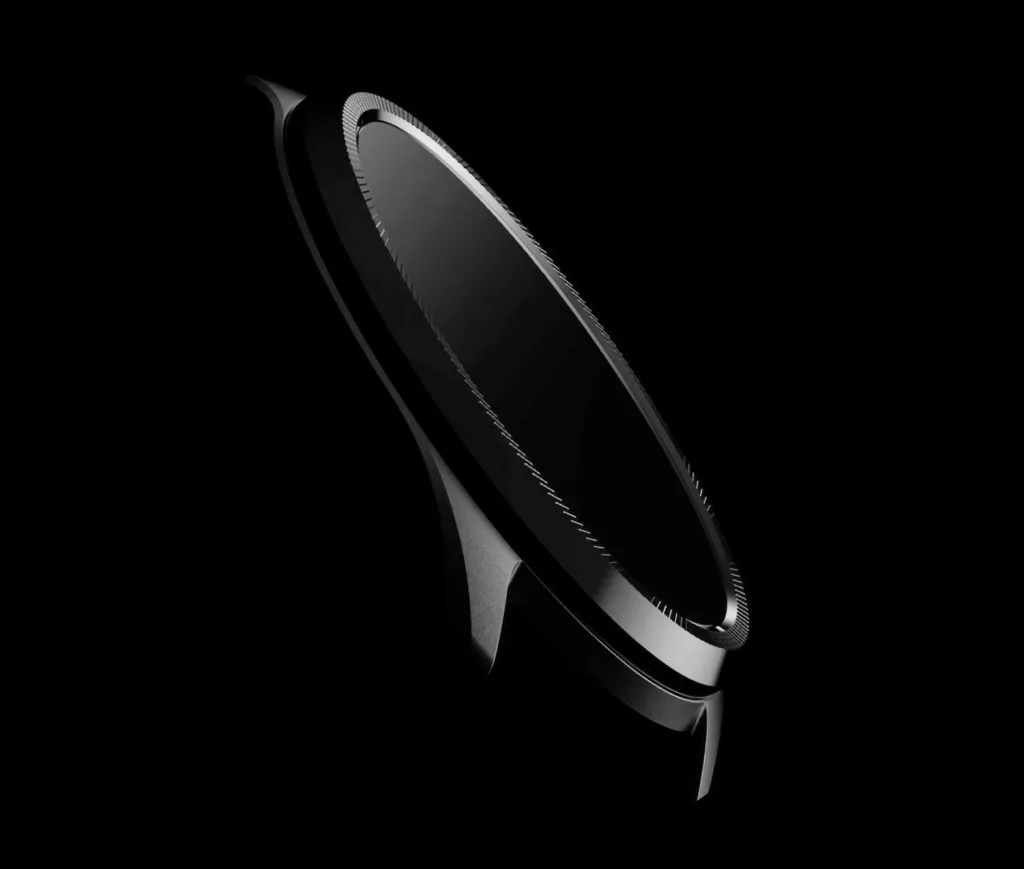 Now let's see in more detail what the TicWatch 5 Pro offers us. To do this, let's start by looking at its design. We are on a relatively thin model (12.2 mm), but still quite imposing. Indeed, the watch has a 1.43 inch screen for a weight of about 44 grams. On these points, it remains very similar to the Pro 3.
Its case is made of aluminum and stainless steel for optimal resistance. With US-MIL-STD 810H certification, the Pro 5 model is designed to withstand a wide variety of environmental stresses such as rain, sand, ice, shock and vibration. It can even be submerged in water, as it meets the 5 ATM standard.
Despite this extraordinary resistance, the TicWatch Pro 5 remains aesthetic. Its obsidian color mixed with its refined finishes gives it an almost high-end look . Perfect for outdoor physical activities, it also remains portable in everyday life or in a professional setting.
Last point that we must mention, the TicWatch Pro 5 is equipped with a rotating crown, which was not the case with the previous models. Apple or Samsung have been using this type of button on their smartwatches for a long time and we are happy to see Mobvoi following the trend. Adding this crown makes navigation much smoother and greatly improves the ergonomics of the device. Pressing this rotary button gives access to all the installed applications. We also note the presence of a button, in the upper right corner of the dial, allowing quick access to the last applications used.
Just like on the TicWatch Pro 3, here we find a dual screen system, ensuring better autonomy. On one side we have the classic AMOLED screen and on the other a low-power monochrome display located just above. The latter is activated during sports activities, during sleep, or when the battery level is too low.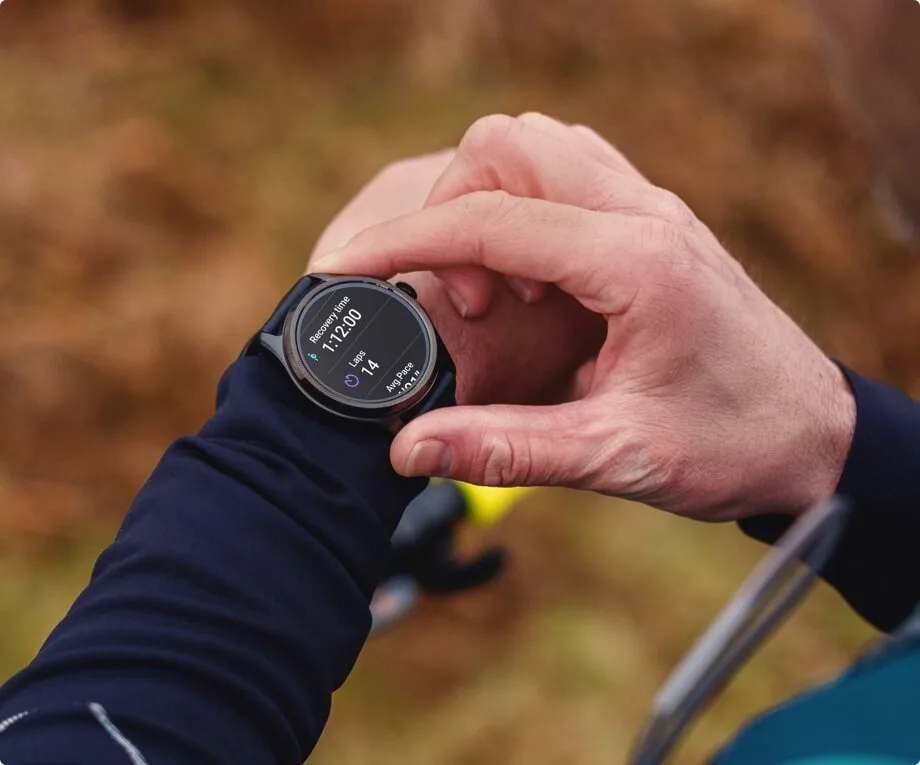 On this low consumption screen, it is possible to choose between 18 colors. Basic, time, pedometer and heart rate are displayed. But you can easily juggle between 4 other data thanks to the wheel: heart rate, calorie expenditure, oxygen saturation and the compass.
Note that the screen is made of Corning Gorilla glass which, if not subject to fingerprints, remains sensitive to scratches… This detail aside, the resolution is very good, as is the quality. AMOLED display of the main screen.
Operating system and navigation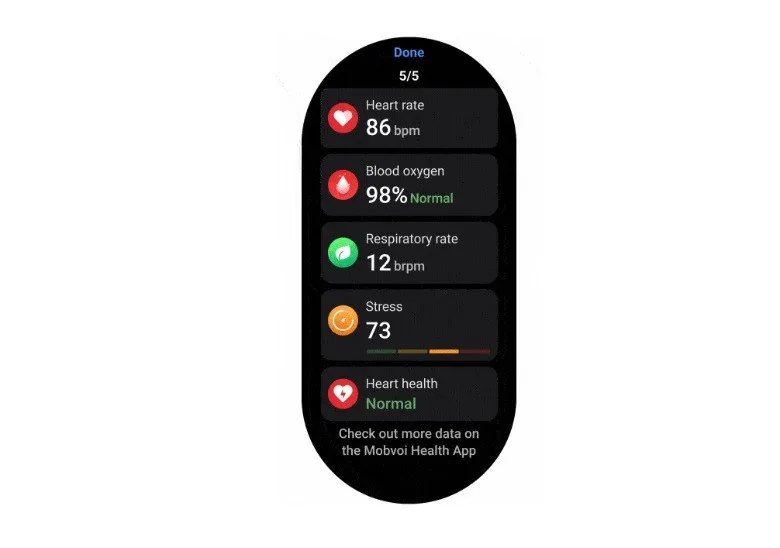 The TicWatch Pro 5 currently runs on Google's Wear OS operating system used on smartwatches. This gives access to a wide range of applications available on the Play Store. Especially music apps like Spotify or Amazon Music.
In addition, many applications from the Google suite are installed by default, such as Google Wallet, giving access to Google Pay, or Google Maps.
Unsurprisingly, the OS offers us fluid and intuitive navigation, improved by the performance of the brand new Snapdragon W5+ Gen1 chip. A swipe up shows us notifications, a swipe down shows shortcuts and a swipe left gives access to widgets and different health cards. The wheel allows you to navigate between widgets and add them as you wish.
Performance
As leaked a few weeks ago, the connected watch TicWatch Pro 5 differs from the Pro 3 by integrating a latest generation processor: the Snapdragon W5+ Gen1. This would be 2 times more efficient and 50% better in terms of power than the Snapdragon 4100+ used until then by Mobvoi. This new chip developed by Qualcomm therefore has everything to seduce in theory. And in fact, its superiority is felt!
Despite the presence of Wear OS, no bugs or latency were noticed during our tests. The watch is reactive, the applications are launched quickly: a real pleasure!
Note also the presence of a 628 mAh capacity battery to last a little over 3 days in conventional use. With the "Essential" mode, autonomy can be greatly improved. After observation, it turns out that the TicWatch keeps its promises. This lasts between 2 and 4 days depending on the applications used, which is remarkable for a smartwatch under Wear OS.
Features
Like the previous TicWatches, the Pro 5 has many features:
Wear OS by Google: The TicWatch 5 runs on Google's Wear OS, offering a user-friendly interface with a variety of apps and features.
Fitness and health tracking: The watch comes equipped with a range of sensors that can track your heart rate, steps taken, calories burned, and other health metrics. It also offers GPS tracking to monitor your workouts and runs using the mobvoi health app.
Long battery life: The TicWatch 5 boasts up to 36 hours of battery life on a single charge. It also comes with an efficient charging dock that can charge your watch to full in just an hour.
Google Assistant: As a Wear OS device, the TicWatch 5 comes with Google Assistant built-in. You can use voice commands to ask questions, make calls, send messages, and control smart home devices.
Stylish design: The watch features a sleek and minimalist design that's suitable for both casual and formal occasions. Its 1.3-inch AMOLED display is crisp and clear, with an always-on option for easy access to your notifications and important information.
The Pro 5 is also equipped with countless sensors, of which here is a non-exhaustive list:
Accelerometer,
Gyro sensor,
PPG HD heart rate sensor,
SpO2 sensor,
Skin temperature sensor,
Barometer
Who says: "watch for outdoor activities ", necessarily says: "presence of a GPS". Unlike that of the Pro 3, this one is very efficient; it calibrates in seconds. And for good reason, the TicWatch 5 Pro is based on the 5 most used global satellite systems: GPS, GLONASS, Galileo, QZSS and Beidou. Enough to ensure a precise location, wherever you are.
As for the "sporty" part, we can recognize Mobvoi for its generosity. We do not count the number of "Tic" applications, such as "TicOxygène", "TicExercice", "TicPouls", "TicSommeil" or even "TicRespiration". This overabundance of native applications (impossible to uninstall) starts from a good intention, but clutters navigation and unnecessarily overloads the device. Especially since the latter are sometimes limited in the data they return.
Mobvoi would benefit from centralizing all these functionalities under a single application, like Google Fit, which can be installed as a substitute for "ICT" applications. That said, we can still welcome the diversity of sports options and health metrics included in this watch.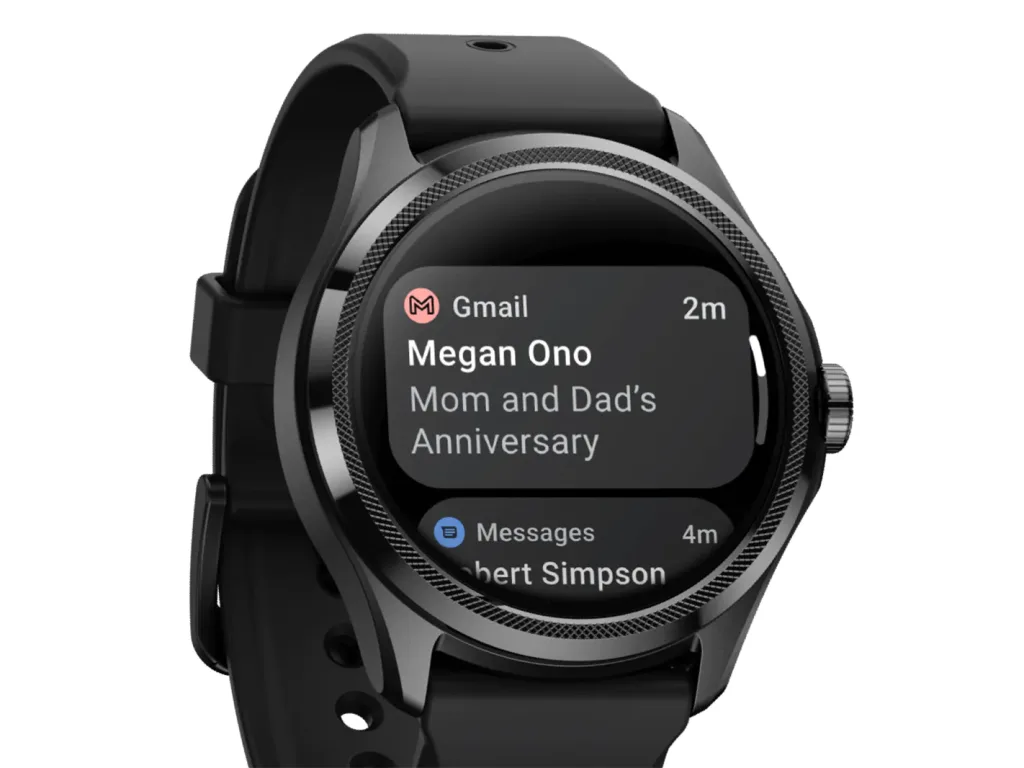 Connectors
In a word, the connectivity of this watch is basic. It is limited to Bluetooth 5.2 and Wi-Fi. For charging, you will need the Mobvoi charger associated with the Pro 5 only. The latter allows the watch to be charged to 65% in just 30 minutes (confirmed by our tests), but it cannot be replaced by another model. We also regret the absence of induction charging.
What we like
Powerful Snapdragon W5+ Gen1 chip
Addition of an ergonomic rotating crown
A very good manufacturing quality
More than 3 days of autonomy
Functional dual screen
Efficient fast charging
Elegant design
What we don't like
Unable to uninstall native apps
Some translation issues
No induction charging
Lack of Google Assistant
Too many native apps
Price and purchase
Available for sale at a price of $349.99 , the TicWatch Pro 5 is not an entry-level connected watch It's less expensive than the Apple Watch Series 8 by $50 and substantially cheaper than the $450 Galaxy Watch 5 Pro. That said, it remains more accessible than Produced by the Chinese brand Mobvoi, , even though it shows better performance. Truth be told, in terms of value for money, it's probably the best connected watch under Wear OS. Only the Oppo Watch 3, which embeds the same chip, could claim to compete with the Pro 5 (especially in terms of autonomy). Only, it is not yet available in France. So we'll judge when it comes out!
It goes without saying that Mobvoi's TicWatch Pro 5 is making a big splash in the smartwatch market. The ergonomics of its operating system combined with the performance of its processor ranks this model in pole position among watches under Wear OS. If Samsung and Apple were largely dominant in the field of connected watches, the situation seems to have changed. Today, new players such as Oppo, Huawei or Mobvoi are driving prices down and quality up, to the delight of consumers, geeks and Tech fans!
Our opinion on the Mobvoi TicWatch Pro 5
⭐️
People who brought this specific model rated it 4.5/5
However, the TicWatch 5 Pro is not free from flaws. These many native applications are cumbersome, in addition to being less advanced than some competing suites. The lack of voice assistants is also a big flaw which, according to the manufacturer, should soon be corrected. Fortunately, these negative points do not detract from the excellent performance of this multi-use watch, which is elegant, ergonomic, practical and responsive. For the moment, no smartwatch of the same range seems to stand up to it. To see what Samsung or Oppo will be able to come out of their factories in the coming months…
Frequently Asked Questions
What is the TicWatch Pro 5?
The TicWatch Pro 5 is the latest model in the TicWatch Pro series of smartwatches, and the first smartwatch to feature the new Wear OS 3 operating system.
What is Wear OS?
Wear OS is a version of the Android operating system developed by Google specifically for use on smartwatches and other wearables.
How does the TicWatch Pro 5 compare to the TicWatch Pro 3 and TicWatch Pro 3 Ultra?
The TicWatch Pro 5 is the latest and most advanced model in the TicWatch Pro series, featuring enhanced fitness and health tracking capabilities and longer battery life compared to its predecessors.
What are some of the key features of the TicWatch Pro 5?
The TicWatch Pro 5 boasts a number of advanced features, including an always-on OLED display, blood oxygen monitoring, contactless payments, and built-in Tile tracking.
Does the TicWatch Pro 5 have an always-on display?
Yes, the TicWatch Pro 5 features an always-on OLED display that can be customized with a wide range of watch faces.
What is Tile and how does it work on the TicWatch Pro 5?
Tile is a popular Bluetooth tracking technology that allows you to easily locate lost items using your smartphone. The TicWatch Pro 5 features built-in Tile tracking, allowing you to quickly locate your watch if it goes missing.
What is Tichealth?
Tichealth is a built-in health tracking app that comes pre-installed on the TicWatch Pro 5, allowing you to monitor your fitness and health data directly from your wrist.
What is the battery life of the TicWatch Pro 5?
The TicWatch Pro 5 boasts a longer battery life than previous TicWatch models, with up to 36 hours of use on a single charge.
How does the TicWatch Pro 5 compare to other Wear OS smartwatches?
The TicWatch Pro 5 is one of the most advanced Wear OS smartwatches on the market, with features such as built-in Tile tracking, blood oxygen monitoring, and longer battery life that set it apart from other Wear OS devices.
What is the Snapdragon Wear 4100 chip and how does it enhance the TicWatch Pro 5 experience?
The Snapdragon Wear 4100 is a next-generation processor designed specifically for wearables, and is installed on the TicWatch Pro 5 to enhance performance and battery life.
Can I use Google Play on the TicWatch Pro 5?
Yes, the TicWatch Pro 5's Wear OS operating system allows you to download and use a wide range of apps available from the Google Play store.