In the year of Radiomir's rebirth, the historic Radiomir California. A very special sphere about whose name there are several plausible theories. Its peculiar characteristic is the alternation of Arabic and Roman numerals, with the minute circle with a railroad design. A very simple and extremely practical face, designed for reading the submarine commands of the Italian Navy. Now, for the first time, the Radiomir California comes in a 45mm size and with a green dial. Deadly sin "paneristi" with a seductive vintage nod to collectors and lovers of Panerai. California dreamin!
Radiomir California
Known conventionally in its innate 47 mm —although there are also some rare historical pieces in 46mm—, this unprecedented Radiomir California de 45 mm break the rules of big box cushion with the most unique dial from the house of Panerai. This type of dial, created and patented by Rolex, was also supplied to Panerai during the 40s for better military functionality, when both firms had a close business relationship, and even Rolex also supplied calibres to the Italian label. Among a possible theory that explains its name, the name of "California" it is due to a large commercial demand in the United States for these watches, whose dials were restored by a provider based in Los Angeles. The Radiomir California is inspired by the Ref. 3646 from the archives of the Florentine firm.
Brunite and Green Sphere
This new Radiomir California (PAM01349) looks like a box d and Burnished and Steel, a new steel with a completely aged and original finish, the first in Panerai's history, which can also be seen in some other novelties from the house this year. The watch shows an old-fashioned look, aesthetics deliberately created with PVD treatment, which accentuates its aura as a piece of historical weight. The main attraction of the sphere is reinforced with details such as the hands of metallic blue color y Super-LumiNova® green. He domed sapphire crystal reminiscent of Plexiglas® used in early versions of the Radiomir developed for the Italian Army.
Unique Vintage Stamp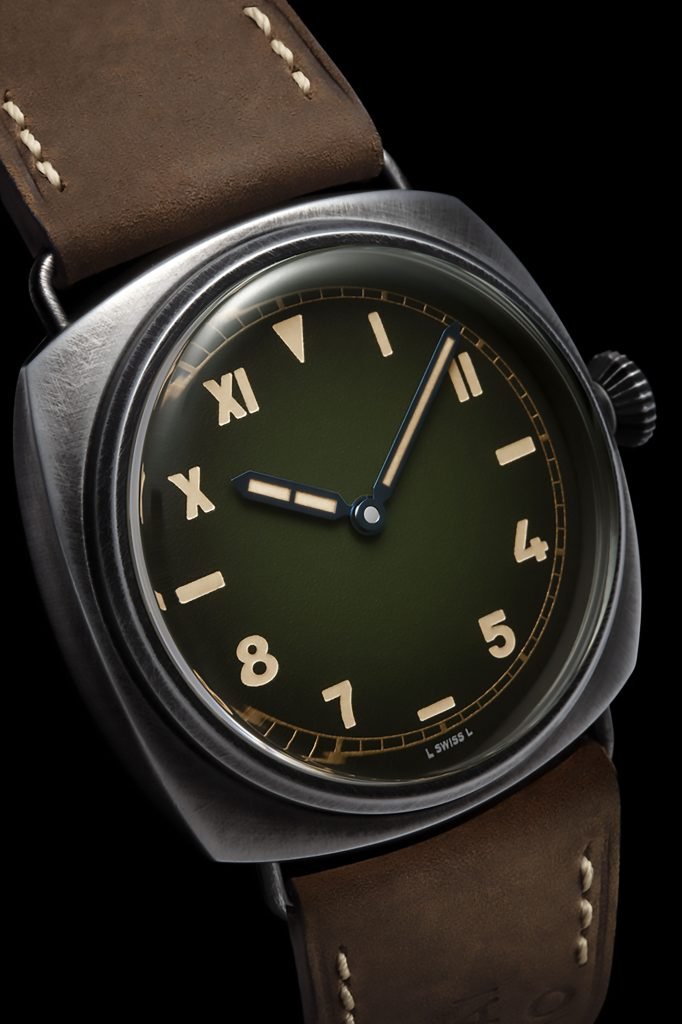 With hour and minute functions, the piece mounts the manual winding gauge P.5000 with a powerful 8-day power reserve. Water-resistant to 100 meters, its conical crown is inimitable and it is worn on a dark brown calfskin strap with white stitching. The strap features an exclusive print —'G. Panerai and Son'—the exact same phrase found on the indication of the original Panerai workshop in Florence.