Diego Boneta knows that rigor and discipline give results. The Mexican actor has something of a Swiss essence, determined and persevering, like watchmakers who strive and delve into the tiny mechanisms of timepieces. He has bet since he was little to gain a foothold in the world of the film industry. Devoting hours and time to training, working hard. And this quality is what makes him deeply admire the expertise watchmaker, the superlative craftsmanship that requires expert hands with exceptional sensitivity.
International Friend
Omega has knocked on your door. This year, the Swiss firm named him international friend of the firmto. An alliance that fits like a ring on his finger (or rather, like a watch on his wrist) because the protagonist of Come on Miguel, the series He has been an amateur watchmaker for years. What's more, he admits that he celebrates each project or success with a new watch. The first one was given to him by his father for the premiere of the film Roof of Ages in 2012, where he shared the bill with Tom Cruise.
We interviewed him at the collection presentation Omega Aqua Terra Shades in Mexico City. On the top floor of a spectacular Porfirian house with a decadent and luxurious look, a special set was installed for photos and interviews with Boneta.
Lights Camera action… Boneta is already a celebrity. We talked to him during a break, while he was having a snack. The day he was being exhausted and he was still waiting for a gala dinner. But the actor, who belonged to the RBD band As a child, he has a lot of energy and is comfortable posing and talking about his passion for watches and his film projects.
"I like Omega because since they approached me it was all very familiar.to. I met the entire team, they told me a lot about the brand. I already knew many things, which is the watch that went to the Moon, the mythical Caliber 321, James Bond… Right now I am very interested in forming long-term relationships. And it's what Omega and I share. For me it is an honor to be the Latino global ambassador. Now I'm going to Mykonos to an event with George Clooney…".
With Clooney in Mykonos
Indeed, a few weeks after the launch of the colorful collection at Casa Prim in the capital, Boneta landed on the Greek island with a very special crew. Along with celebrities like George Clooney, Naomie Harris, Jesse Williams, Jacot Rott, Antoni Porowski, Blair Tuke, Peter Burling, Paul Wesley, Ninho and explorer Victor Vescovo. An extraordinary gathering to celebrate the 75th anniversary of its iconic Seamaster with a new collection. On this occasion, Boneta wore a Planet Ocean Summer Blue de 39.5 mm with blue sphere
But it is not the only watch that fascinates him from the Swiss firm: "I love the Aqua Terra Shades because I feel that it is a everyday watch that you can use for everything, very comfortable, I love the colors of the covers. My favorite watch is Speedmaster who went to the moon and the yellow gold Speedmaster with a green dial, which I think is amazing".
And if we talk about functions, it is clear to him: "Worldtime is phenomenal because I travel a lot. It is a very practical function. That it has the date, I also like it. Many times I don't know what day it is! It's nice to have that reminder. I love having to wind the Speedmaster, it's like a ritual". And it is that Boneta's relationship with watches is not only to accumulate watches. With all she has a relationship linked to feelings. "My relationship with watches is very emotional because many of them have marked different projects in my life that bring back memories…".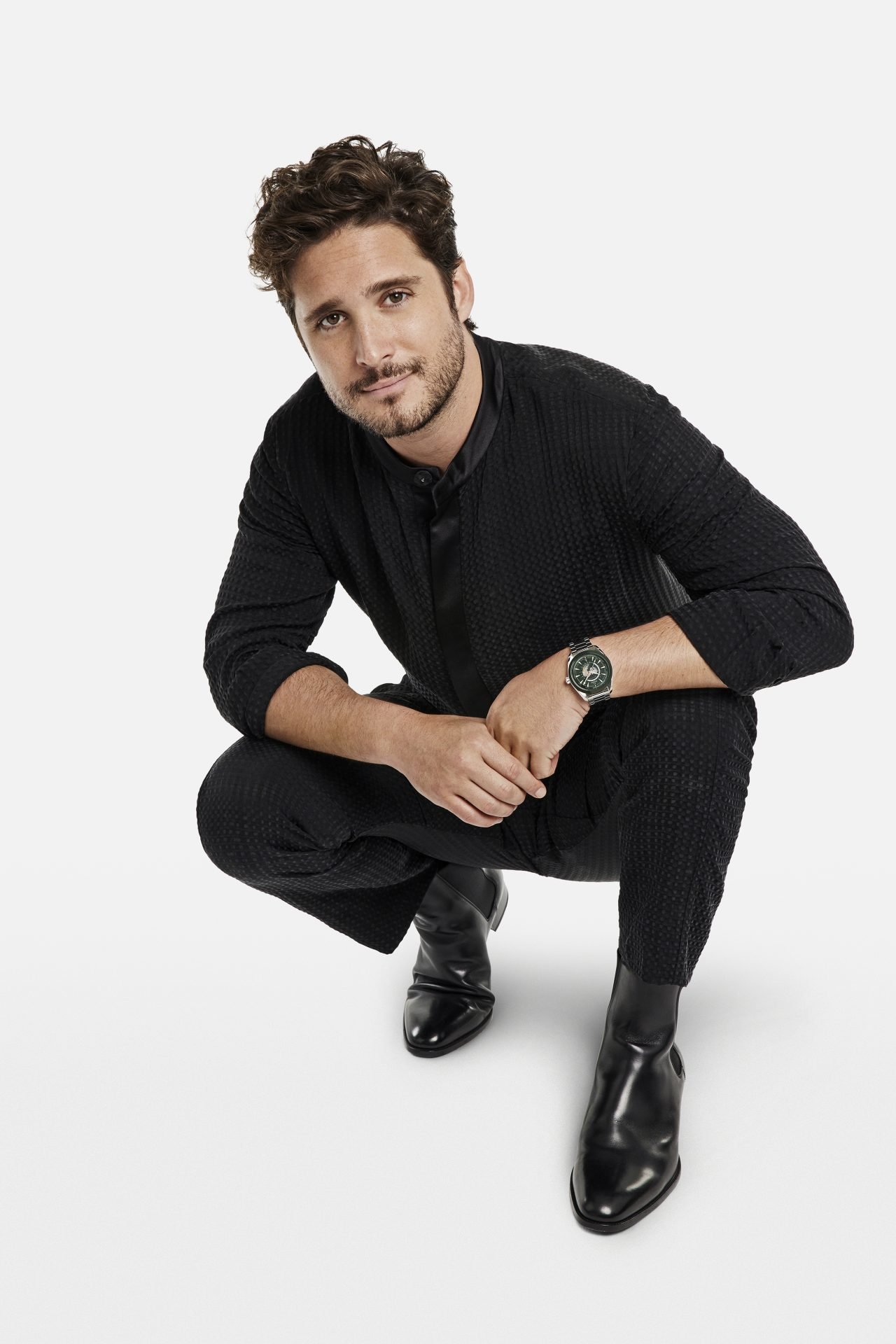 The interpreter of Luis Miguel started working in 2003. He was a child actor and as a child he went through Mexican soap operas, but his first big television appearance was in Code FAMA Then he became famous thanks to Rebel, a series turned into a phenomenon in which he acted and with which he went on tour in concerts. She was 15 years old. she was part of Rock of Ages together with Tom Cruise, in 2012. And he appeared in Scream Queens y Pretty Little Liarsamong other series. Until Luis Miguel, the series It was the finishing touch for a career that needed a great challenge.
Early Celebrity
By now he has forged an internationally recognized career as an actor, singer and songwriter. Recently, he has starred in the romantic comedy At Midnight and the movie Father of the Bride. Also, in 2020, she produced and starred in the movie New orderwhich won a Silver Lion at the Venice Film Festival. Currently, he owns his own production company Three Amigos.
In his current career he is very proud of the romantic comedy At Midnight. "It premiered in February and it's the first one I've done with my production company. It was a successful movie. It was number 2 and number 1 in more than 20 countries. LThe first Hollywood romantic comedy shot 100% in Mexico with the support of Michel Franco (New Order) and Fred Berger (La La Land). It was uniting both worlds, the best of Mexico with the best of Hollywood. And Mónica Bárbaro did an incredible job… And now I am very focused on Amazon, our deal It is with this platform, with several projects that we are working on: movies, series, mini series…", he ends.
Boneta wants to be recognized as a versatile actor. He likes romantic comedies, auteur cinema… "What I like the most is doing a little of everything. Doing a romantic comedy after doing a very strong acting role, then doing something commercial, then art cinema… I like to be friends between all these worlds and also between Hollywood and Mexico". On whether he is attracted to work in Europe, he is clear: "Yes, I would. There are many Spanish directors with whom we are talking about the projects we have at Amazon. I would love to shoot something there". Meanwhile, his stay in Mykonos brings him closer to this project.