February 22, 2023 is World Boy Scout Day. The one in English under the name "World Thinking Day' celebrated commemoration of the Boy Scout movement is already 116 years old this year.
Many Scout organizations wear their Scout attire on this day in honor of founder Robert Baden-Powell. Numerous campaigns, fundraising, but also the popular postcard campaign among the scouts take place every year. World Boy Scout Day should not be forgotten here either. We were on the lookout for a watch that couldn't be better suited to this commemoration. And we found what we were looking for.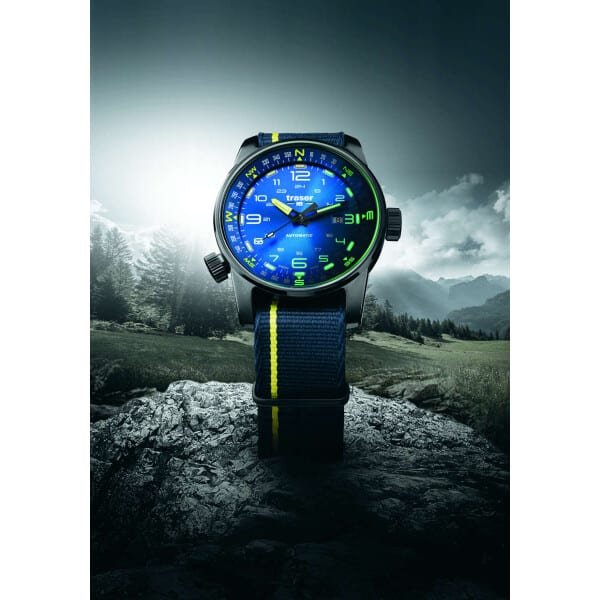 The values ​​and goals of the scouts helped us in the search. What actually makes a real Boy Scout? Respect, helpfulness, tolerance and acceptance are very important to scouts. But social commitment and team spirit also play an important role for the scouts. A Boy Scout can survive in nature with simple means. He knows how to make fire, how to use hatchet and saw and how to tie special knots. Derived from these values ​​and this ability, we found the right watch without any problems.
TRASER P68 Pathfinder GMT Quartz Nato
With the Pathfinder P68 from TRASER not only pathfinders are well equipped. The different colors of the quartz watch blend in perfectly with nature, while the functions are convincing both in nature and in the urban jungle. The large black luminous hands on the dial are driven by a Swiss quartz movement, from luminous number to luminous number.
So that the time can be read well even in the dark, this wristwatch has an H3 Trigalight luminous marking. While the date display is white on a black background, the color red was chosen for the dual-time display. All of these functions and the movement are encased in a PVD-coated stainless steel case in black, to which the blue nylon strap with stainless steel pin buckle is harmoniously attached.
Since the boy scout is known to like to have a compass with him – although he could do without it – this watch has an inner rotating bezel with compass divisions. Since nature is not always comfortable, durable materials were also considered for this TRASER. The watch is protected from below by a screwed stainless steel base, while scratch-resistant sapphire glass offers long-lasting protection from above. Last but not least, the Pathfinder also has 10 ATM water resistance and does not have to hide from water. If that isn't a watch for a real Boy Scout!?
⬈ ⌚Blue-Black Traser P68 Pathfinder GMT Quartz watch with nato strap
A pathfinder for the pathfinder
– TRASER makes it possible
Don't you agree that this watch fits perfectly with the Boy Scout and the Boy Scout movement. Actually, every scout should be equipped with such a watch. Perhaps you are a boy scout yourself and have always been looking for a suitable watch? Maybe you also have a boy scout in your family or circle of friends who would be happy about this watch. Wouldn't that be a perfect birthday present?
If the watch is not quite the right one for you or the recipient, then you will find many other watch models in our shop under ⬈, which are made for excursions into nature. They probably don't have such an appropriate name as this watch, but they certainly have functions that are just as useful and materials that are just as high-quality. We wish you a lot of fun discovering your new watch to explore further paths as a boy scout!