After almost three years without a new smartwatch, Withings is kicking off IFA 2023 by announcing not one, but two ScanWatch hybrid watches. In fact, the French brand Withings adds two new smartwatches hybrids to its portfolio, the ScanWatch 2 and the ScanWatch Light.
The ScanWatch 2 is a flagship offering that adds temperature detection to its arsenal. Withings has rolled out what it calls the TempTech24/7 module, which is essentially a sensor consisting of a thermistor, heat flow, PPG, and accelerometer to measure baseline temperature variations. To be clear, this is not a substitute for real-time temperature measurement using a medical grade thermometer.
The ScanWatch 2 continuously measures the variation in your body temperature based on your metabolic rate to establish a baseline thermal value. Once this value is established, the smartwatch informs the user of abnormal peaks or variations over a period of time, which may be a sign of illness. Deviating from one's usual temperature during activities such as training or sleeping could provide crucial health information, while timely notifications will let users know it's time to implement tactics recovery.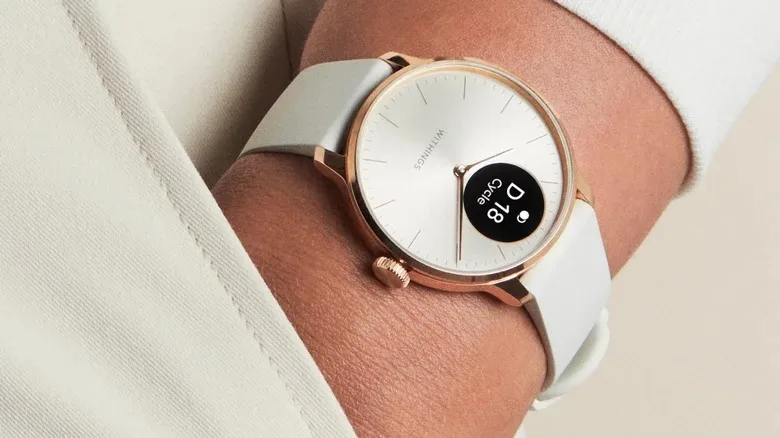 Withings will not be the first smartwatch of this type to allow temperature detection, since Samsung equipped the Galaxy Watch 5 series with a thermal detection module in 2022. Another interesting feature added by the ScanWatch is the possibility ofrecord information about the menstrual cycle directly on the smartwatchas well as details about mood and emotions. Withings explains that the data will be used to " predict future period dates, helping women create personal routines that align with their monthly needs and optimize sleep, activity and nutrition throughout the month ".
In addition to monitoring baseline body temperature and menstrual patterns, the Withings ScanWatch 2 can also monitor heart rate, sleep patterns, blood oxygen saturation levels, and ECG tracking with the ability to report indicators of atrial fibrillation.
Impressive autonomy
However, the biggest advantage is the battery life, which can last up to 30 days. For reference, asmartwatchTypical Samsung or Apple barely lasts two days. Withings also prides itself on the classic aesthetic of its new smartwatches.
The ScanWatch Light has a few drawbacks, such as Gorilla glass screen protection instead of sapphire glass, lack of continuous temperature detection, and lack of ECG and SpO2 measurement technology. The rest of the device, including the round grayscale OLED display, is identical.
The ScanWatch 2 is available in 38 mm and 42 mm and will be priced from 349.95 euros. The ScanWatch Light costs 249.95 euros and will be sold in a single 37mm size with several color options.
Both smartwatches are now available for pre-order on the official Withings website. The ScanWatch 2 is currently offered in silver/black, silver/white, and rose gold/black sand colors. Silver/White Dial and Rose Gold/Blue Dial options will be available later this year. The ScanWatch Light offers the choice of silver/black, silver/white, and rose gold/black sand combinations, while light blue and light green dial options will arrive at a later date.