Each watch is a piece of art, as it is a blend of precision, engineering and aesthetics. The coins in your collection have always been a goal achieved, a keepsake or a gift from loved ones. But how to keep it in perfect condition?
Nobody leaves their watches in their original box, especially when you start having more than 4. Here's why the watch box is an essential item for any serious collector. It offers optimal protection against scratches, dust and the wear and tear of time. But a watch box is not only a protection: it is also a way to display and enhance your collection. In addition, when the watch box is of as good quality as your watches, it gives even more pride to be able to exhibit them.
So, if you are looking for the perfect watch box, look no further: I recommend Kingdom of the Box. They specialize in watch storage. Kingdom of the Box offers a wide choice of boxes, cases and watch holders. From the classic watch box, to the watch case for on the go, to the luxury automatic watch winder, you will find everything you need here.
The watch storage collections offered by the Kingdom of the Box is designed to meet the needs of every collector, whether amateur or professional. You will find boxes that can accommodate collections ranging from a few locations to several dozen. You will also discover high-end automatic watch winders from the brands Rapport London and Wolf 1834 known for their high quality product coming straight from England.
Manufactured with good materials, the boxes of Kingdom of the Box reflect the know-how and the passion for watchmaking.
With Kingdom of the Box, treat yourself to the pleasure of a well-organized and perfectly protected collection.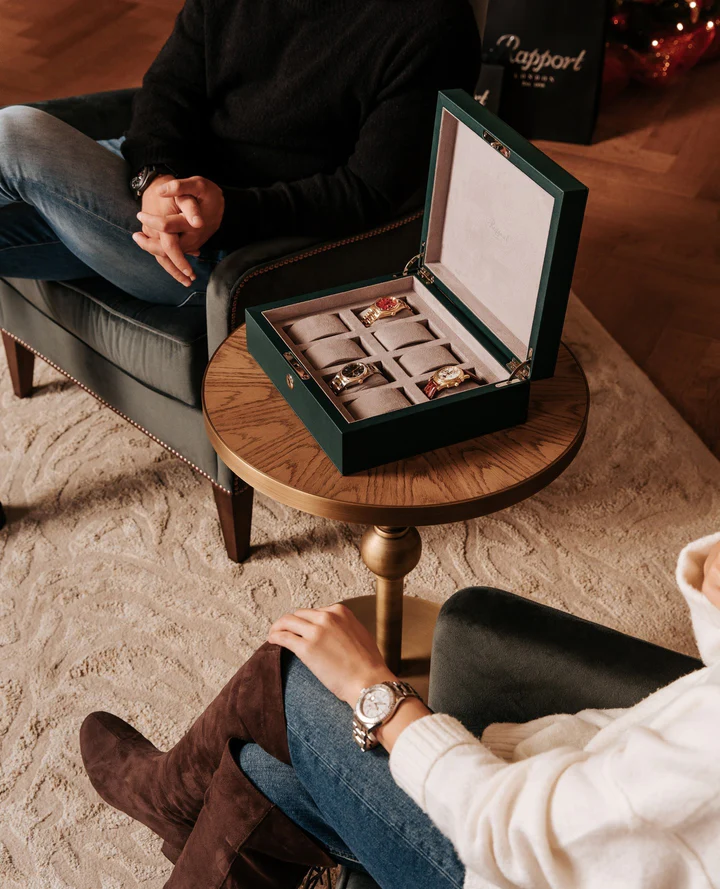 Here are the 3 types of watch boxes that you will find:
Affordable Watch Boxes
Often designed with Synthetic Leather or premium materials, they are still excellent storage for your watches. If you are new to the world of watchmaking, these will be ideal for you. The price is entry-level and you will find several boxes for less than 100€.
Brand Watch Boxes
Kingdom of the Box has surrounded itself with the best, including 3 watch storage houses such as Sacher, Rapport London and Wolf 1834.
Sacher
Sacher is a small German company based in Erzgebirge which has been manufacturing storage designed for watchmaking since 1846. They are specialized in leather storage. You can find boxes with synthetic leather, which makes the prices more affordable, but also leather from Italian cows. And just by touch and smell, we can realize the quality highlighted by Sacher. Personally, I recommend this brand for those who are beginning to acquire more beautiful timepieces.
Wolf 1834
Wolf offers types of storage that see themselves as "Modern" thanks to their more dynamic designs. All their boxes are designed with vegetable leather (Vegan). It is a shop that is based directly in England and manufactures their boxes on site. Their storage is equipped with a high quality, you will have no worries of deterioration.
London Report
The luxury brand par excellence, prices are high, but you can be sure to find quality that no other brand offers. Their storage is so beautiful that we want to spend more than five minutes to touch the materials, the lacquered wood as well as the velvet so soft inside. They suitable for luxury watches. You can be sure that it will have an effect on of your guests when you share your collection in front of them. English brand and who also manufactures their products on site with excellent materials by experienced craftsmen.
Luxury Watch Boxes
At Box Kingdom, you will find a value-packed store that combines different skills such as carpentry and shoemaking at the service of your watches. If you have big brand watches, we recommend that you choose storage at the height of this one.
To conclude, there is no precise box better than another, it all depends on your collection and your desires. In this article, I have given, in my opinion, what is best for your collections.