If you are familiar with the exciting world of watchmaking, you know that it is full of a very wide variety of models. From luxury watches to the most accessible, including high-end references, the numerous timepieces designed in Switzerland, Japan and France are attracting a growing audience.
Although most brands in the sector have been established for several decades, sometimes a new name appears, along with its interesting products, such as Maison Du Temps!
A French brand with sport chic DNA
After working as a watchmaker, it was at the end of the health crisis that the young Frenchman Hugo Delaleu starts to ask questions. By observing consumer behavior, he notices that they tend to treat themselves by investing their money in watchmaking or jewelry objects.
In this dynamic, an idea begins to mature in Hugo's head. A somewhat crazy project then appeared, that of creating a watch brand that would draw many refined details from the ultra-luxurious models and incorporate them into accessible references in order to benefit as many people as possible: House of Time was born !
Caliber side: different technologies to choose from
Whether you are a fan of traditional automatic movements or whether you are eyeing the quartz for its precise character, know that you will find, in the catalog of Maison Du Temps watches, references powered by these two options.
In order to achieve a high level of reliability, the brand has decided to equip its watches with mechanisms developed by major Asian brands. Among these we find the giant Miyota (Citizen group) as well as the essential Seagull.
Testing models for men
MTEpsilon Skeleton
Let's open this special test with the watch called MTEpsilon Skeleton, a model of 41mm in diameter whose integrated bracelet in stainless steel is equipped with a folding clasp.
Inspired by the most fashionable sport chic watches of recent years, it offers a high-end design and plays on its skeleton dial to elegantly reveal the smallest workings of its automatic movementA Seagull 2809.
On the wrist, the piece is positioned naturally and, if the open dial of this men watch will appeal to a certain clientele, we still appreciate the fine highlight that the brand was able to subtly incorporate into its design. Black in color, it reveals a timer graduated with small lines and 5 minute increments. Written in white typography, this marking ensures more comfortable reading of the time.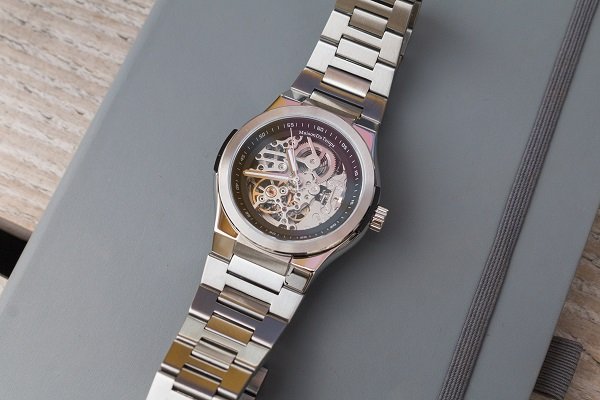 With his sapphire glass highly resistant to scratches, its 36 hours of power reserveits all-steel appearance as well as its waterproof level given for 100 meters, the model definitely has everything to please!
Made in the form of strips, its little black ears at 3 and 9 o'clock even give it an extra touch of detail.
Finally, note that the watch is offered with a second silicone strap. In addition to bringing you comfort and lightness, it will give you the opportunity to change the look of your timepiece, with a simple turn of the hand.
In a few words we can conclude that this is a watch designed to accompany you everywhere but which will not, however, go unnoticed!
Maison Du Temps MTEpsilon Skeleton Watch on Swiss Made Watch.com
MTGamma
Let's continue with another model from the French house that plays both on the table of elegance but also on that of sportiness, the MTGamma! One of the most accessible models, this quartz watch based on a Miyota 2315 ultra precise and robust will appeal to customers looking for a creation to wear every day.
Dotted with applied indexes filled with luminescent material, its black dial has a refined look and is adorned with the brand's logo affixed in relief at exactly 12 o'clock. Located in the lower part, the inscriptions "MTGamma" and " 5ATM » display, just like the second hand, a contrasting red color and remind us that we are indeed in the presence of a watch waterproof to 50 meters.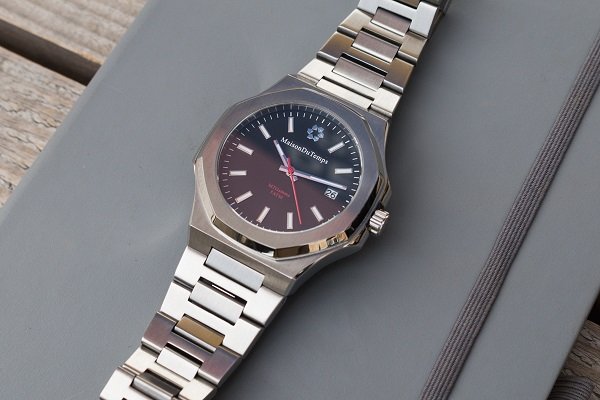 Beyond its extreme readability, this watch whose caseband 42mm and the octagonal bezel are highlighted by polished and brushed finishes is designed to be as beautiful as it is practical. Located at 3 o'clock, the window date reminds us that the model is ideal for use in everyday life.
Maison Du Temps MTGamma Skeleton Watch on Swiss Made Watch.com
Testing the elegant MTMu
Let's close our test of Maison Du Temps watches with a rather feminine and relatively unknown model: the MTMu! Equipped with a housing 34mm in diameter, the watch will slip easily into any of the most elegant outfits.
And let's announce the color right away, the model is clearly banking on its dial to seduce! With original shades like pearly white or pink, this watch is aimed above all at people wanting to own an accessory that stands out from the crowd.
A few words first about the model with the light gray dial. Combined with shiny Arabic numerals, the natural and organic texture of the mother-of-pearl offers a truly astonishing result!
The date positioned at 6 o'clock as well as the railway finally finding itself quite close to the center of the dial give the piece a pleasant visual balance. Its bracelet stainless steel Of type Milanese mesh you can also easily adjust the length of the set to fit your wrist.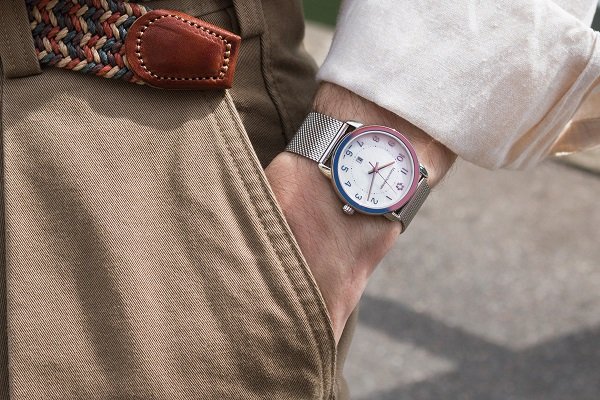 Associated with its great compactness, the ultimately very neutral style of the configuration even ensures that the model can be worn by a man. After all, didn't vintage men's and dress watches come in a 34mm size? Notice how the flat, shiny bezel reflects the surrounding colors beautifully!
Maison Du Temps MTMu mother-of-pearl watch on Swiss Made Watch.com
But that's not all, the French brand Maison Du Temps wanted to decline this Ladies watch in a more than remarkable color.
With his pink sunray dial encased in a case with a fully mirror-polished finish, this ultra-luminous watch will appeal to all those who want to own a piece of character that they will certainly not encounter on every street corner.
The richness of the details chosen by the brand allowed it to develop this model which, although displaying a colorful appearance, shines brightly with its luxurious look!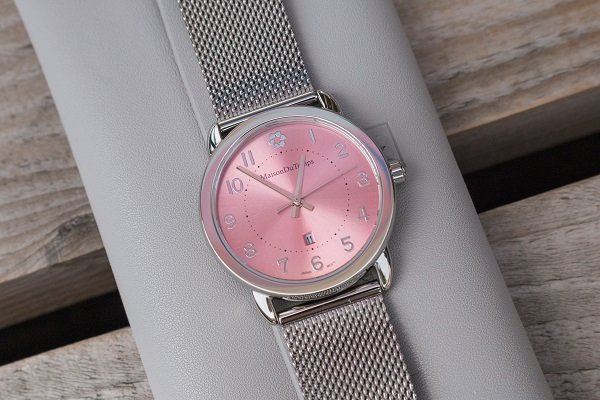 Allowing the Miyota quartz movement to be set, the notched crown located at 3 o'clock features, here, the brand's emblem in the shape of a pretty rose. A small attention which remains, like the presence of the flat sapphire crystal, still too rare on watches in this price range!
Maison Du Temps MTMu pink watch on Swiss Made Watch.com
With its various collections for both men and women, the Maison Du Temps catalog is gradually enriched with pieces with sometimes radically opposite appearances, with the aim of satisfying all those looking for a watch. accessible decorated with completely exemplary details and finishes.
Here is a young French watch brand that appears promising!