Like every beginning of the year, it's time to take stock. The long-awaited report by investment bank Morgan Stanley, designed in partnership with LuxeConsult, which ranks the 50 most important brands in the watch industry, was released on the sidelines of Watches and Wonders. Who stands out from the crowd? Who are the winners and losers of the watch market in 2022? Here are some answers!
An unbeatable top three
First of all, it shows that the leading trio (or even a quartet) of the top 10 of the most influential brands in the sector is unchanged compared to last year. Rolex remains firmly anchored in first place with 1.2 million units delivered and 29.2% market share. Its growth in turnover (+21%) is even almost insolent.
Cartier remains number 2 with 620,000 copies sold and 7% market share against 560,000 watches for Omega, which despite a larger market share (7.7%) has a lower turnover which explains its third place on the podium. Audemars Piguet is still just as powerful in fourth place with sales growth of 72% reaching 2 billion Swiss francs for the first time.
Two new additions to the Top 10 watch brands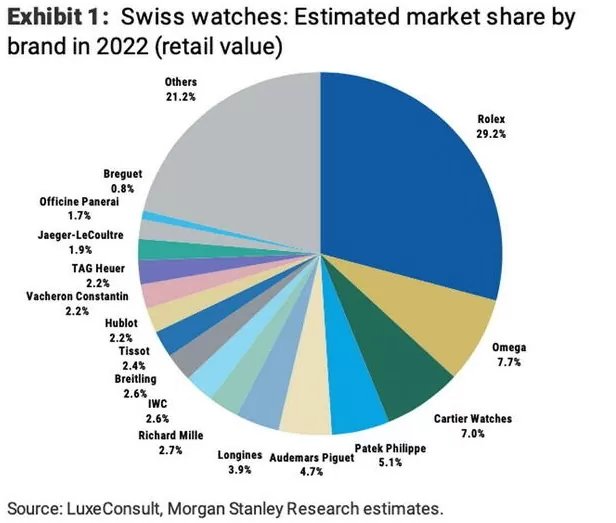 If we are interested this time in the top 10 of the sector, let us mention two newcomers, Breitling and Vacheron Constantin, who knew how to stand out from the pack. They even pushed Tissot out of the rankings, the Swatch group brand having lost 12% of its sales in 2022. Too bad!
Finally, let's mention the disappointment of Longines, which fell from fifth to seventh place in the ranking this year.