This week the new G-SHOCK MRG-BF1000E of the house Casio. A new model commemorating the 40th anniversary of G-SHOCK and the 30th anniversary of FROGMAN. This new watch is based on the MRG-BF1000R, but designed in bright yellow, inspired by the first colored FROGMAN. It will be available in a limited edition of 700 units worldwide.
G-Shock MRG-BF1000E
An attractive watch that combines the yellow of its indexes, strap and other details with the black of its case. It also helps to increase, already good, readability included in adverse situations.
The hour and minute hands overlap to form a single hand in Dive Mode, making it easy to see how much dive time has elapsed. The watch's three dual-winding motors make it easy for users to quickly switch from the current time display to the dive time display.
The case is made of titanium with a size of 56x 49 mm, a thickness of 18.6 mm and a total weight of 132 grams. The crown, buttons and screws are treated with gold ion plating and the case back is finished with gold vapor deposition. It has a water resistance up to 20 bar, 200 meters.
Among its functions are bluetooth, solar charging, radio frequency, tidal traffic, diving mode, countdown, alarm… Also, when connected to the mobile phone, it has automatic time adjustment, world time, dive record, etc.
A high-quality interchangeable titanium strap is included: each link of the strap is treated with a painstaking deep-layer hardening process, resistant to abrasion, and Diamond-Like Carbon (DLC) coating prior to assembly. Presented in a special box bearing the G-SHOCK 40th and FROGMAN 30th insignia.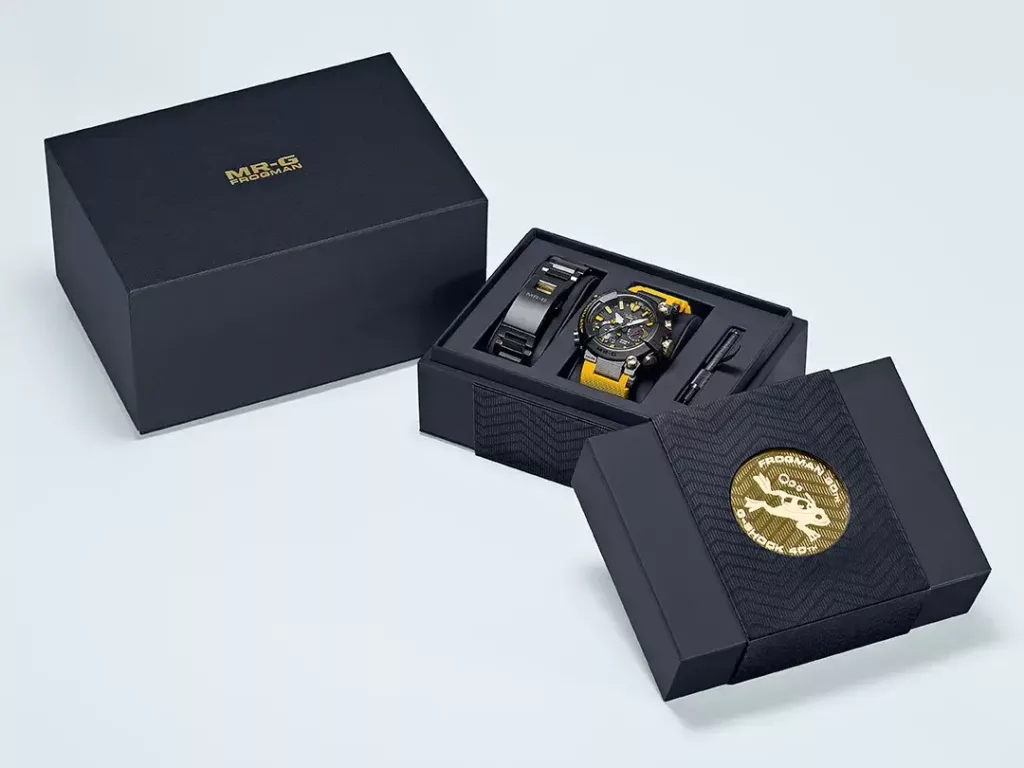 Precio
The approximate RRP is €6,400. Without a doubt, it is what we like least about this striking watch. G-Shock