A bit like the clothes we wear, the accessories we wear define a style, a true reflection of our inner personality.
In this article, Swiss Made Watch Magazine takes a look at Thomas Sabo, a house founded several decades ago that stands out for its rich history and its ultra-modern pieces, imbued with a rock'n'roll style.
Having become an essential reference in the fashion jewelry and watchmaking industry, let's explore together the universe of this German brand, its history, its so characteristic designs and the emotional significance that these have for those who wear them. .
The story of Thomas Sabo
The exciting adventure of Thomas Sabo dates back to the year 1984when the eponymous designer decided to establish his brand in Germany. From the start, he wanted to bring an innovative approach to jewelry by offering pieces that stand out for their unique aesthetics. Over the years and the collections launched, the brand has conquered the hearts of jewelry lovers around the world thanks to sophisticated styles and superior quality.
Thomas Sabo himself is a design visionary! Its influence is palpable in each of the pieces in its collections. Its watches and jewelry are all designed to tell stories and convey emotions, which is what makes them so special.
Jewelry of exemplary quality
Excellence is a fundamental value at Thomas Sabo, the jewels designed are then created with great meticulousness, the result of the exceptional know-how of the brand's craftsmen. The materials used are all carefully selected for their durability and beauty. Among the metals used, we find manysilver 925 but also of gold plated yellow or rose gold.
These beautiful materials are sometimes even combined with real leatherof the fine stones such as aquamarine, malachite, pink quartz or onyx but also to zirconium oxides and swarovski crystals for an extra touch of radiance!
Jewelery made by Thomas Sabo is subject to strict quality controls to guarantee an impeccable finish. This allows customers to acquire pieces that will remain beautiful and bright for many years.
Iconic collections
Each Thomas Sabo collection is a journey into a unique universe inspired by diverse and varied themes, ranging from spiritual symbols to contemporary fashion trends.
Among the most popular collections, we find the essential " Charm Club » which offers a wide range of customizable jewellery. This offers everyone the opportunity to create bangles and necklaces which tell their own story using charms in the form of small pendants equipped with a carabiner clasp. Remember, our Magazine had already covered, several months ago, all the charms offered by Thomas Sabo.
Another popular collection is " Rebel at Heart She unveils bold jewelry with an edgy look, all inspired by the world of rock and alternative fashion.
For those looking for more delicate and romantic jewelry, " Glam & Soul is a line that offers a selection of elegant and feminine pieces that will add a touch of glamor to any outfit.
Watches with an assertive style
If Thomas Sabo is a brand best known for its jewelry creations, it is important to remember that it has developed a whole line of timepieces that beautifully reflect the aesthetic codes of the house.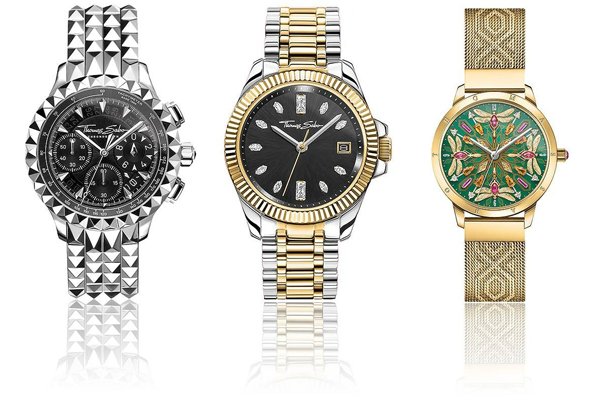 Endowed with a strong style, these watches are revealed in both masculine and more feminine models, all driven by a quartz movement of quality offering various and varied complications ranging from the classic date display to the most original indication of the phases of the moon.
Certain references whose case and bracelet were made fromstainless steel are even waterproof to 100 meters deep, enough to follow you in all the great adventures that life has in store for you!
But what really sets Thomas Sabo timepieces apart from other pieces on the market is truly their design. Several references are displayed here with colored dials, decorated with pretty artistic motifs and set with synthetic stones that recall all the know-how of the house in terms of jewellery.
Thomas Sabo and self-expression
At Thomas Sabo, the key idea is that each individual can express their personality through their accessories. Collections are designed to be mixed and assorted, allowing customers to create unique combinations that reflect their personal style. Whether you prefer a minimalist and clean look or a more daring and eccentric style composed, for example, of several Thomas Sabo charms, the brand offers pieces adapted to everyone's preferences.
Thomas Sabo creations for women as for man also hold deep emotional significance, important to many people. They can contain memories considered precious, important moments in life or even emotional ties with loved ones. These objects are thus authentic symbols, closely linked to our personal history.
A social and ethical commitment
As an internationally renowned brand, Thomas Sabo recognizes its social and environmental responsibility. The house therefore strives to ensure that all of its manufacturing processes and suppliers meet the highest ethical standards. This includes the use of sustainable materials and the guarantee of good working conditions for all the craftsmen involved in the making of its jewelry and watches.
On this subject, it is interesting to note that the house has chosen to work only with precious metals from responsible sources. She even goes so far as to recycle items deemed unusable or unrepairable, allowing her to bring new sterling silver creations to life. Coupled with this virtuous action, the reduction in its water consumption allows the company to go even further in reducing its environmental footprint.
Furthermore, Thomas Sabo is an integral part of the RJC (Responsible Jewelery Council), an international organization that sets standards in the watch/jewellery industry and issues certifications.
Finally, the brand uses bags as well as sustainable boxes, elements all made from materials extracted from sustainably managed forests.
Thomas Sabo offers much more than simple jewelry and watches, the house has succeeded in creating a universe of its own built around timeless collections, true reflections of refined craftsmanship. Its history, its commitment to the quality and originality of its collections make it a brand appreciated by millions of men and women around the world.
Whether you're looking to add a touch of charm to your everyday outfit or to express your unique personality, Thomas Sabo's signature pieces are your go-to choice. So, dive into the very special world of this house and discover exquisite accessories that will accompany you, worry-free, throughout your life!