The alarm clock is not just a practical accessory. Some creations also serve as real decorative pieces and bring a real personal touch to the bedroom. And if you put aside your mobile phone to prefer this object full of charm, as elegant as it is timeless? In this article, we offer you a selection of 5 remarkable models to dress up your bedside table with style.
1# Seiko May alarm clock
This alarm clock imitates the design of Seiko divers, even taking up the crown and the graduated bezel. It comes in a wide choice of colors, including the famous "Pepsi" model adorned with blue and red.
It is an object that will appeal to fans of the brand since the Seiko style is immediately recognizable. A fairly sober piece, with luminescent hands and indexes, as well as a flashing LED light when the alarm goes off.
This alarm clock works using a quartz movement and a silent second hand, thus avoiding the famous ticking that can interfere with sleep.
Dimensions: 9.5cm x 9.5cm x 5.5cm
Price: $35 on Amazon
2# The Braun BC22 Classic alarm clock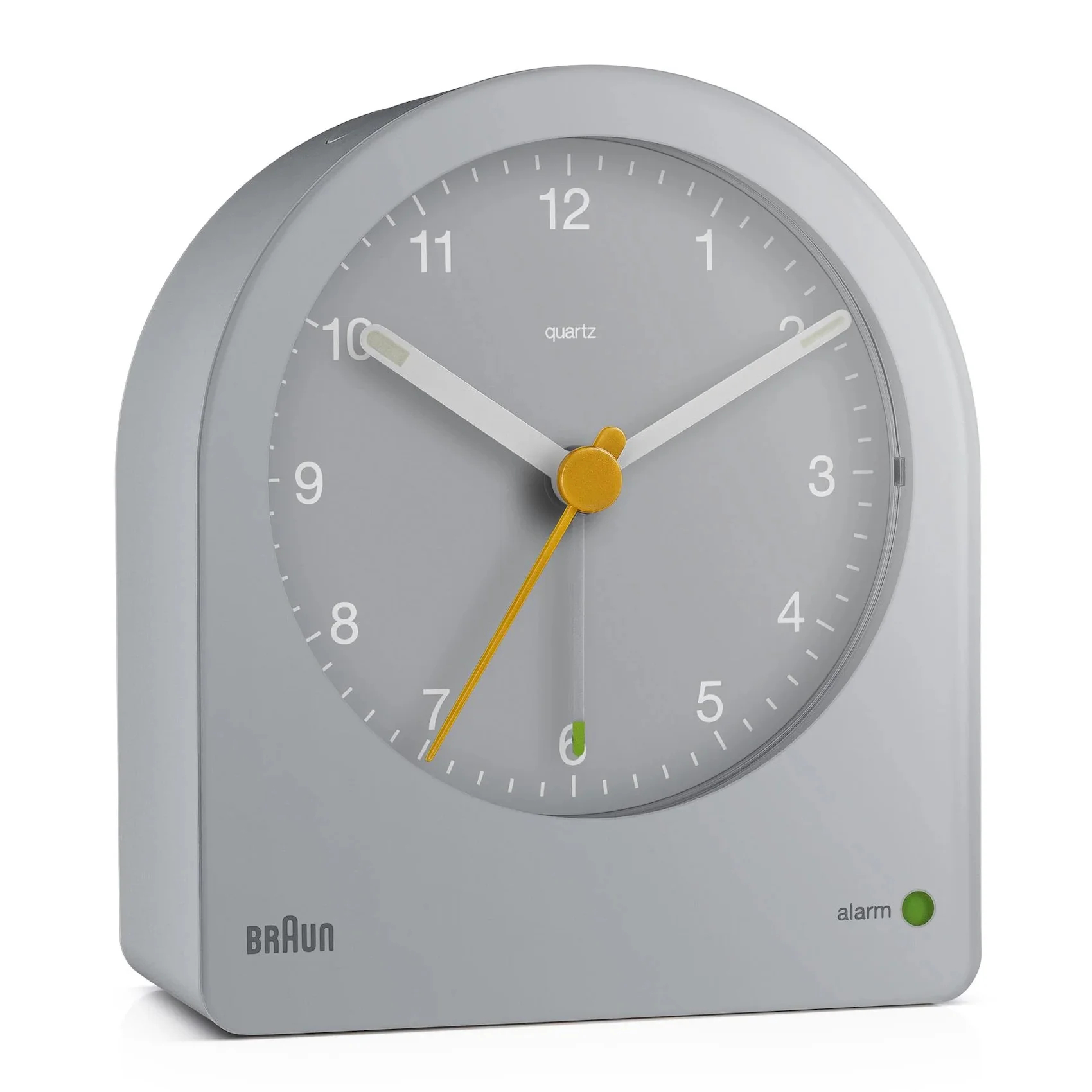 If you're looking for something totally sleek, we offer you the minimalist lines of this analogue alarm clock by Braun. For its design, the German brand was inspired by the AB 2 clock designed in 1984 by Dieter Rams. It has a bare dial going to the essentials, with the only touch of fantasy the famous yellow second hand, emblem of the Braun style.
Available in black or white, the BC22 Classic alarm clock is a simple and functional accessory, with hands that have luminescent tips to ensure readability, as well as a continuous backlight function that subtly illuminates the dial in the dark. Note that this feature can be disabled if desired. This model is also equipped with a snooze function and a crescendo sound alarm.
The set is driven by a quartz movement offering both precise and silent operation.
Dimensions: 97mm x 85.6mm x 42mm
Price: $24 on Amazon
3# The Mondaine Travel Mini Swiss Alarm Clock
This handy little swiss alarm clock in a minimalist style pays homage to the emblematic official clock of the Swiss railways, designed by the engineer and designer Hans Hilfiker in 1944. Clock whose design can be found in several Mondaine creations, in particular this alarm clock with its white dial covered by large black rectangular hands and indexes, and by the famous red "Lollipop" second hand.

Thanks to its 2-1 function, it can be used both as a table clock and as a wall swiss alarm clock. An aluminium case with hands and hour markers in the same colour, combined with a deep navy blue dial, makes any room particularly elegant. Inspired by the wonders of the sea, the Mondaine watch is the perfect accessory for waking up on time and in style.
As its name suggests, the model Travel Mini is particularly practical for travel and fits easily into a bag or suitcase. It has a metal structure and a quartz movement with Wellgain alarm.
Dimensions: 50mm
Price: Approx. $240 on Mondaine.com
4# The Båge & Söner table alarm clock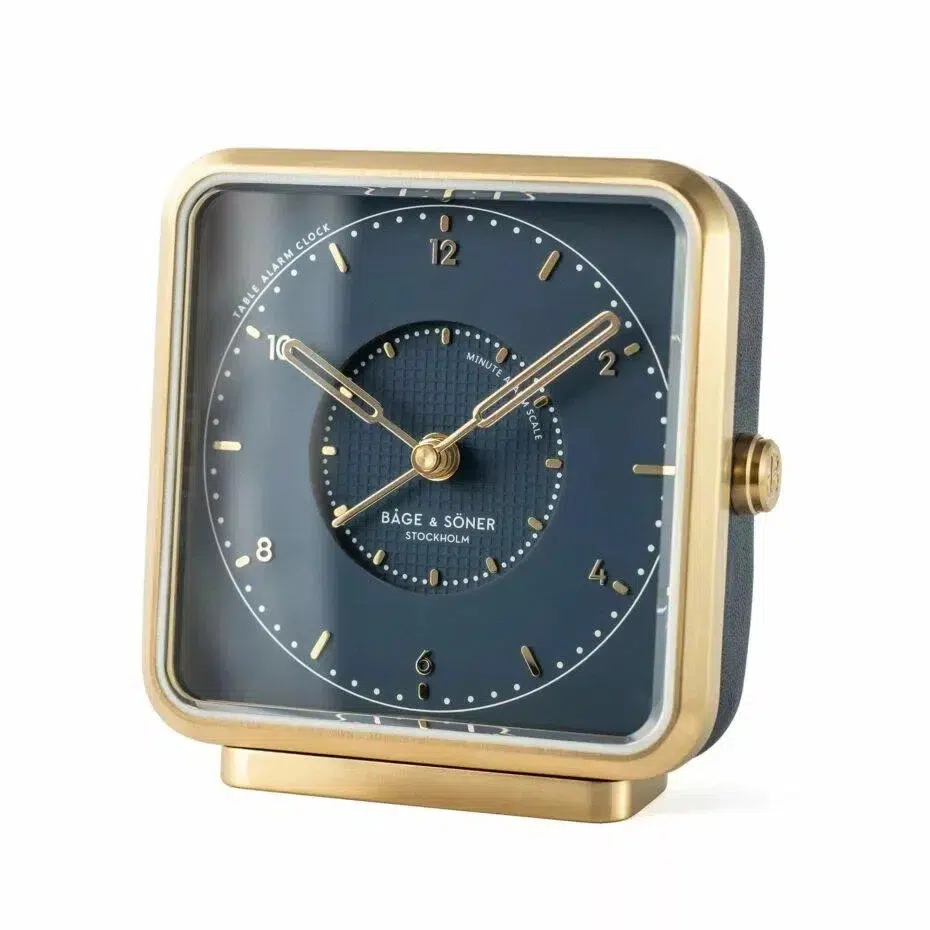 This piece designed and assembled in Sweden marvelously combines finesse and practicality. It has a square-shaped steel (or gold-plated steel) structure with delicately rounded corners, with a superb dial available in several colors, with openworked hands and a tapestry pattern in the center. A superb alarm clock to add a good touch of elegance to your bedside table.
Apart from the hours and minutes, this Båge & Söner model has a 4-level crescendo alarm, a 4-minute snooze function, as well as a button-activated LED nightlight. It is driven by a silent quartz movement.
Dimensions: 7.9cm x 7.8cm x 3.5cm
Price: €503 on bagesoner.com
5# The Model Three BT alarm clock from Tivoli
We end up with a bulkier, vintage-style piece. This beautiful creation from the Tivoli brand serves both as an alarm clock and as a retro decoration with its elegant natural wood structure and beige panel. On the latter, there is a dial for the time, accompanied by various buttons to adjust the sound and the radio mode.
THE Model Three BT also includes a stellar AM/FM tuner, speaker with excellent sound quality, auxiliary input, USB port, and also allows for wireless Bluetooth connection. It is proposed in several colors for the wooden structure and the panel.
Dimensions: 13.34cm x 21.27cm x 11.43cm
Price: $200 on Amazon
This article may contain affiliate links. If you choose to purchase after clicking a link, I may receive a commission at no extra cost to you. If you have any questions about this, please feel free to contact me.