Luxury Watch Brands
Luxury watches have always been a symbol of style and status. The perfect watch is not only a timepiece but also a statement piece that speaks volumes about your personality and taste. Swiss luxury watches have been leading the industry for decades, but high-end luxury watch brands from around the world now rival Swiss timepieces. To help you choose the perfect watch, we have compiled a list of the top 10 luxury watch brands, ranging from the traditional and timeless to the modern and avant-garde.
Our list includes brands such as Rolex, Patek Philippe, Audemars Piguet, and other iconic Swiss luxury watch companies, as well as international watch companies that have left an indelible mark on the industry. These watch brands provide precise, reliable, and exquisite watches, making them the go-to for watch collectors and enthusiasts alike. Read on to discover the world's most prestigious timepiece brands and what sets them apart from the rest.
1. Patek Philippe
Entering the grand world of luxury watches for both men and women, our first stop is the one and only Patek Philippe. Known as one of the best watch brands in the world, this Swiss company is a symbol of top-quality watchmaking. Started in 1839, this famous brand has been making the best luxury time pieces ever since it opened, earning its reputation as the best luxury brand worldwide.
What makes Patek Philippe stand out is not just its history, but its dedication to making each watch perfectly. The company shines because of its high-quality and classy watches, making its name with timepieces that are both beautiful and accurate. Every Patek Philippe watch is more than just a tool to tell time – it's a work of art that shows off the skill and craftsmanship of its makers.
Patek Philippe is also well-known for its complex mechanical watches. These watches aren't just impressive because they tell time accurately, but because they're masterpieces of technical design. Every tiny gear and spring is carefully put together to create a watch that's truly special. This is one of the reasons why Patek Philippe is often seen as a leader in the watch world.
Among Patek Philippe's many models, the Nautilus, Aquanaut, and Calatrava are some of the most loved. The Nautilus, for example, is not just a watch, it's an icon. With its distinct design and precision, it has become a symbol of luxury and class. Similarly, the Aquanaut and Calatrava models are also very popular for their unique designs and high-quality craftsmanship.
In a world where trends come and go, Patek Philippe's remain one of the best luxury watch brands . They are made to be passed down from generation to generation. The company's motto is, "You never actually own a Patek Philippe. You merely look after it for the next generation." This captures their belief in the lasting value of their watches, which is what makes Patek Philippe such a standout name in the world of luxury.
2. Audemars Piguet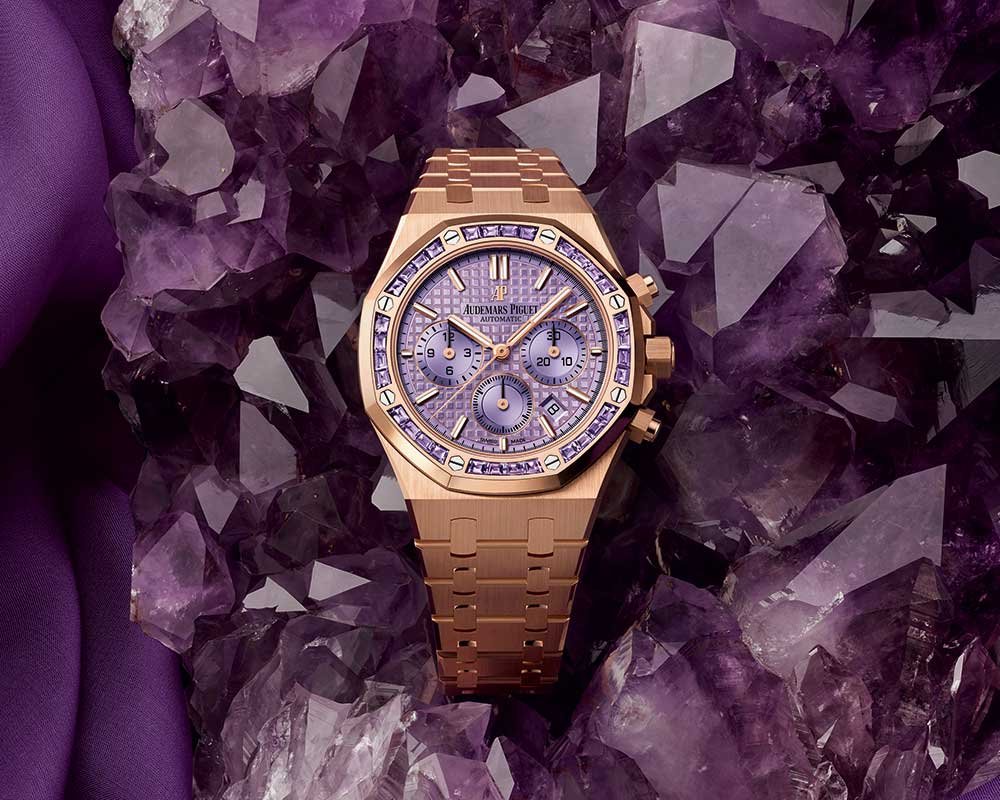 Shifting our focus to another standout in the world of luxury watches, we spotlight Audemars Piguet. With a history that stretches back to 1875, this Swiss brand is one of the true titans of the watch industry. The company is renowned for its exceptional craftsmanship, marrying innovation with tradition in a way that consistently redefines the boundaries of watchmaking.
The most iconic watch from Audemars Piguet's collection is undoubtedly the Royal Oak. Introduced in 1972, the Royal Oak rewrote the rules of luxury watch design with its unique octagonal shape and use of stainless steel. It's a testament to Audemars Piguet's ability to create innovative designs that still resonate with watch lovers today. The watch is not only beautiful, but also built to last, making it a watch that stands the test of time.
Alongside the Royal Oak, the brand's catalogue also includes the sportier Royal Oak Offshore and the distinctive Millenary. These models, like every watch from Audemars Piguet, reflect the company's commitment to excellence and innovation. They are more than just watches; they are pieces of art that you wear on your wrist.
But it's not just the design of the watches that makes Audemars Piguet special. The brand is also famous for its intricate and watches of high complexity. These high-quality timepieces feature detailed technical elements like minute repeaters, perpetual calendars, and tourbillons. These details are a clear sign of the brand's skill and expertise, setting Audemars Piguet apart as a top luxury watch manufacturers.
From its impressive history to its distinctive watch designs, Audemars Piguet is a brand that truly embodies the essence of luxury. Each model is a testament to the brand's dedication to craftsmanship, innovation, and timeless style. Audemars Piguet certainly deserves its place on the list. Whether you're an experienced watch collector or just beginning your journey into the world of luxury timepieces, this is a brand you should know.
3. Rolex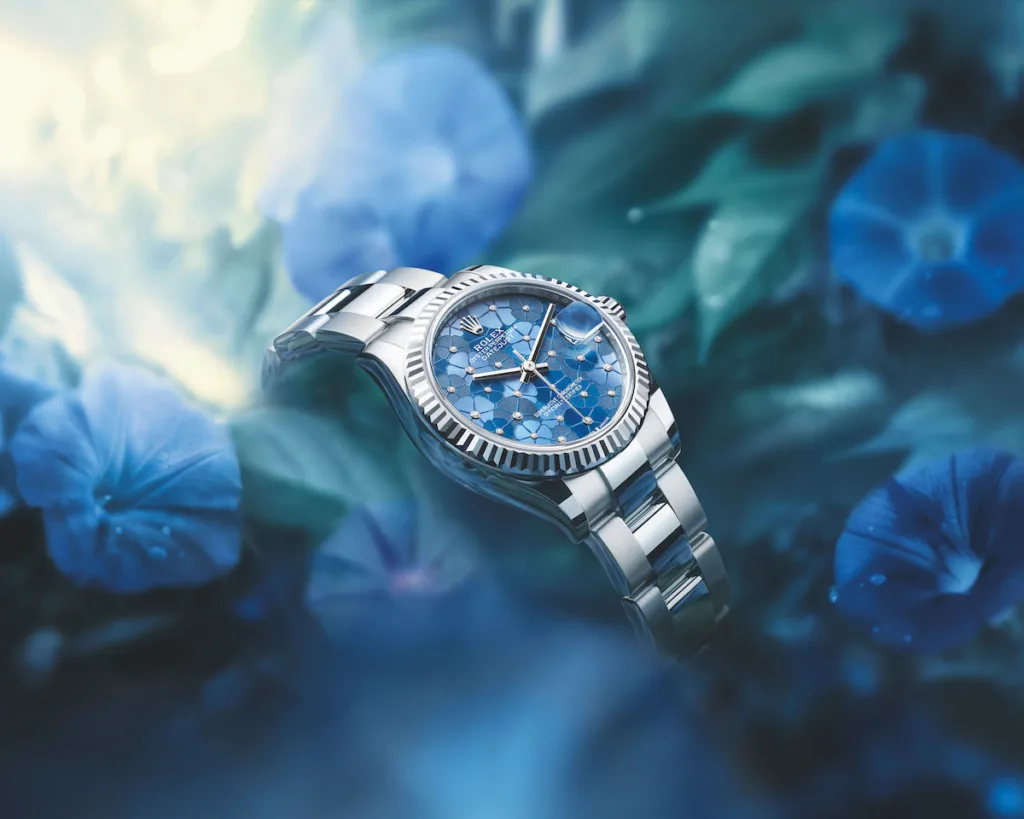 Moving along our journey of the luxury watch brands, we can not not talk about Rolex, a name synonymous with social symbol, high luxury and precision. Founded in 1905, this Swiss watch brand has made a substantial impact on the watch world, transforming it with its innovative and timeless designs.
Among Rolex's many ground-breaking innovations, the iconic Oyster model stands out. Introduced as the first waterproof wristwatch in the world, the Oyster model paved the way for the future of the whole industry. It's not just a watch; it's a symbol of Rolex's commitment to innovation and quality.
But the Oyster is not the only masterpiece from this prestigious brand. Rolex has a vast collection of watches that cater to various styles and preferences. From classic dress watches that go beyond elegance, to sporty timepieces like the Submariner and the Daytona, every Rolex timepiece is designed with precision and sophistication.
Let's not forget the Datejust, another favorite among Rolex aficionados. The Datejust is admired for its simple yet elegant design, making it a versatile piece that fits any occasion. This model, like every other Rolex piece, showcases the brand's skill in creating designs that are timeless and stylish.
What makes Rolex wristwatches truly unique, however, is their precision. Rolex timepieces are trusted by professionals across different fields – pilots, divers, and even astronauts. This is a testament to the brand's focus on creating watches that are not just luxurious, but also reliable and precise.
4. Jaeger-LeCoultre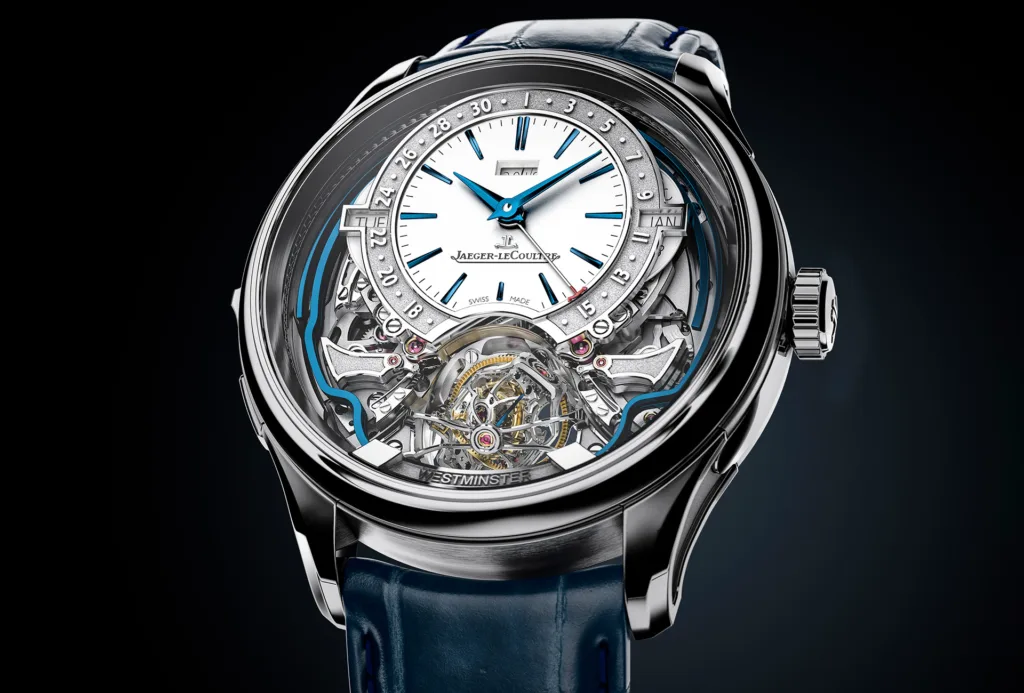 Moving on, we land at Jaeger-LeCoultre, an icon of Swiss watchmaking. Founded in 1833, the brand combines innovation, tradition, and expertise to create timepieces that are truly unique and elegant.
The most famous watch from Jaeger-LeCoultre's collection is undoubtedly the Reverso. Introduced in 1931, the Reverso brought something entirely new to the world of watches: a unique reversible case. This design allowed the wearer to flip the watch over, protecting the dial in the process, making it an ideal sports watch. But beyond its functional benefits, the Reverso also exudes a distinctive elegance that has helped it remain a classic over the years.
The Reverso isn't the only shining star in Jaeger-LeCoultre's collection. The Master Control and Rendez-Vous models are also beloved for their sophistication and precision. Every square watch from Jaeger-LeCoultre is a testament to the brand's commitment to excellence and attention to detail.
One aspect where Jaeger-LeCoultre truly shines is in its production of complicated watches. With features like tourbillons, perpetual calendars, and minute repeaters, these watches highlight the brand's technical prowess and innovative spirit. These timepieces represent the pinnacle of mechanical watch making, solidifying Jaeger-LeCoultre's status as a leader in luxury watchmaking.
Jaeger-LeCoultre is a name that resonates with both seasoned collectors and new enthusiasts alike. Each watch from this luxury watchmaker is a perfect blend of Swiss luxury, precise craftsmanship, and innovative design, making it a favorite in the industry. As we explore the world of luxury watch brands, Jaeger-LeCoultre certainly deserves its esteemed position. Whether you're looking for a dress watch or a mechanical masterpiece, Jaeger-LeCoultre has a luxury timepiece that is sure to captivate.
5. Vacheron Constantin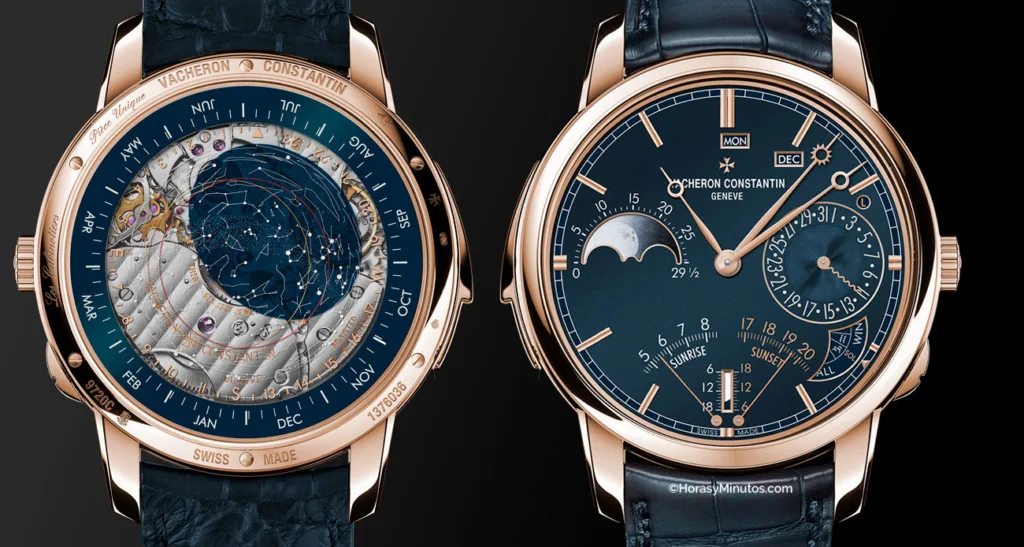 In 5th position, we encounter Vacheron Constantin, a brand steeped in history and prestige. With its roots dating back to 1755, this Swiss luxury watchmaker holds the honor of being the oldest watch manufacturer in the world that has been in continuous operation. The Vacheron Constantin name is a byword for excellence, known for producing luxury timepieces that merge tradition with innovation.
The Vacheron Constantin range includes models like the Overseas, Patrimony, and Traditionnelle. The Overseas model captures the spirit of adventure, making it perfect for the modern traveler. The Patrimony, as the name suggests, reflects the brand's rich heritage, boasting a minimalist and elegant design. Finally, the Traditionnelle represents the ultimate in craftsmanship, combining the brand's historical aesthetic with its unrivaled mechanical intricacies.
However, the brand truly shines when it comes to its intricate watches. The complexity of these timepieces, featuring tourbillons, minute repeaters, and perpetual calendars, showcases the incredible technical skill and innovation of the Swiss watchmaker. It's this ability to craft intricate and reliable timepieces that has cemented Vacheron Constantin's reputation as a one of the best watchmakers so far.
The rich history of Vacheron Constantin goes beyond watchmaking. The brand has graced the wrists of royalty and celebrities alike, proving that these sumptuous watches are fit for the most discerning of individuals. It's this reputation that makes a Vacheron Constantin watch more than just a luxury timepiece. It is a symbol of sophistication and status, a watch that has become iconic.
Vacheron Constantin is a standout. Each and every watch in their collection reflects the brand's commitment to quality, tradition, and innovation and therefore has become a famous watch. Whether you're an avid watch collector or simply appreciate the finest things in life, Vacheron Constantin offers a piece of history that you can wear on your wrist.
6. Breguet
Next brand in the list brings us to Breguet, the Swiss watchmaker renowned for its heritage and innovation. Established in 1775, Breguet has made significant contributions to the watch industry, combining exceptional craftsmanship with unique design elements.
A highlight from Breguet's watch collection is the renowned Classique model. Launched in 1810, this watch showcases Breguet's commitment to elegance and innovation. The Classique stands out with its guilloche dial, an intricate pattern that is engraved onto the watch face, a process that showcases Breguet's remarkable attention to detail. Made from precious metals, the Classique is the epitome of luxury, reflecting Breguet's status as a top upscale watch brand.
Beyond the Classique, Breguet also offers other popular models, including the Marine and Type XX. The Marine captures the spirit of the sea, offering a nautical-inspired design that is both sophisticated and functional. The Type XX, on the other hand, is a sports watch that is favored for its rugged durability and precision.
Breguet's prowess doesn't end with its exceptional designs. The brand is also famous for its complex watches, featuring impressive mechanisms like tourbillons, minute repeaters, and perpetual calendars. These complex features demonstrate Breguet's technical expertise, reinforcing its position as a respected watchmaker in the world.
With a rich history that spans centuries, Breguet has graced the wrists of notable figures, from Napoleon Bonaparte to Queen Victoria. This legacy only enhances the appeal of a Breguet watch, making it not just a luxury timepiece, but also a piece of history.
Breguet is more than just a high end watch brand. It's a testament to Swiss savoir-faire, a pioneer watch company, and a symbol of timeless elegance. Whether you're a watch enthusiast or a lover of luxury, a Breguet watch is a worthy addition to any collection.
7. Blancpain
Established in 1735, Blancpain is among the oldest watch manufacturers in the world, creating luxury timepieces that perfectly blend tradition and technology.
One of Blancpain's iconic creations is the Fifty Fathoms model. Introduced in 1953, this watch was a pioneer in the field of dive watches. With a water-resistance of up to 300 meters, it was designed for deep sea exploration, and over the years, it has become a beloved timepiece among divers and watch enthusiasts alike. The Fifty Fathoms model is a testament to Blancpain's expertise in creating luxury sports watches that will hold their value for decades.
Aside from the Fifty Fathoms, Blancpain also boasts other popular models like the Villeret and L-Evolution. The Villeret showcases a classic elegance with its simple design, while the L-Evolution represents the brand's commitment to progress with its modern, sporty aesthetics.
However, what sets Blancpain apart from other luxury brands is its talent for crafting complicated watches. From tourbillons to minute repeaters and perpetual calendars, these intricate features reflect Blancpain's technical prowess and creativity. Every Blancpain watch is a masterpiece that underscores the brand's reputation as one of the best watchmakers in the world.
Blancpain's rich history extends beyond crafting watches for the public. The brand has produced watches for military and navy personnel, proving that its timepieces are not only luxurious but also robust and reliable.
Blancpain is a brand that really shows what Swiss luxury is all about. From the famous Fifty Fathoms dive watch to its complex and beautiful timepieces, Blancpain offers all sorts of watches to match different styles and needs. If you're looking for a watch that stands for quality and fresh ideas, Blancpain is a brand you should think about.
8. Omega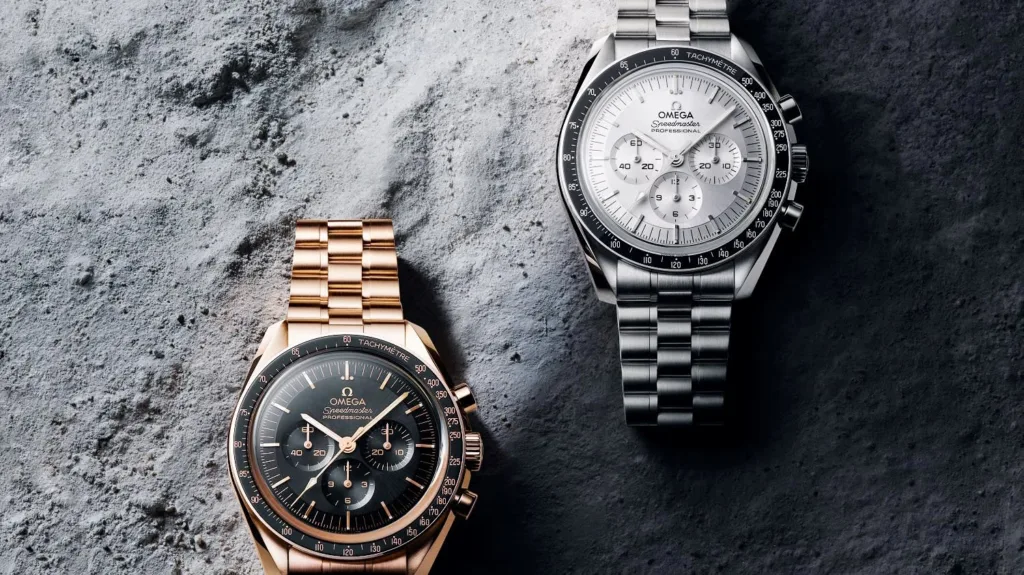 Omega is a Swiss watchmaker that has been crafting luxury watches since 1848. Omega is a brand that's popular all over the world, known for creating high-quality timepieces that combine function and fashion.
Omega's claim to fame is the Speedmaster model, a watch that made history when it was the first watch worn on the moon in 1969. The Speedmaster is more than just a precious watch—it's a symbol of human achievement and exploration. This iconic watch has a special place in the watch industry, standing out for its blend of cutting-edge technology and timeless design.
Alongside the Speedmaster, Omega offers other popular models such as the Seamaster and Constellation. The Seamaster is an excellent choice for those who love water sports, as it's designed to be reliable even in deep water. The Constellation, on the other hand, is a stylish dress watch that adds a touch of elegance to any outfit.
One thing that sets Omega apart is its dedication to precision. The brand's watches are loved by sports enthusiasts and athletes because they're designed to keep time accurately, even in the most challenging conditions. From sports watches to classic dress watches, Omega offers a broad range of options to suit any style.
Omega is a brand that knows how to make watches that are both stylish and reliable. Whether you're an adventurer, an athlete, or just someone who appreciates a good watch, Omega has something to offer you.
9. Zenith
Zenith has been crafting high-quality watches since 1865. With a long-standing history in the watch industry, Zenith has established a reputation for precision and quality.
Zenith is widely recognized for the El Primero model, a distinctive timepiece that stands out from the crowd. Introduced in 1969, the El Primero was a game-changer because of its unique chronograph mechanism, able to measure time to an accuracy of 1/10th of a second. This innovative design has cemented the El Primero as a benchmark in the watch sector.
Aside from the El Primero, Zenith has an impressive collection of watches, including the futuristic Defy and the vintage-inspired Pilot. Each Zenith watch showcases the brand's knack for combining cutting-edge technology with classic design elements.
However, Zenith isn't just about aesthetics and innovation. The brand is known for creating complex timepieces that feature moon phases, perpetual calendars, and tourbillons, showcasing the watchmaker's skill and craftsmanship. Each Zenith watch is a work of art, meticulously crafted to offer a perfect blend of form and function.
Over the years, Zenith's watches have been chosen by notable figures such as Mahatma Gandhi and Felix Baumgartner, highlighting the brand's global appeal and recognition.
Zenith is a luxury brand that offers well-crafted, innovative watches that can be worn by anyone. With its vast range of models and commitment to precision, Zenith has become a favorite among watch enthusiasts worldwide.
10. Cartier
We finish our list with Cartier, the last but not the least, the most exclusive French luxury brand established in the 1840s. Over the years, Cartier has become a favorite among royalty and celebrities, thanks to its timeless elegant designs and premium materials.
Cartier is particularly famous for the Tank model, introduced in 1917. With its unique rectangular shape and construction from precious metals, the Tank model is a classic piece that has stood the test of time. This iconic watch design brings together boldness and elegance, making it a timeless choice for every watch enthusiast.
Aside from the Tank, Cartier also offers other stunning models like the Ballon Bleu and Cartier Santos Watch. The Ballon Bleu watch is known for its round shape and bold design, while the Santos showcases a distinctive square dial, paying tribute to the brand's pioneering spirit.
One of Cartier's unique selling points is its jewelry watches. These timepieces are designed with women in mind and often feature diamonds and other precious stones. These watches are more than just timekeepers—they're also beautiful pieces of jewelry that add a touch of glamour to any outfit.
In the world of watchmaking, Cartier is a name synonymous with luxury and style. Every watch from this brand is meticulously crafted to provide a high-quality watch that is as much a fashion statement as it is a practical accessory.
Whether you're searching for an everyday watch or a statement piece, Cartier's range of luxury watches has something for everyone. The brand's blend of tradition, innovation, and design makes it a worthy choice for any watch collector.
Frequently Asked Questions
What are luxury watches?
Luxury watches are high-end timepieces created by prestigious watchmakers. They are made of high-quality materials and boast exquisite craftsmanship that is usually associated with the most exclusive and timeless designs.
What is a luxury watch brand?
A luxury watch brand is a company that specializes in creating high-end watches that are known for their precision, quality, and innovation. These companies use the finest materials, cutting-edge technology, and expert craftsmanship to produce luxury watches that are both stylish and functional.
What are the top 10 luxury watch brands?
The top 10 luxury watch brands are Rolex, Patek Philippe, Omega, Audemars Piguet, Cartier, Jaeger-LeCoultre, IWC Schaffhausen, Breitling, Breguet, and Hublot.
What makes a luxury brand of watch?
Luxury brands of watches are characterized by the use of high-quality materials, exceptional craftsmanship, innovative designs, and high price points that make them exclusive and rare. These watches often have unique features, such as complicated watch movements or limited edition designs.
What is the best luxury watch?
The best luxury watch depends on individual preferences, but some of the most popular and highly rated luxury watch brands include Rolex, Patek Philippe, and Omega.
What is a mechanical watch?
A mechanical watch is a type of watch that uses a complex mechanical movement to keep time. The movement is typically composed of a series of gears, springs, and other components that work together to power the watch's hands and keep accurate time.
What is a dress watch and a tool watch?
A dress watch is a classic, stylish watch that is typically worn with formal or business attire, while a tool watch is a rugged and functional watch that is designed for outdoor or sporting use.
What are the top 20 luxury watch brands of 2023?
While it's impossible to predict the future, some of the top luxury watch brands of 2023 are likely to include established watchmakers such as Rolex, Patek Philippe, and Omega, as well as up-and-coming brands such as Tudor and Hublot.
What is the oldest luxury watch brand?
The oldest luxury watch brand is Vacheron Constantin, which was founded in Geneva, Switzerland in 1755.
What is an exceptional luxury watch?
An exceptional luxury watch is typically a limited edition watch made by a prestigious watchmaker, using innovative technology and high-quality materials. These watches are often highly sought after by collectors and watch enthusiasts, due to their exclusivity and rarity.