The dispersal (I don't really like this term) of the Omega collection by Joël Duval, the founder of the French forum dedicated to watchmaking Forum à Montres (FAM) is taking place today at Drouot thanks to Vermot&Associés and under the expertise of Alexandre Léger who had already worked on the sale of the Zenith collection which belonged to the same Joël Duval.
This sale is extremely interesting because it offers a complete and balanced overview of Omega's history through the 126 lots that make up the catalogue. From pocket watches to contemporary models, the catalog explores the different worlds of the brand, of which we have a very fragmented vision these days. Indeed, the influence of the Speedmaster is such that it tends to focus only on the relationship between Omega and the conquest of space. The brand today takes care to diversify the themes (James Bond, the Olympic Games etc…) but the sale allows us to rediscover all the richness of its offer over the decades. For example, the commitment to the Olympic Games is not recent and some lots take us back to the atmosphere of famous editions of the Games and more broadly remind us that Omega's commitment to the world of sport was much wider.
Likewise, beyond the section dedicated to the Speedmaster in which there is a magnificent pre-moon Ed White model, the catalog highlights the diversity of the Seamaster collection and the consequent offer of Omega in the segment of dressier watches. A large number of 3-hand Seamasters are thus offered and they will delight enthusiasts looking for elegant and simple watches with a charming vintage character.
In any case, I will follow the results of this sale with great interest, as it will be a good indicator of the perception of Omega's asset value. Observing the contents of the catalog, I thought to myself that it is a pity that Omega is less present these days in the segment of dress watches, the De Ville collection not having (in my opinion), the charm of the pieces of yesteryear while neo-retro Seamasters tend to fly under radar screens.
You can follow the sale live via Interenchères or on the Drouot website from 2:30 p.m.
I offer you some examples of pieces for sale:
Lot 75: Olympic chronograph with its case
Lot76: chrono-quartz "Albatross"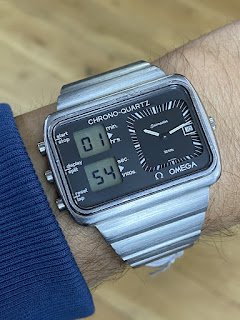 Lot 65: Speedmaster pre-Moon Ed White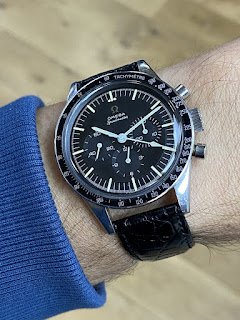 Batch 14: Seamaster 600
Lot 25: Dynamic Chronograph
Lot 86: Double Jonc horned gold watch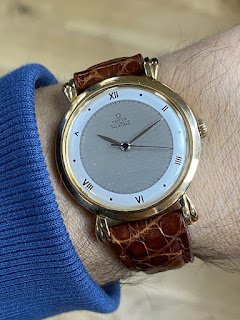 You will find a more complete story on my Instagram account @equationdutemps dedicated to this sale.