In our ever-changing world, one thing remains the same: the importance of time! For centuries, watches have been the privileged witnesses of our lives and watchmaking has gradually become, for many, much more than a simple measure of time.
Anxious to make as many people as possible aware of the great companies operating in our region, Swiss Made Watch Magazine is today focusing on a French house and inviting you to immerse yourself in the exciting world of the Humbert Droz manufacture.
The Humbert Droz legacy
The history of the brand dates back to the 20th century, more precisely in 1956, the year in which Marcel Humbert-Droz decided to establish the company Réparlux in the city of Besançon, cradle of French watchmaking. A few years later, in 1968, his son Jean decided to follow the same path and succeeded him within the company. At the dawn of the new millennium, it was the turn of Marcel's grandson, Frédéric, to take the reins of management of Reparlux.
Then, everything accelerated, in 2004 the company decided to move its premises to the Parc Alpia in Besançon and, two years later, the great-grandson Julien also chose the world of watches by registering to the watchmaking training provided by the Morteau school. He obtained his CAP as a watchmaker in 2009 and even graduated from arts and crafts 3 years later. In 2013, he managed the company's workshop where he worked alongside the repairers who worked there very seriously.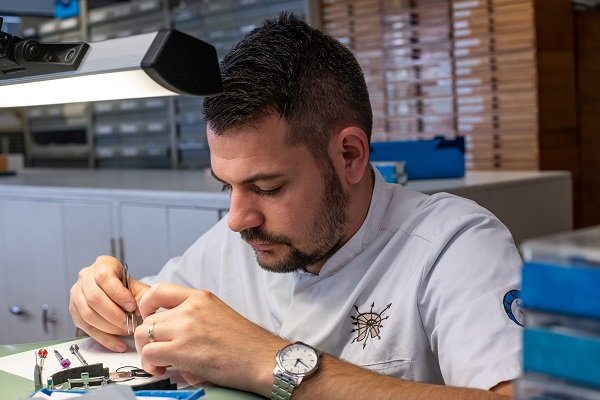 Just 60 years after its creation, the company changed its name to Humbert-Droz and took advantage of the event to unveil to the general public 3 collections of timepieces soberly titled HD1, HD2 and HD3.
In addition to offering its own watches, the family business now also takes care of the assembly and maintenance of parts from major brands in the sector.
The design philosophy
One of the most striking features of Humbert-Droz watches is their unique style! Indeed, each piece transcribes the contemporary and adventurous aesthetic specific to the brand. The cases with refined and more elegant lines highlight sophisticated dials which reveal meticulously crafted details. Placed next to each other, these elements manage to create a perfect alchemy which gives life to watches whose style will appeal to watch enthusiasts looking for a piece that is out of the ordinary.
To design its creations, the brand draws its inspiration from nature and art in general, each watch thus tells a different story. You simply need to carefully observe the different details that find their place on the brand's models to realize this stylistic richness.
"Vesuvius", "Pacific", "Duchesse", "Arctic" or even "Plane tree", here are some of the sweet names given by the firm to its references, all symbols of the inspiration it draws from the 4 corners of the world.
Proven calibers
For the manufacture of its timepieces, Humbert-Droz has decided to only offer precision mechanisms based on various technologies. Thus, watches equipped with a automatic movement mix here with more affordable references equipped with a quartz gauge ultra robust.
Note here that the house only uses Swiss or French movements! ETA 2824, ETA 2892, ETA 7753, Ronda 5040.B, here are some references that will sound familiar to many watch enthusiasts.
Some divers are even equipped with the very desirable G100 caliber in top finish with blue screws. A high-end mechanism, equipped with 24 jewels offering a power reserve of 68 hours, having emerged thanks to a partnership established at the end of 2021 between Humbert-Droz and the manufacture La Joux-Perret.
These high-precision watch calibers make it possible to create dress watches with 3 hands and a date complication as well as more complex ones. chronographs.
Unique collections
Whether you are looking for a men watch like a Ladies watchthe offer from the Humbert Droz company ensures that you will find a modern model adapted to your own tastes.
The company therefore offers several men's collections which bring together various models. If the HD1, HD7, HD9 and HD-Rea offer a sporty design (even downright industrial for some), the watches in the HD5 and HD6 collections play more on the card of classicism and elegance to appeal to an audience attached to more sophisticated designs. purified. Those who appreciate models riding the retro wave will enjoy browsing the pieces that furnish the HD8 collection and their wonderfully textured dials.
Made up of exclusively feminine creations, the HD Lou collection will appeal to ladies wishing to set their sights on a beautiful French piece whose beautifully sculpted case contains a vintage mechanical movement with manual winding, signed France Ebauche.
Made in stainless steel 316L, the cases and folding clasps are sometimes decorated with a PVD treatment gold or titanium. A genuine leather strap or a model made from a metal mesh completes the look of these Humbert-Droz watches.
In addition to offering some limited editions like certain HD1s equipped with a open heartthe brand also offers the possibility of configuring several references with a sapphire glassan option charged at €60.
As we explore the Humbert Droz universe, we discover a nice mix of dress watches and more technical pieces. References waterproof to 200 meters sit alongside more discreet pieces that will easily find their place on the wrists of today's dandies.
Something to amaze you by wearing a French watch manufactured with care and by qualified craftsmen in France, all passionate about their profession.