This article was bound to see the light of day no matter what. Just like the fate of Mr BIVERthe creation of his own brand, in his name, was inevitable and this, for my greatest pleasure.
Jean-Claude and his son Pierre announced it about a year ago: "we are working on the design of our own watch brand". The basic idea was to launch a small family brand full of values, for passionate people and with the aim of creating and designing very exclusive watches.
But before talking about this incredible project, let's go back a bit to the story of Jean-Claude Biver the veteran of the watchmaking industry, this magician who revives everything he touches.
The Journey of Jean-Claude BIVER
Born September 20, 1949 in Luxembourg, Jean-Claude Biver moved with his family to Switzerland at the age of 10, he continued his studies until he obtained his the HEC University of Lausanne in 1975. His career began at Audemars Piguet where he started as an intern, then quickly moved towards sales and marketing. In 1980, he worked briefly for Omega as product manager.
In 1982 Mr Biver resigns and acquires with Jacques Piguet, the rights of the Blancpain factory, a brand in free fall due to the famous quartz crisis. It took 10 years, in 1992, for Jean Claude Biver to sell Blancpain to the SMH group for 60 million CHF. The SMH group may not speak to you, but it is nevertheless the company which will subsequently become the Swatch Group.
In 1993, Biver then joined the management of the Swatch Group, but he remained at the head of the Blancpain House until 2003. He held the positions of Marketing Director and Managing Director at Omega until 2004 when he decided to leave Omega to take over Hublot watch brand.
During 2012, JC Biver resigns as CEO of Porthole but still remains president of the brand. This visionary of the watch market manages to revive from its ashes the Hublot brand who looked pale before his arrival. In 2014 it is another change of course since drink is appointed president of the watches division of the emblematic group LVMH and he also takes the direction of the TAG Heuer brand.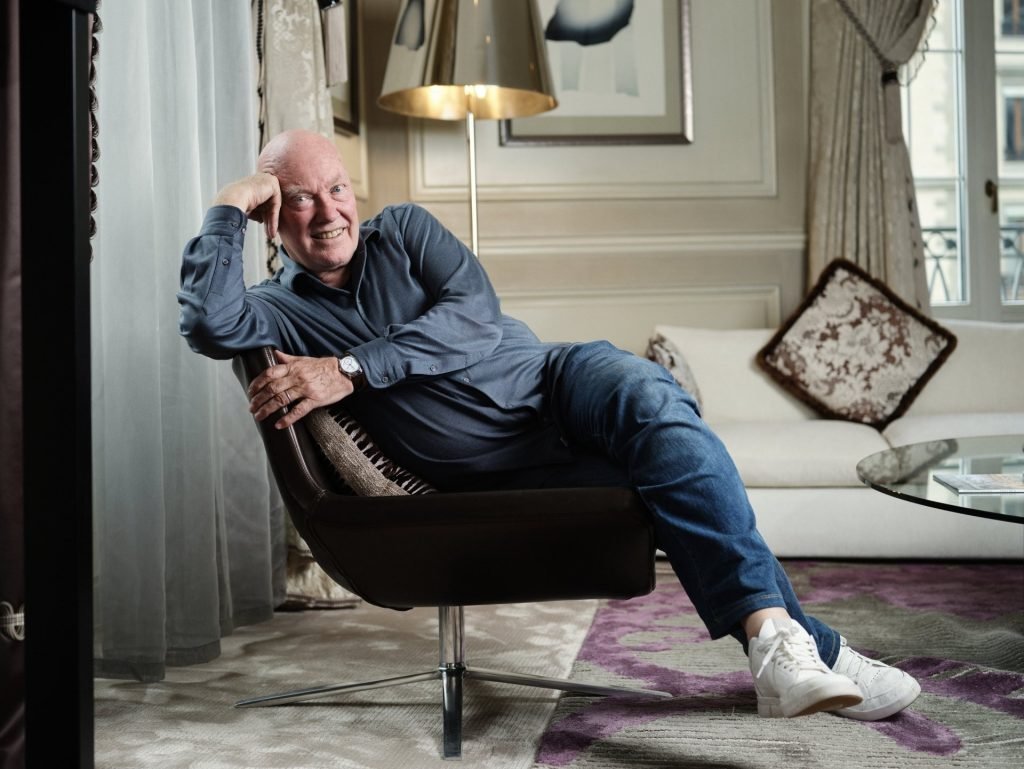 But JC Biver does not stop there since 2017, he takes the direction of the watch brand Zenith and he will be made Chevalier in the Order of the Legion of Honor in 2020. Since 2018 approximately, Jean-Claude Biver has given up his operational responsibilities for the various brands where he worked, unfortunately due to health concerns.
He is still very active today, notably by providing advice to young brands like NORQAIN for example or he joined the board of directors as a consultant.
So much for this beautiful journey which was bound to end with the supreme consecration: the creation with his son Pierre Biver, of an eponymous watch brand which reflects the values ​​and desires of Jean-Claude BIVER.
BIVER Watches: the watch brand of Jean-Claude Biver and his son
For this very first chapter of the watchmaker Biver Watches, Jean-Claude and Pierre wanted to design a relatively complex watch: an automatic minute repeater with chime that is regulated by a tourbillon and wound by a movement with a micro-rotor. Yes, just that.
a few days ago Pierre BIVER said:
"We wanted the minute repeater to be the cornerstone of the brand. Made to a design we could both identify with and with movement in service of the aesthetic we had defined. A contemporary watch, inspired by tradition and representative of my father and myself".

Pierre Biver
For the creation of this watch with Carillon TourbillonJC and Pierre called on the "Circle of Watchmakers", one of the best specialists in the field. The Circle of Watchmakers brings together caliber specialists such as François Perez, but also specialized assemblers and specialists in movement decoration.
The Carillon Tourbillon watch by BIVER Watches
A few days before the launch of Watches & WondersJean Claude Biver and Pierre Biver organized an event to unveil their first creation: the Carillon Tourbillon.
With extraordinary finishes even on parts invisible to the wearer, I must admit that I was amazed by this extraordinary watch. The Carillon Tourbillon comes to life in a 42 mm diameter case and comes in three variations:
A version with a domed sodalite dial and a 5N pink gold case
One with a silver obsidian dial and a titanium case
And finally a version with a skeletonized dial and a 5N gold case.
The three watches are fitted with dauphine-shaped hands and indexes in 5N gold or white gold. THE 5 link bracelets are also in 5N gold or titanium depending on the model. The watch offers an exceptional level of finish both on its front and on the back of the watch. The case of this Carillon Tourbillon is 5 ATM water resistant.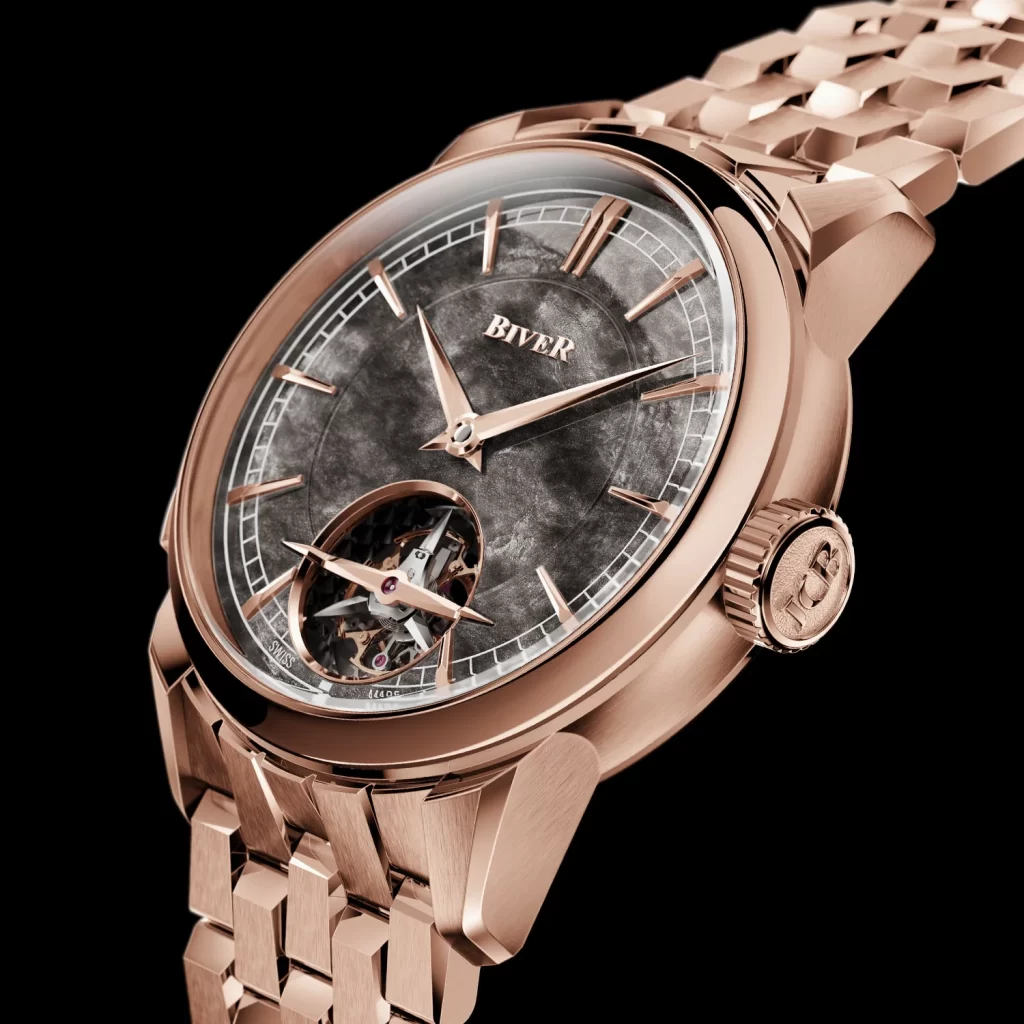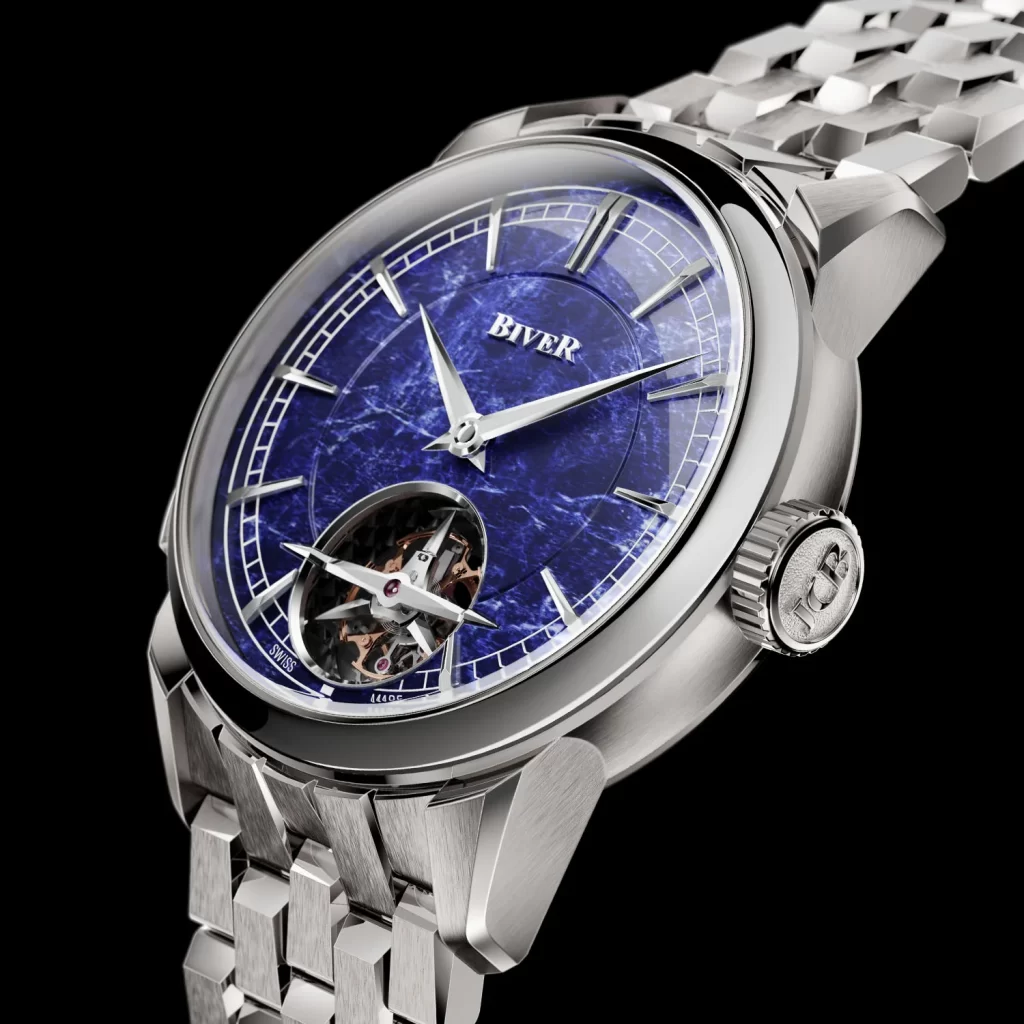 The movement of this Carillon Tourbillon watch
But what is this monument of complication that combines a tourbillon, a micro-rotor and a rehearsal? This is indeed a very good question when you see the complexity of the watch.
This timepiece is powered by the JCB-001, the very first in-house movement from the Biver Watches brand. This repeater movement has been slightly modified from a more traditional minute repeater movement. Indeed, a chime has been added, this means that the movement uses three hammers instead of two in a classic movement. One of the relatively rare characteristics for a repeater watch is the fact that the movement is wound by a micro-rotor. I've always been a fan of watches with a micro rotor because it saves a lot of space and makes it possible to offer a slim watch. Moreover, the micro-rotor offers us a breathtaking view of the movement of this sublime Carillon Tourbillon watch.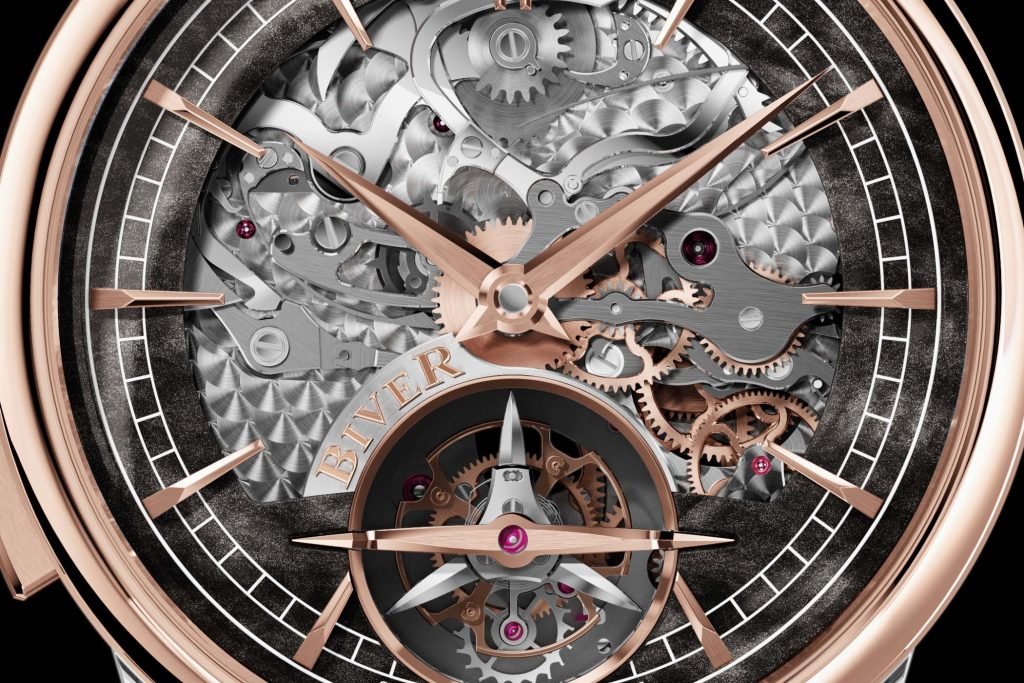 The sapphire crystal caseback allows the movement to be seen with high-end finishes. This automatic caliber JCB-001 has a diameter of 34 mm and offers a nice 72-hour power reserve at the watch.
PRICE AND AVAILABILITY
As announced, Biver Watches will be distributed by only a few retailers and, above all, in dribs and drabs. It is necessary to count €520,000 for this Carillon Tourbillon Biver. Ouch, I agree his prick. For now, Biver watches will be available from only one retailer per region of the globe:
Yoshida in Japan
The Hour Glass in Singapore
Bucherer in Europe
Material Good in the United States
Ahmed Seddiqi & Sons for Dubai of course
For now, only 18 watches will be available but in a few years the brand's cruising speed could be around the 50 pieces per year according Pierre Biver.
My opinion on this watch is that I expected it a lot, it's a sublime watch, a rare bird that is not within everyone's reach. An exceptional watch with a breathtaking level of detail and finishes, a mixture of complexity served on a dial yet so simple and elegant. Is the price justified? I don't know, €520,000 it's a huge price even in watchmaking, it's starting to hurt a lot especially when you look at watches from A. Lange & Söhneor from Breguet For example.
I would have loved to see Pierre and Jean Claude launch a more affordable luxury and high-end watch brand, but that would not have reflected their values ​​and what they want to convey.