At Audemars Piguet they are doing well. Not content with having launched a risky collaboration with designer Matthew Williams, now they surprise us with a new material, and used none other than their legendary Royal Oak Jumbo. For less serious things, people went to the stake in the Middle Ages. The novelty is part of the project refurbishment of the Royal Oak Jumbo Extraplane that the firm presented last year and that included the offer of the watch in five materials different types of case: steel, platinum and the three types of gold. Now that the platinum version, a temporary edition, has disappeared, this new model made in titanium and massive metallic glass.
Audemars Piguet's message is very clear: The Royal Oak Jumbo Extra Flat is not a living fossil. It is a watch in permanent evolution, capable of adopting innovative materials and finishes. This experimental facet is part of Audemars Piguet's DNA and without it it would have been impossible for the Royal Oak to exist today.
A very special background
As we say, the great novelty that this new version of the Royal Oak Extraflat brings is the use of massive metallic glass (BMG in its English acronym). Es the first time that Audemars Piguet uses it in a watch in its catalogue, although it had previously used it in a unique piece. We are referring to the Extra Flat Royal Oak that the manufacturer donated for the 2021 edition of Only Watch. That watch differed from the new Extraplano in its dial, with an anthracite gray finish and Petite Tapisserie relief more in line with the model's historical style. Of course, that unique edition for Only Watch was still equipped with the 2121 movement, since the new generation of extra-thin calibers would not arrive in the Audemars Piguet catalog until a year later on the occasion of the anniversary of the Royal Oak.
With an estimated final price of 160,000 Swiss francs, that very special Royal Oak piece was finally acquired by 3.1 million Swiss francs
Golfers and engineers
Massive metallic glass came into use in the 1960s and is today a common material in the fields of microelectronics and golf. It has also been used previously in watchmaking. Panerai It began to incorporate it into its collection in 2017 and since then there have been several references made with this material. The special nature of massive metallic glass comes from the process used in its production rather than the materials used. It consists of a alloy of various metals that are subjected to a high pressure injection process and subsequently cooled in just a few seconds in order to achieve an unordered molecular structure, without becoming a crystal. The massive metallic glass stands out for its great hardness to external blows and its extraordinary brightness.
Audemars Piguet has created its own version of massive metallic glass. The complete formula is secret, although the firm has highlighted the use of palladium in a percentage greater than 50% to achieve exceptional hardness and shine. This version of the BMG has been used on this occasion to prepare the bezel, case back and bracelet securing bolts. Both the case and the bracelet are made of titanium.
The old 'new' Jumbo
The rest of the characteristics are those already known from the Royal Oak Extraflat, better known among fans by the nickname Jumbo. Let us remember that a year ago Audemars Piguet updated the collection on the occasion of the 50th anniversary of the creation of the Royal Oak. An update of the collection with the arrival of a new caliber to the collection. Its about movement 7121an extra-flat mechanism of just 3.2 millimeters thick whose development lasted for more than five years. The 7121 stands out for its high power reserve (55 hours), high frequency (28,800 alt/h) y new date change systemthinner and stronger than the one used in the previous 2121. The loading rotor is also of a new design, in an openwork finish and manufactured with 22 karat rose gold.
Breaking cover
Using massive metallic glass in an icon like the Royal Oak Extra Slim is revolutionary and fits well with the unorthodox nature of Audemars Piguet. However, externally there are hardly any differences with other metals such as titanium or palladium. You have to get very close to appreciate the differences. The opposite happens with the cover. Its smooth, burgundy-to-black finish marks a break with the traditional image of Royal Oak.…or at least as we knew it until last year. In addition to a new caliber, Audemars Piguet took advantage of last year's anniversary to launch four Jumbo references.
We now stop at the controversial and spectacular platinum version, accompanied for the occasion by a dial with characteristics similar to those of the new Royal Oak, although in green instead of burgundy. More traditional collectors may lament the loss of the Jumbo's original identity, but they must also recognize that These smooth dials in gradient colors provide a renewed image of a watch that, let us keep in mind, is already more than fifty years old.. As the wisest say, renewing yourself is the only way to not die. And the Royal Oak Jumbo knows how to renew itself.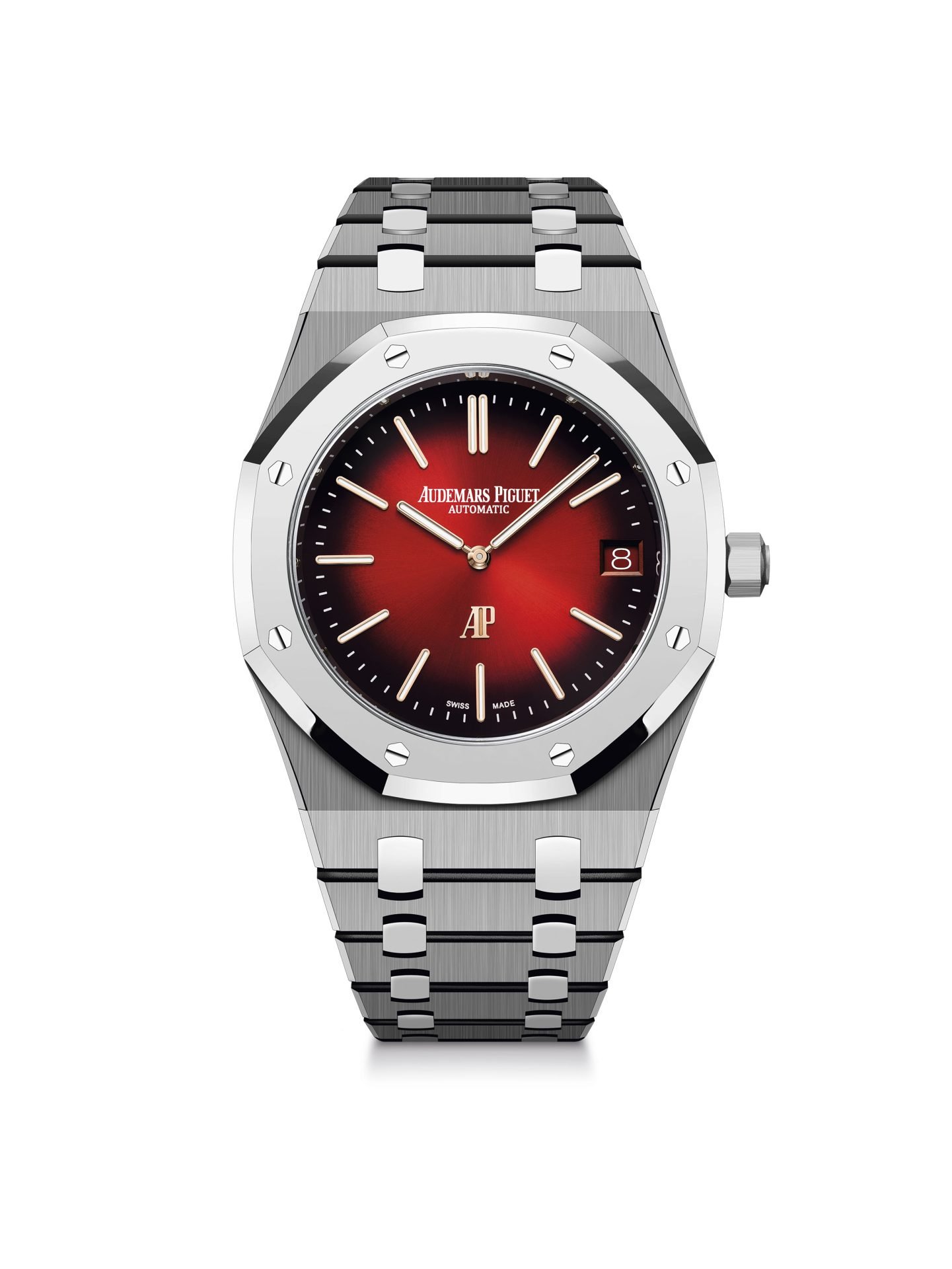 AUDEMARS PIGUET JUMBO EXTRAPLANO 16202XT
Motion:
Self-winding caliber 7121, 268 components, 33 jewels, two barrels, 28,800 v/h, 55-hour power reserve.
Function:
Hours, minutes, date.
Box:
Satin and polished titanium, 39 mm. Massive metallic glass bezel. Sapphire crystal. Back with sapphire window and massive metallic glass outline. Water resistance to 50 meters.
Cover:
Smoked burgundy with sunburst motif, roa gold indexes and hands with luminescent coating.
Correa:
Titanium links with massive metallic glass pins, titanium folding clasp.