I'm happy to share with you a special project involving two amazing people, Guillaume Laidet and Theo Auffret. They've created the Argon Space One Watch, a unique watch brand with a space theme.
Before we discuss the brand and its first collection, SPACEONE, let's learn about the two creative people who started this new and exciting watch company.
Guillaume Laidet: The Biver of modern times!
Guillaume Laidet is perhaps not a name that you will know the first time but I am almost convinced that you know his work, you have probably even had one of his watches in your hands. The Jean Claude Biver of modern times, here's a nickname that matches perfectly with the profile and extraordinary career of this entrepreneur at heart.
After having worked in prestigious watch manufacturers such as Zénith, Girard Perregaux and Jaeger-LeCoultre, Guillaume decided to embark on his own adventure by founding William L.1985. The brand got off to a great start via Kickstarter with a crowdfunding campaign that reached almost €200,000 for around 1,200 watches sold.
From acquaintance to acquaintance, Guillaume Laidet joins forces with Remi Chabrat its business partner on William L.., the two men then embark on the resurrection of Nivada Grenchen. But this is only the beginning, totally stung by watchmaking, Guillaume will then take over Vulcan watches as well as the brand Excelsior Park. A man with several hats, a real Swiss army knife (yes…I had to make this little joke) who is now embarking on a new watchmaking adventure by unveiling ARGON Watches.
Théo Auffret: The watchmaker behind Argon Watches!
While accompanying his father to a watch shop, Theo Auffret very quickly developed a passion for watchmaking and independent watchmakers. While taking his baccalaureate diploma, Théo began his apprenticeship as a watchmaker-restorer in the workshops of Denis Corpechot, in the heart of Paris. Subsequently, for 2 years, he will work alongside Jean-Baptiste Viot. He then alternates weeks of work in the workshop and weeks of classes at the Lycée Edgar Faure in Morteau.
In 2018, Théo Auffret presents his Tourbillon project at the FP Journe Young Talent Competition. He won this competition and then decided to start as an independent watchmaker. Today, he is embarking on this unique new adventure alongside Guillaume Laidet.
ARGON Watches: The return of the jumping hour
It is in 2022, during a summer evening that the adventure ARGON Watches slowly began to take shape. While Théo Auffret and Guillaume Laidet meet for the first time, they talk together about watchmaking, the evolution of the market, their passion, etc. Théo presents sketches of watch case designs to Guillaume, who stops on the one of the drawings, it will be the future SpaceOne of their common project: ARGON.
The design of the ARGON Spaceone
The watch ARGON Spaceone came straight out of the imagination of Guillaume and Théo. A unique timepiece between the UFO and the stroke of genius that can be found in houses like MB&F or even URWERK. This watch is a watch that changes, here is finally something that feels good. It's not just another chronograph, a diver's watch or a dresswatch like you see popping up every morning.
The Spaceone is a kind of wrist vessel, a watch with a futuristic and sleek design that tells time in its own way. On this watch, there are no hands, but discs coupled to a jumping hour mechanism developed from A to Z by watchmaker Théo Auffret.
The watch case
Let's tackle the heart of the matter with this famous unidentified case. This first collection of the house ARGON Watches takes the form of an oval modified and shaped by time. The Spaceone does 51.67mm wide For 42mm tall and all in 12.6mm thick. In proportion to a more classic watch, we remain on very correct dimensions, even in terms of thickness which scared me a little at the start of the project.
On the right, there is a generous box office sapphire crystal 17.2mm wide. It is in the latter that the magic of the jumping hour operates. I will tell you about it in detail a little later. On the left side of the case is the crown which will allow the automatic movement to be wound if necessary, but also to set the time.
This crown let's talk about it, it has been very well studied, neither too big nor too small, it offers a perfect grip. I really like its style and shape. When you embark on such a project, every detail is important and I must admit I was seduced by the way the crown follows the extension of the case. It does not disturb the design in any way and don't panic. it won't bother you when worn.
The Spaceone case also has a very nice level of finish. We find beautiful curves that soften rougher shapes. An alternation of brushed, polished and sandblasted surfaces brings a lot of life to the case. In back, a steel and sapphire crystal caseback offers a view of the movement in action: Soprod Caliber P024 modified by Théo Auffret.
This case will be available in several materials during the Kickstarter campaign but be careful, it will go very quickly. THE May 11, 2023during the launch of the campaign you will have the choice between the stainless steel Spaceone, available in unlimited quantities during the campaign. 100 watches will also be available in carbon versiona real marvel and 100 watches will be available in titanium version.
A little surprise is hidden in this beautiful Kickstarter campaign because if the 100 carbon watches and the 100 titanium watches are sold then a blue titanium version will also be available.
Unlimited number of stainless steel cases (campaign duration)
100 Carbon watches
100 brushed titanium watches
An unlimited number of blue titanium cases (if sold out of the 100 carbon and 100 classic titanium)
A great campaign with great goals and I can't wait to follow it all. I'm always very excited when a new watch project appears on Kickstarter, especially when I've been lucky enough to have each watch in my hands.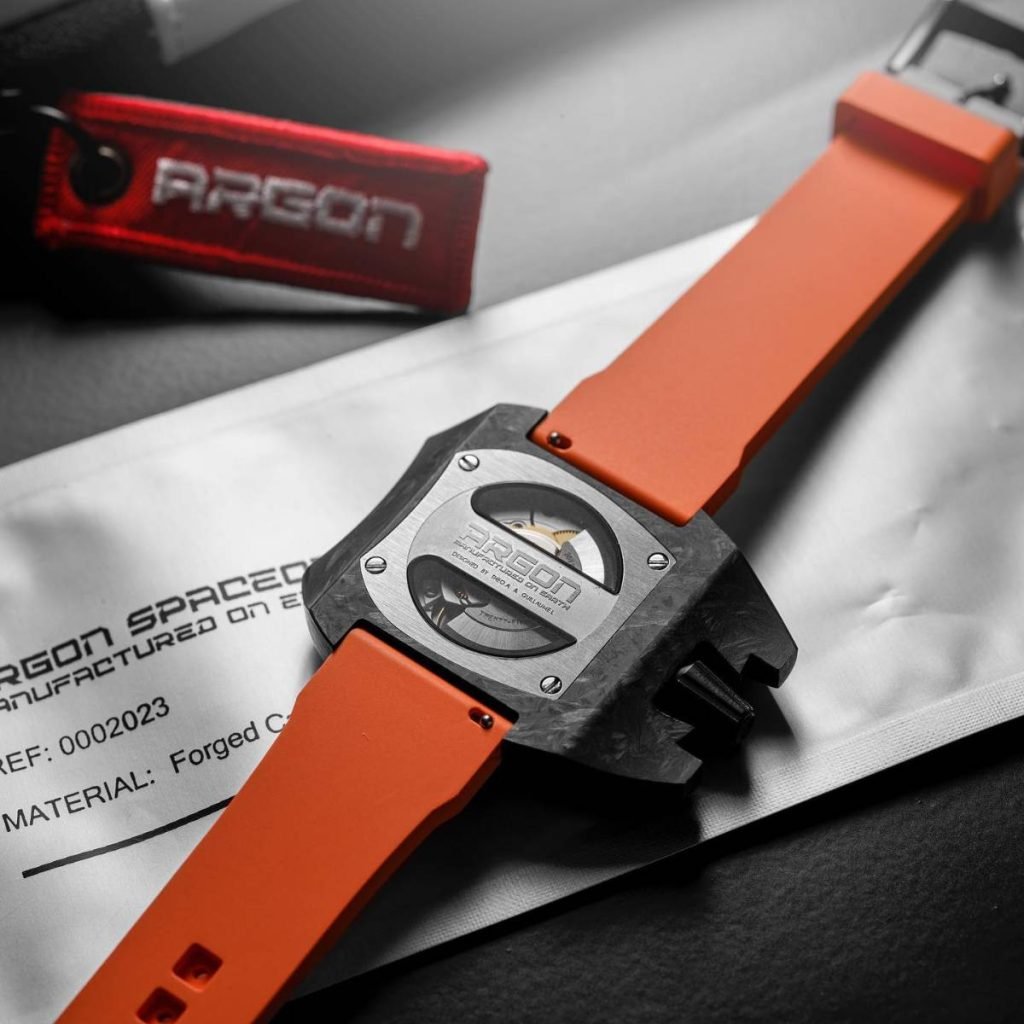 The watch face
Now that we have quite dissected the case of this Spaceone from ARGON Watches, now let's move on to the "dial". So it's not really a dial, but it's what, in my opinion, makes all the charm of this watch with its innovative design.
We therefore find 3 graduated discs, with from left to right: the seconds disc, the hours disc and finally the minutes disc. The most interesting is the most spellbinding being of course the seconds disc which turns on itself.
Watches in the Carbon and Brushed Titanium version have black discs with white writing unlike the version 316L steel which it has white discs with black writing.
If you're wondering about time telling and accuracy, then don't panic because it's relatively easy to tell time on a jumping hour watch. In fact, it's even simpler on this ARGON Watches than on any other more traditional 3-hand watch. The time can be read at a glance on the counter (10h10min on the example above).
Let's take a closer look at the mechanical movement of this Spaceone.
The jumping hour movement Argon Watches
Let's open the hood of the beast a little and see what happens in this watch ARGON. This first Spaceone collection is a jumping hour watch, which means that the hours jump and change suddenly from one hour to the next. It is not so easy to find a jumping hour automatic watch movement. To tell the truth, it doesn't really exist, but it's most often a module that is added to a movement base.
For this watch straight from space, it is the watchmaker Theo Auffret who has developed a complete module based on a well-known automatic movement: land Soprod P024.
This jumping hour is composed of 9 pieces. It is via this system of several cogs and springs that the hour jump is controlled. All components are made in Switzerland then assembled in France in the Parisian workshops of Théo Auffret.
I particularly like the operation of the module as well as the time setting which is really very nice and fluid. It changes a lot from a needle watch. Be aware that on this ARGON module the time does not jump instantly in a fraction of a second.
The current time remains frozen for the first 55 minutes. Then at 55, the hour disc begins to turn slightly to jump suddenly between 59 and 60 minutes (00 on the disc). It's a bit similar to a change of date in outline.
Concerning Caliber Soprod P024, it is a well-known Swiss mechanism. This movement of 4.6mm thick is an entry-level automatic caliber that offers 38 hours of power reserve at the watch. It has an accuracy ranging from -7 to +7 seconds per day.
Straps and packaging
I'm going to repeat myself again, but as you know, packaging is life and I attach paramount importance to it, just like watch straps.
For this ARGON Spaceone you will have the choice between two rubber bracelets which match perfectly with the style of this timepiece. One in black and another very nice in orange which brings a touch of pep to the watch and which contrasts well with the different cases offered.
There are two small trenches on the bracelet which directly echo the design of the case. For the buckle, you will find a magnificent pin buckle full of details. This openwork buckle also takes up the overall aesthetics of the case with an engraving of the ARGON-logo.
For the packaging, nothing has yet been completely revealed for the moment but a priori your Spaceone will be packed in a small vacuum pouch for a very futuristic style. This little pouch will be in a kind of more rigid cover / shell with a style straight out of the NASA offices. The top for a spatial and futuristic watch.
My Opinion on the ARGON Spaceone
I am very excited about the ARGON Watches project that I have been following since its inception. A watch with a look of madness and above all with a very nice level of finish. A strong and assumed DNA with a design that changes, a kind of affordable MB&F because concerning the prices we are between 1500€ and 1900€.
Spaceone collection price:
Steel version: 1500€ excl. VAT
Titanium version: 1900€ excl. VAT
Carbon version: 1900€ excl. tax
Blue Titanium Version: €1900 excl. VAT
I also really like the fact that Théo Auffret (whose work I love) worked on this project and on the development of the jumping hour module. This Auffret / Laidet duo announces very, very good results for this young brand.