The "SL" nomenclature on Mercedes-Benz automobiles comes from the German abbreviation "Super light" which refers to its lightweight construction body and chassis, with maximum rigidity and high-level performance. This designation has been used on several models of the brand over the years and represents the combination of sporty performance and low weight that characterizes the SL series vehicles.
The idea behind this designation is to highlight the sporty nature of SL models, which are typically high-performance sports cars with an emphasis on sophistication and luxury. SL models have earned a reputation for their on-road performance capabilities, powerful engines and advanced technology, while also offering comfort and style for driver and passengers.
Gull Wings
The history of Mercedes-Benz SL automobiles dates back to the 1950s, when the German brand introduced the iconic Mercedes-Benz 300 SL, also known as "Gull Wings" due to its doors that opened upwards, a solution that is based on the type of three-dimensional structure chassis that it used and that prevented the use of normal doors. "Form follows function," goes the German design mantra.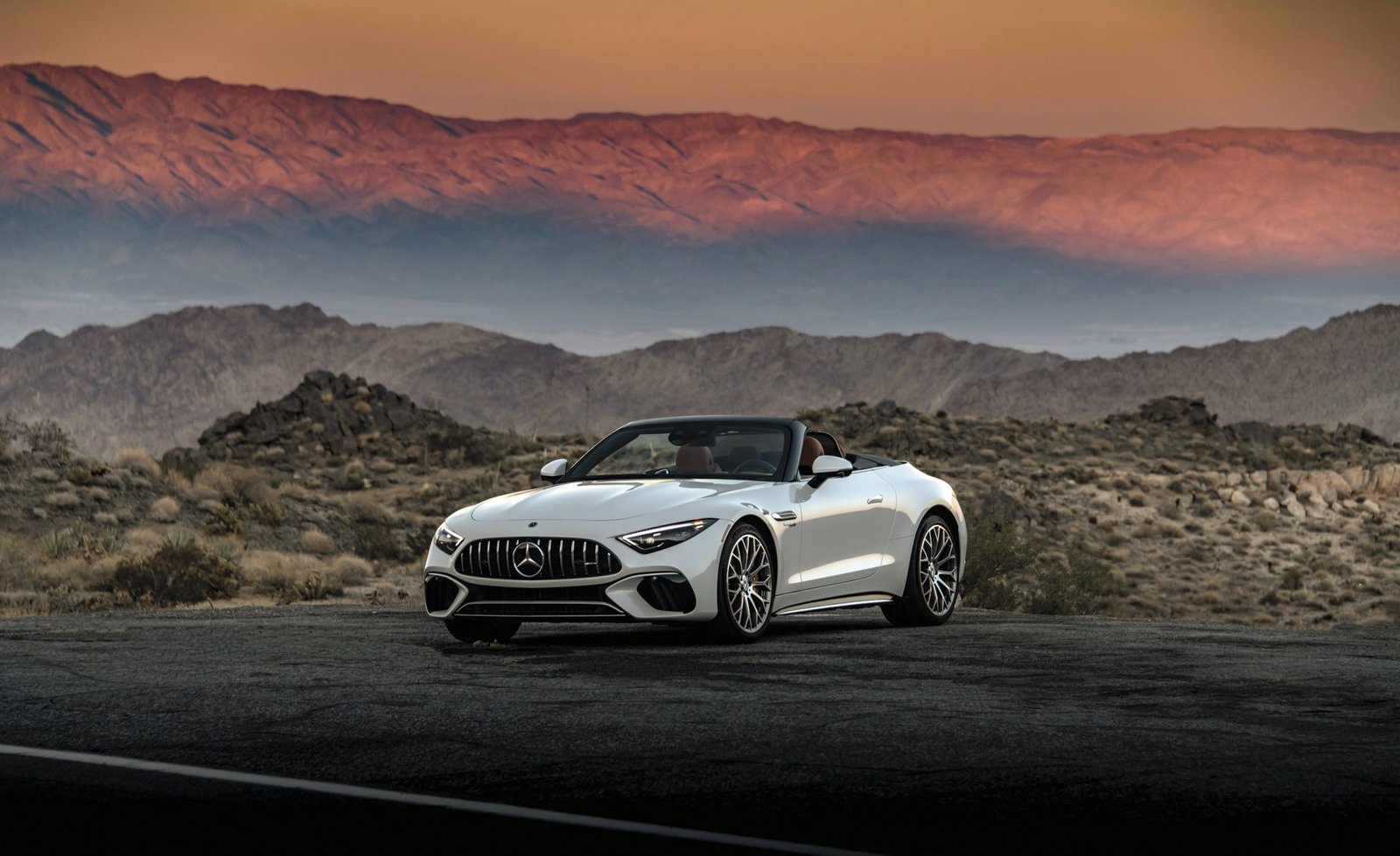 After success in competitions, especially the 1952 Carrera Panamericana, this model was launched to the public in 1954 as a high-performance sports car with authentic competitive roots and became one of the most iconic vehicles of the time. It was the first production car to have a direct fuel injection system – derived from the star firm's aviation engines – which made it even more special in terms of technology and dynamic performance.
Aerodynamic design
Mercedes-Benz 300 SL It was primarily intended for export markets, especially the United States, where it gained a large number of fans and followers; everyone who wanted to show off their status drove a 300 SL. Its 3-liter inline six-cylinder engine produced impressive power for the time. Furthermore, its low weight, aerodynamic design and advanced technical features made it an appreciated high-performance car both on the road and on the track.
The success of Mercedes-Benz 300 SL led to the introduction of several subsequent generations of the SL series, each with its own technological improvements and advancements. Over the decades, SL models became the personification of luxury, performance and elegance in the world of high-end convertibles – strictly two-seaters – although their first example was a coupe, shortly after continued 300 SL Roadster in 1957, establishing the path forward.
Throughout its history, Mercedes-Benz SL has constantly evolved to incorporate the latest technological innovations and meet the demands of drivers around the world and the new generation is an excellent example of this. Even more so in sports Mercedes–AMG SL 55 4MATIC+.
One man, one engine
Starting with the engine and faithful to the AMG philosophy of "one man, one engine" which means that each 4-liter V8 with two twin-scroll turbochargers is carefully assembled and adjusted by a single technician who places his name and signature on a metal plate on each block, this high-performance power plant delivers 476 horsepower. power with AMG SPEEDSHIFT MCT 9G nine-speed automatic transmission and that power is distributed to all four wheels permanently through a 4MATIC+ system. The transmission is a piece of high technology, since it can make changes extremely quickly or make them smoothly and almost imperceptibly, depending on the chosen driving program.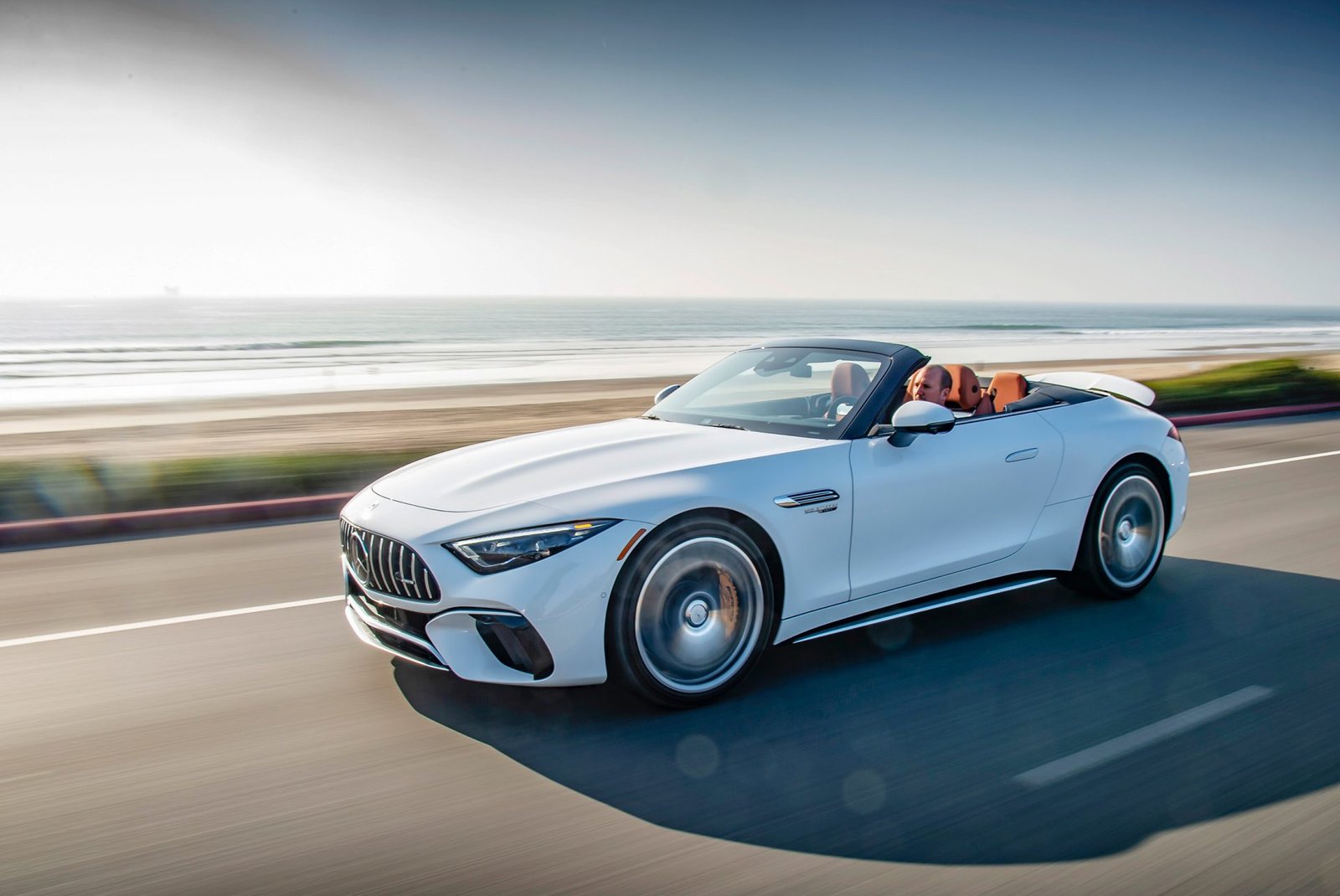 Likewise, the AMG ACTIVE RIDE CONTROL system "reads" the road conditions and driving situation. In this way, it adapts the firmness and damping of the suspension and the speed of response and steering assistance. This allows the feeling of total control in any condition. If that were not enough, it has a system that allows you to raise the front suspension by 30 mm to avoid damage to the front fascia when facing bumps or very high vehicle entrances.
open air
The canvas awning folds electrically in just 15 seconds, so you can change the experience as quickly as weather conditions demand. The exclusive AMG Performance seats provide great safety and comfort by practically "hugging" the occupants to provide a unique experience.
The MBUX infotainment system and the Burmester® High-End 3D surround sound system developed by the Berlin hi-fi firm can be controlled through the 11.9-inch central screen. This has a tilt adjustment to avoid reflections, especially when driving outdoors. The incredible AIRSCARF system surrounds the occupants' necks with warm air, like an invisible scarf, so it is possible to enjoy a beautiful blue winter sky without freezing.
The plethora of high-tech technical devices assist the driver at all times, including ensuring that they do not stray from their lane in case of distraction or fatigue. It also has active braking assistance and a traffic sign assistant, which allows the display system to launch an alert reminding us of road signs and conditions.
Parking couldn't be easier, since the new model has an assistance system through 360° cameras that give a view of the car's position from the sky.
IMPORTANT NOTE: The images that appear here are used as a reference. Consult vehicle specifications at www.mercedes-benz.com.mx or at your Authorized Distributor. Mercedes-Benz®, Mercedes-AMG®. Mercedes-EQ® and Mercedes me® are brands of Mercedes-Benz Group AG.