THE best golf watches are great fitness watches on their own, but they really excel when they use their GPS tools to elevate your game on the course. Like classic smartwatches, the golf watches record your runs and cycling trips with built-in GPS, but they're also custom-designed to use course maps to help you make decisions, choose your clubs, and monitor your swing speed and power .
Essentially, the golf watches are a combination of the best smartwatches and fitness trackers, with special software designed to improve the mental and physical game of golfers. Golf watches generally offer health tracking features comparable to other fitness watches, such as usual step count, calorie burn tracking, heart rate monitoring, and sleep score. The top performers also feature GPS playback of thousands of courses, ways to track your score, record your swing speed, recommend clubs based on your next shot, and more.
Some golf watches can measure your swing speed using an accelerometer placed on the wrist and act as a virtual scorecard, allowing you to check your results with a flick of the wrist. Other functions abound: the Garmin Approach S62, for example, can suggest clubs based on wind speed and direction, as well as the distance you usually play with each type of club. This means it can help you determine the effectiveness of your shots after the game, and see what you could do differently next time.
If you want to improve your game on the tee, investing in a golf watch is therefore a good idea, especially if you want to adjust your game on the fly for better hole-by-hole results. Keep in mind that if you are a professional golfer and play competitively, you need to purchase one that is tournament-legal. Some golf watches advances may be refused.
We have tested many of the best golf watch models of the market, putting them to the test, in order to help you make your choice.
The best golf watches at a glance
Garmin Approach S42
FEATURES
Screen size: 1.2 inches
Battery life: Up to 10 days
GPS: Yes
BENEFITS
+ Battery life
+ Clever design
DISADVANTAGES
– No Virtual Caddy
– Lack of advanced tools
Like all best garmin golf watches, it comes preloaded with details for 42,000 courses worldwide, plus Garmin Autoshot to analyze and record shot distances. Green View lets you position the flag manually using the large color touch screen and shows you the actual shape of the green. Battery life is also impressive, lasting up to 10 days in smartwatch mode, or 15 hours with GPS on.
The Approach S42 is also smart enough for everyday wear. While many golf watches prioritize function over form, the Approach S42 features a metal bezel and buckle, as well as a slim case, meaning it won't be misplaced off course.
That's just as well, because with all-day step tracking, sleep tracking, and training profiles for cycling and swimming, you might not want to take it off.
In our testing, we missed the Approach S62's virtual shopping cart feature, but we loved the AutoShot mode. It has less fitness tracking features off the course, but it is a good compromise and a versatile device at a reasonable price.
Garmin Approach S12
FEATURES
Screen size: 0.9 inches
Battery life: Up to 30 hours with GPS, up to 10 weeks without GPS
GPS: Yes
BENEFITS
+ Affordable price
+ High GPS accuracy
+ Battery life
There Garmin Approach S12 watch is an entry-level golf watch, and one of the best available in this price range. Its design and features live up to its modest price, and it includes detailed maps of 42,000 courses, as well as GPS that proved very accurate in our tests. The Approach S12 syncs with the same Garmin Golf app as the company's high-end watches, giving you a wide range of data and making it a particularly good value product.
Although it doesn't have a color screen, which makes maps a bit harder to interpret, it's easy to read in direct sunlight and further compensates with an outstanding battery life, and we were able to use it with ease for several weeks before needing to be recharged. The main downside is the need to record shots manually, which more advanced players might find tedious, and which isn't an issue with higher-end watches that offer automatic shot tracking.
Garmin Approach S62
FEATURES
Screen size: 1.3 inches
Battery life: Up to 14 days
GPS: Yes
BENEFITS
+ Full vector map
+ Virtual shopping cart
+ Heart pulse sensor
THE Garmin Approach S62 offers everything you get from the S42 and more, if you can afford the extra. Garmin's Virtual Caddy app suggests clubs based on wind speed and direction, as well as distance for each type of club. You can check the wind before you shoot, and there's a full vector map with touch targeting, which lets you see the distance to any point just by touching the extra-large 1.3-inch screen.
Thanks to its large battery, it can run for up to 14 days in smartwatch mode, or 20 hours with GPS on. It also has a wide range of daily health tracking tools, including all-day stress tracking (based on heart rate variations), relaxation reminders. A pulse oximetry sensor is used to measure blood oxygen saturation at night and to perform spot checks during the day.
Garmin Pay lets you make contactless payments (provided your bank is one of those supported), you can use it to control music on your smartphone, receive app notifications, check weather forecasts and text replies (if you have an Android phone).
ShotScope V3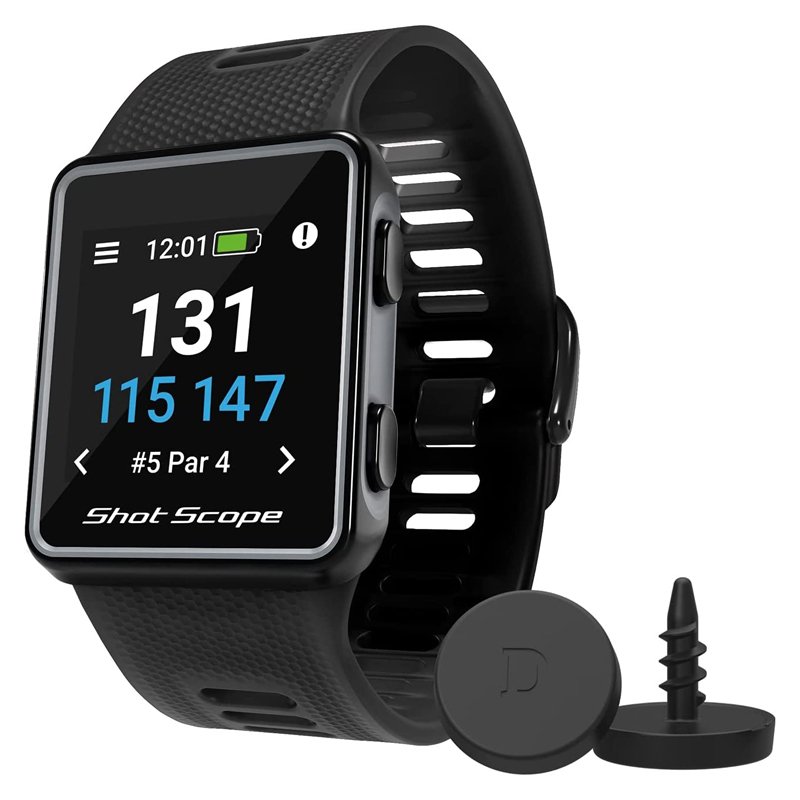 FEATURES
Screen size: 1.23 inches
Battery life: up to 10 hours
GPS: Yes
BENEFITS
+ Automatic shot detection
+ Large range of statistics
DISADVANTAGES
– No touch controls
– Low screen resolution
THE ShotScope V3 is surprisingly thin at just 10mm thick, making it comfortable and practical to wear all day. Despite this thinness, it's a very impressive device, with well-thought-out keys and handy features to help you up your game and save time. It is equipped with automatic shot detection, each shot being reported on a map of the course. 36,000 course maps are preloaded and GPS distances are quickly updated.
It also comes with 16 tracking tags, which allow the watch to automatically identify your clubs. These tags are usually sold separately, even for high end golf watcheswhich is a real bargain.
The only real downside is the screen's relatively low resolution (just 176 x 176 pixels, compared to the Garmin Approach S62's 260 x 260), which means less information can be displayed simultaneously. There are also no touch controls (the watch is operated using four physical buttons located on the edges). The upside is that you're less likely to activate something by accident, but it also means that map navigation is less intuitive.
Bushnell ION Edge GPS
FEATURES
Battery life: up to 15 hours
Route: 38,000
Waterproof: Yes
BENEFITS
+ Good autonomy
+ Automatic course recognition
INCONVENIENCE
– Not as advanced as the others on this list
If you're just starting to play golf and need a helping hand, this Bushnell GPS golf watch will provide you with all the information you need to ensure your swing is on par with the rest of the team. It features automatic course recognition and automatic hole advancement, with accurate, easy-to-read distances. It'll also tell you about nearby hazards and count your steps so you can calculate how many calories you've burned on the course, at no cost to you.
Frequently Asked Questions About Golf Watches
What is the best golf watch?
THE best golf watches come preloaded with at least 30,000 courses from around the world and are able to measure course elevation as well as your distance from the flagstick to help you improve every shot. For long days on the green, it's important to choose a comfortable watch with long battery life and a bright display that's easy to read, even in direct sunlight.
With that in mind, our top pick for golfers is the Garmin Approach S42 GPS watch. It is packed with features that will help you master any course. It also comes with a host of standard smartwatch features, including notifications from your mobile device and accurate fitness tracking (steps, calories, distance, etc.).
Golf rangefinder or GPS watch?
A rangefinder is a tool that helps you measure the distance between you and your target, using GPS or a laser. THE gps range finders (found in the golf watches) are faster to use, but laser range finders are more accurate. Golf watches and rangefinders are slightly different, but using a wrist-mounted GPS device can be more convenient than a standing laser rangefinder.
Source :