Suunto is no stranger to the world of outdoor GPS watches and has just lifted the veil on its latest addition, the Suunto Vertical. Like the Garmin Enduro 2 – a watch that I consider the current best choice for those who value power and long-term navigation features – Suunto Vertical main features are 60 days battery life (in daily mode) and offline mapping.
Suunto seems to have redoubled its efforts to deliver a model that is built to withstand whatever you throw at it.
The Vertical was tested to military standards (MIL-STD-810H), can survive water pressures equivalent to 100m depth and comes in a steel or titanium case. To help the 1.4 inch screen resist scratches, each version also comes with with a sapphire crystal coating.
You'll naturally have to pay a bit more for the titanium version, but that extra expense will also allow you to benefit from solar charging, which should further increase battery life.
It is available at a price of 799 euros, while the standard steel model costs 599 euros.
Battery life
As for the functionality itself, the Suunto Vertical offers everything you would expect from a leading outdoor fitness tracker.
Free offline color mapping shows road surface types, paths, water and landmarks, while altimeter, barometer and compass (ABC) sensors, plus change alerts weather conditions, are all here to help you navigate on the fly.
Route planning from the companion app is also available, for those who want to plan ahead.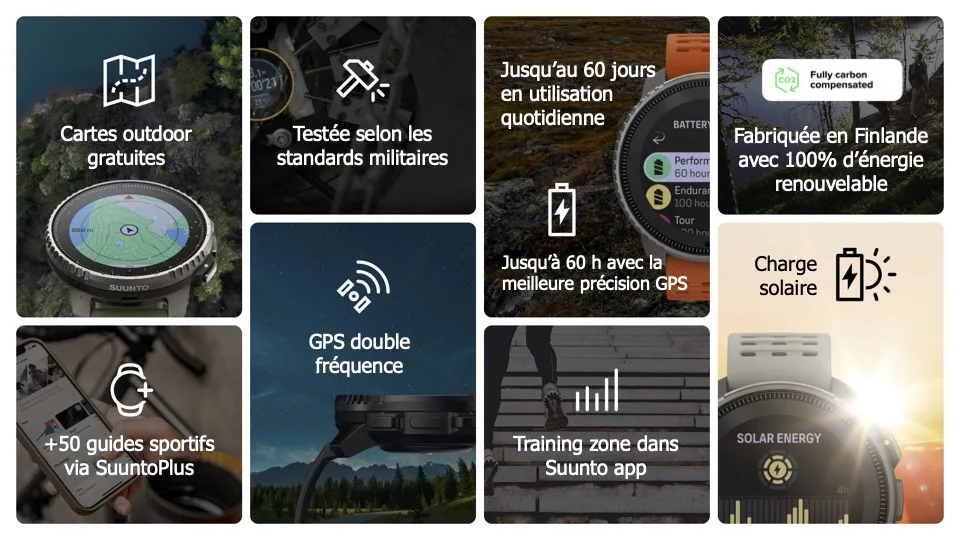 Tracking is also provided by a dual-band GNSS system, which should give it high accuracy. Even in its most accurate configuration, Suunto believes that the battery life of the Vertical is 85 hours.