Griffin Emblem is a young watch brand founded in 2013 by Alain Recuze which produces excellent automatic watches at affordable prices. From 2014, Jimmy introduced us to the brand on the MBA blog. We give you news of their latest collection.
Griffin Emblem: the griffin of watchmaking
Fans of Greek mythology or Harry Potter (modern mythology?) will have recognized the famous griffin in the brand's emblem: a legendary creature sporting a falcon's head on a lion's body. Alain Recuze, co-founder of the brand, had always been seduced by this animal protector of hidden treasures and thought that it would be a beautiful symbol for his future timepieces. Since 2013, the brand has released many models that have indeed turned out to be little treasures.
Here is what Jimmy said about the RG1052.1 : "The workmanship is meticulous, the model is harmonious and presents a very nice mechanical alternative to other much more expensive timepieces of Swiss origin, or presenting a prestigious fashion mark on the dial. All the details are meticulous right down to the faceted crown, the originality of which suits the model pleasantly. The watch deliberately remains anchored in our time with its angular faces divided between polish and matte. A great success!". This convinced me at the time to test the brand and follow them ever since.
A new "Rising Star" collection: model RGN001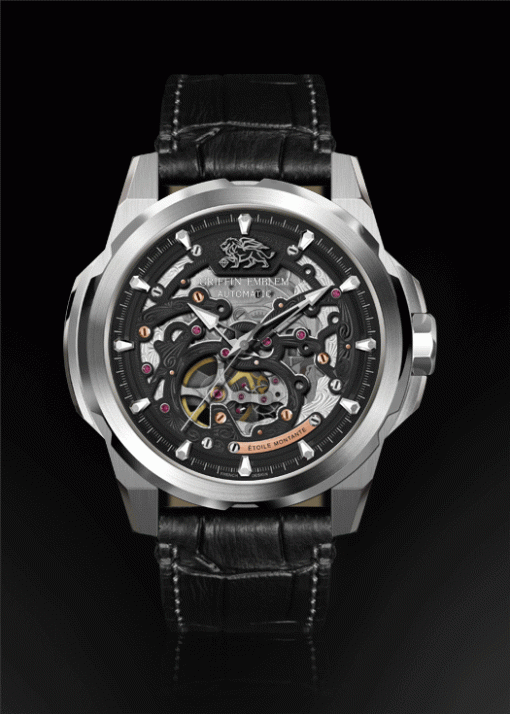 Found in the collection "Rising Star" RGN001, All what made the success of previous collections:
– A innovative design mixing transparency, mythology and precious stones: 7 natural rubies represent the constellation of the "Big Dipper" on a avant-garde skeleton dial. I find that the multi-layered elements, the different polishing effects and the three-dimensional metal accessories combine the dial and the movement perfectly.
In broad daylight, the faceted hands and markers become one with the open dial and visible parts of the movement, with their polished surfaces glowing in the dark for optimal readability. In the dark, they emit a subtle blue glow thanks to the coating Super-LumiNova® BGW9.
– a proven automatic movement : the RGN001 embeds a automatic mechanical movement GE.M8-01, modified from the very famous Miyota 82S0. This reliable movement has been used by Griffin Emblem for years.
– quality 316L steel: Griffin Emblem uses 316L stainless steel for its 42mm case, which you will find on many more expensive brands. The angular silhouette of the case is softened by a perfectly circular bezel that lights up above.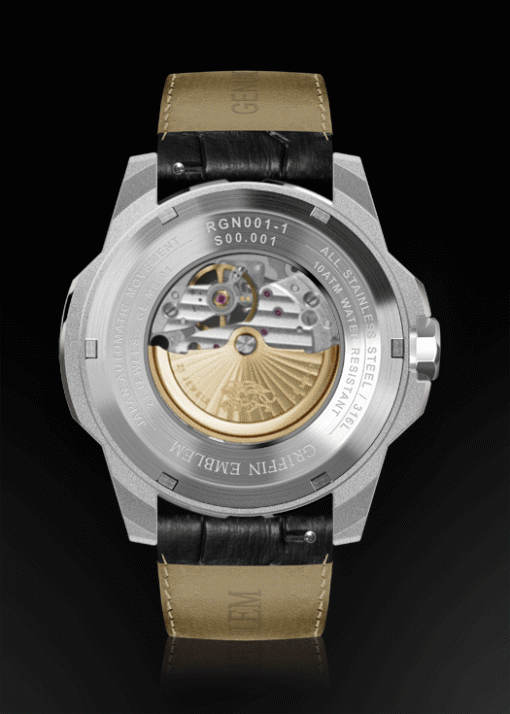 The cases are available in 3 colors: black, rose gold and silver.
– sapphire crystal with anti-reflective treatment.
– leather bracelet which I find very comfortable and quick spring bars to facilitate changing the bracelet without any tools.
This video of the brand will allow you to better appreciate the very elaborate design of Alain Recuze and his teams: