More and more of you are asking us questions about connected watches. Even if it is not our specialty, as technophiles, it is a subject that interests us. And when we abandon our mechanical watches, it is generally in favor of a G-Shock. So when the Japanese brand offered us to test their new G-Squad GBD-H2000we jumped at the chance to give you our feelings.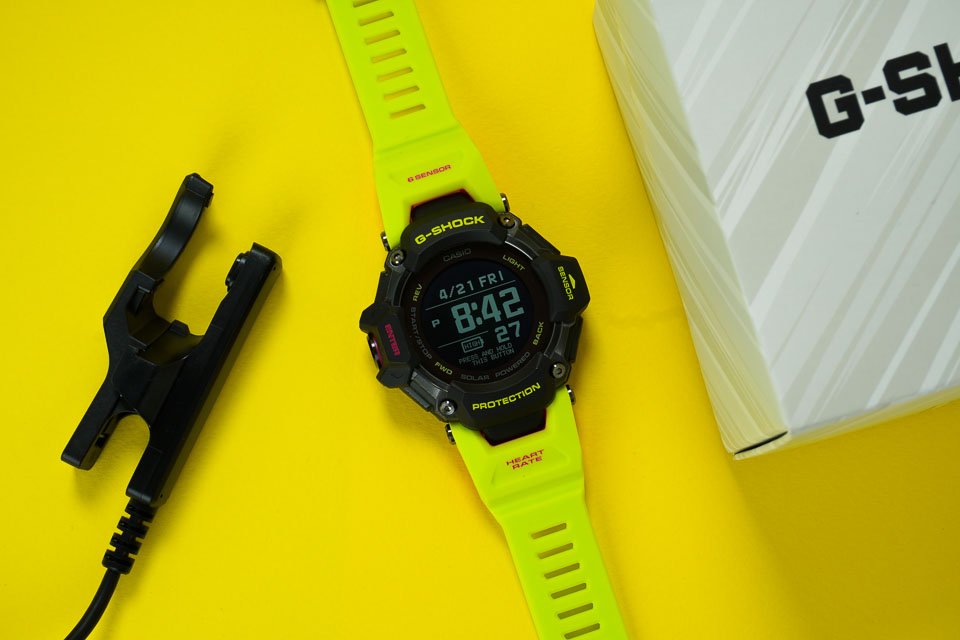 GBD-H2000: the connected watch according to G-Shock
When we think of a connected watch, Apple and Garmin immediately come to mind. These are the references on the market and their domination is almost total. But we have a special affinity with G-Shock, which we've been following closely for a good decade, without that tainting our love for watchmaking. On the contrary, it is even complementary. Among the collections of the Japanese brand, only one was foreign to us so far: G-Squad.
Composed of several series of watches comprising around forty pieces, this is the vision of the sports watch according to G-Shock. Just as robust and waterproof, they meet the specific needs of certain sports disciplines. The GBD-H2000 is at the top of the basket: it is a real connected watch equipped with a optical heart rate sensor and a GPS. With an affordable price and an ecological construction, it is an alternative of choice for enthusiasts of physical activity.
The strong points
First, we like to find the G-Shock look on a connected watch. This is an extremely subjective argument, but the other designs on the market have never caused the slightest temptation in us. There, it's something else, not to mention that you almost feel at home navigating through the functions because you find navigation as clear as on a traditional G-Shock.
Then, the brand offers much more sober colors, but the "flashy" side of fluorescent and fuchsia sticks with what sports equipment manufacturers have been offering for several years, complementing our sports wardrobe very well. In terms of functions, the watch is not left out, the list being too long to be fully detailed in the technical sheet at the bottom of the page; So go to the official website to discover the complete list.
We also find there the solar power that is so dear to us so that even with flat batteries, you will still have a time display thanks to artificial or solar light. This leads us to talk about autonomy, which is a real pain with the Apple Watch in particular, because this GBD-H2000 offers between 14 and 19 hours of autonomy with heart rate activated, 2 months without, and up to 23 months in power saving mode.
And this data does not take solar charging into account. If we sprinkle everything with a biomass plastic construction corn, an organic and renewable material, G-Shock ticks a lot of the right boxes.
What we regret
Connected watches have accustomed us to being equipped with color screens, touch screens in addition. It's the most obvious first thing when you get to grips with this new G-Squad, which makes the slower menu navigation than on a watch where you can "scroll" quickly with your fingertip. It is certainly a choice for this G-Shock to remain in the vein of the other watches in the brand's catalog and which also allows increased autonomy.
Afterwards, GPS start-up takes time, at least much more than on a Garmin or an Apple Watch, which can be surprising when you are ready to start your run but have to wait several minutes. There heart rate accuracy should also be checked because this one seemed a little out of step with reality; there might be some kind of latency. Also, the synchronization with the application is slow and a little buggy, but it is done despite everything.
Maybe it's due to the poor mobile network in our area, it's hard to say, even if the Bluetooth link is not supposed to be affected by it. It would therefore seem that on the software side, G-Shock has lag behind the competition which has dominated the market for many years.
Our opinion on this G-Shock watch
Once again, we are not experts in connected watches. Our specialty is mechanical watches. For this reason and for an in-depth technical analysis, go to specialized sites which will have a much more legitimate verdict than ours. Aesthetically it is a watch that seduced us : its ultra-colored side, its carbon-look caseback, its vinyl-textured bezel and its fingerprint-style buttons, just like on the reverse of the bracelet, separate it from the rest of the catalogue.
She is light, very comfortable to wear and his size suits him well, even on a small wrist like ours (17.5cm in circumference). After 3 days of use, his battery is always full, which fills one of the big gaps of most smartwatches that require almost daily charging. We quickly disabled the notifications because between Whatsapp groups, SMS and emails, it was too much for us. If it's not technically the sharpest, it is perhaps the one we preferred.
She allows to gently take the step towards the connected watchonly for certain functions unavailable on traditional G-Shock, while retaining the side ultra-robust which is close to our hearts. This may not be the most subjective opinion, but at €399 we completely validate!
FEATURES – CASIO G-SHOCK G-SQUAD GBD-H2000
Case: biological resin – matte finish – 52.6mm wide x 59.6mm long x 19.4mm thick – mineral glass – solid bottom – water resistance 20 ATM (200 meters)
Dial: digital – negative display – digital & analog display – automatic LED backlight
Functions: GPS – distance – speed – time – pace – heart rate – calories burned – altitude – elevation – sleep analysis – VO2 max calculation – blood oxygen level measurement – ​​universal time – sunrise/sunset display – lunar data – self-timer – complete calendar – stopwatch – alarm signal – energy saving function – accuracy of +/- 15 seconds per month – battery level indicator – autonomy from 16h to 23 months depending on use
Modes of activity: running/walking/trail – cycling – swimming in open water/pool – training in the gym
Sensors: optical heart rate – accelerometer – gyroscope – magnetic/pressure/thermal sensor – GPS
Bracelet : organic resin – single loop – clasp with biomass plastic pin buckle
Information: reference GBD-H2000-1A9 – in permanent collection – available on the official Casio website and at authorized retailers – 2-year warranty – 399€ including tax