G-Shock is a brand we love. However, we too often tend to confine ourselves to the "CasiOak" phenomenon or to mention our beloved GW-M5610 which accompanies us much more often than you might imagine. However, the Japanese giant offers much more advanced models. We think in particular of the Master of G rangewhich sees itself equipped with two new models with yellow accents for 2023. Light on these new Rangeman and Mudmaster.
Yellow accents for two Master of G
Not so easy to find your way around the G-Shock catalog. Basically, you have the essentials, the entry-level G-Shocks which, with a few exceptions, do what the brand knows how to do best for 40 years now. Then we move on to the Premium range with the professionals, namely the Master of G, then the MT-G which made the metal appear in the catalog thanks to the work of the workshops located in Yamagata in Japan. Finally, the MR-G take all the best technology in titanium watches. Thus, the Rangeman and the Mudmaster are part of the Master of G rangewatches designed to respond to extreme specific usesoften for professions that require pushing the limits, whether at sea, on land or in the air. The two aforementioned collections are dedicated to field activities, one entirely digital and the other fitted with hands. They each share new touches of yellow, hence their name "Yellow Accent Series", but are nevertheless radically different!
G-Shock Rangeman GW-9400Y-1ER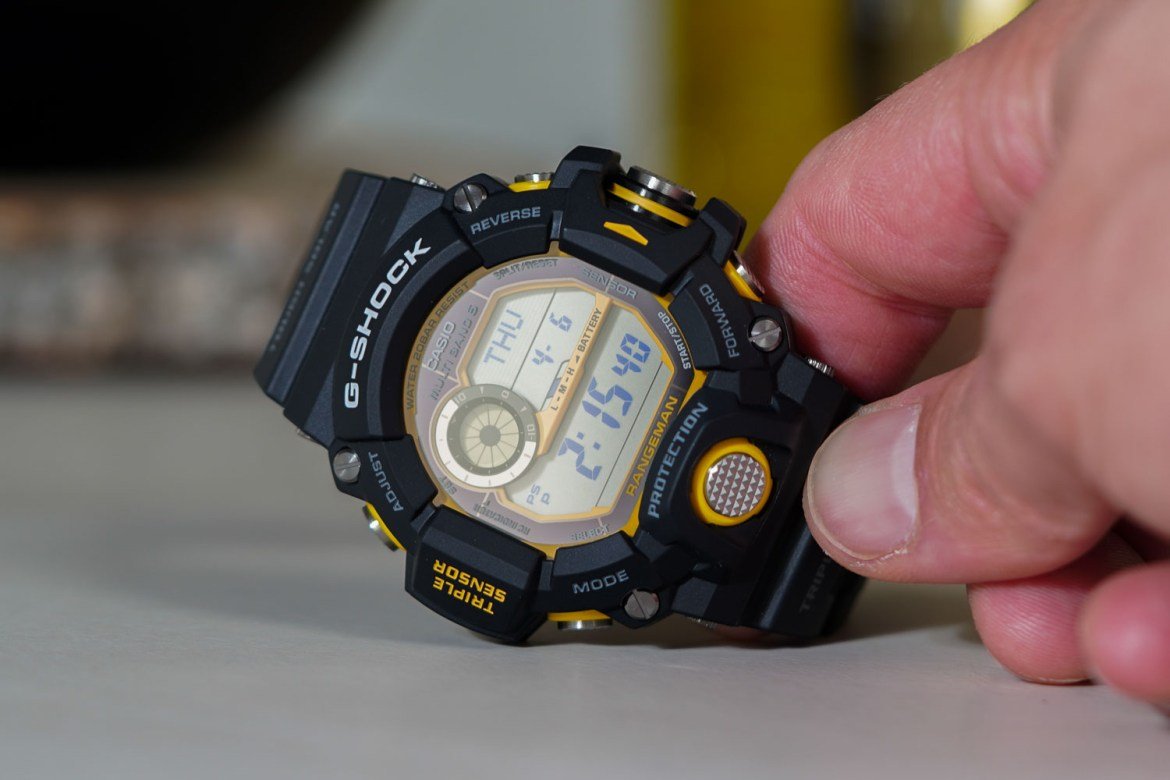 Launched in 2013, the Rangeman is thefield watch archetype according to G-Shock. A fully digital watch with a familiar shape, not far from the DW-6900 which were all the rage in the 1990s, but more muscular and above all much better equipped. Thanks to his triple sensorthis watch allows you to determine your direction thanks to a compassthen measure your altitudethere atmospheric pressure as well as ambient temperature. All thanks to its pusher located at 3 o'clock which gives you direct access to these functions. At home, at the time of writing, the atmospheric pressure is 1014 hPa, we are -3 meters below sea level (yes, that is correct), the watch is pointing at 5° North , and the temperature is 21.2°C. All this in just 3 seconds. And by pressing the upper right button, you will be able to save up to 40 measurements.
On paper, the dimensions are surprising: 53.5mm wide by 55.2mm in length for 18.2mm in thickness. But watchmaking rules don't really apply to G-Shock, especially for a watch whose the vocation is not aesthetic but professional because it allows him to integrate a large dial for optimal reading. Its main button, named Direct Sensor, is judiciously surrounded by a metal structure adorned with a yellow border to protect it from side impacts. Each button is protected in its own way, from dirt on the one hand, but also from shocks thanks to the numerous shoulders, while allowing a good grip thanks to a non-slip knurled design. The other button having a central place, at 6 o'clock on a traditional watch, is dedicated to night lighting. It's a white LED that lights up for about 2 seconds. Let's not forget to mention that it is a radio-controlled watch for automated time calibration (depending on your location), then runs on solar energy. Thus, no need for a phone or a charger.
This is clearly the kind of watch we would like to have with you on a hike. You can imagine yourself editing, off the network, pretending to be an adventurer with this Rangeman on your wrist. In Summer as in Winter moreover because it could be very useful on snowy slopes. To have small wrists, even if it is an imposing watch, it is also a piece that lends itself to the occasion; The end justifies the means! Stylistically, the matte black and yellow mix works well, even if it is a subjective remark. G-Shock didn't push the slider too much but added just enough where it made the most sense. Moreover, it is an uncommon color in watchmaking, and it could give ideas to others. AT only 299€, it's a Master of G that we would love to have in our collection. We would still need a good excuse, a backpacking trip for example or a move near the mountains, to justify this to Madame.
G-Shock Mudmaster GG-B100Y-1AER
With this one we pass a course, and not the least. If the Rangeman was a Jeep, the Mudmaster would be an Army Hummer. She in give more in every way. Although the GG-B100 series is a more affordable edition of the GWG-2000, a modernized version of the GWG-1000, let's not forget that this watch was adopted by the Smoke Jumpers in the United States. So if firefighters-paratroopers fall from the sky to land in the heart of forest fires with a Mudmaster on their wrist, it's not for nothing! It's perhaps the most G-Shock of all G-Shocks, here featuring a carbon fiber bezel finished with layers of resin for a smoother finish.
Let's talk about excessive measures of this Mudmaster: 51.3mm wide, 55.4mm long and 19.4mm thick. As much as the Rangeman might suit a small wrist, that's not even an option. She has the same triple sensor plus a step counter. On the other hand, no solar energy or radio control. It's a watch that connects to your phone via Bluetoothif necessary at least, with a hybrid display, half-analog, half-digital which always brings more resistance, in particular mud and dust which can be sores in hostile terrain. The case bottom is covered with a fiberglass reinforced shockproof resin panel. In addition to the bezel, the heart of the watch is surrounded by a carbon structure, an ultra-rigid material that prevents it from twisting in the event of an accident. Note also the function of automatic recording of altitude data, very useful for a watch of its kind, which couples to the route data of your smartphone to create a mission diary.
In short, it's an impressive watch. Perhaps too impressive for some, which would explain the need for the Rangeman collection within the G-Shock catalog. On the other hand, she is more restrained and perhaps more suitable for military professions for once. Its touches of yellow are more discreet, even more once the background is placed on the wrist. At €399, what the Japanese brand offers is quite impressive. Either way, between the two is a matter of taste; two very different styles with technological subtleties that will tip the balance for one or the other. This "Yellow Accent Series" is a nice addition to the catalog which has accustomed us to asserting its personality through color.
Available on the official Casio website.