The time has come for the first selection of the year 2023, while the month of December already had some nice surprises in store for you with a selection of vintage watches, which quickly sold out! An eclectic selection, for all preferences and budgets, as we have always defended: buying a watch should not be a luxury.
Today, we offer you a new selection, that of the start of the 2023 school year, by presenting you 10 vintage and contemporary watches. Ten pieces for all tastes, colors and genres, from 450€ To 4.800€revised & checked by a watchmaker before their sale on JOSEPH BONNIE.
Nothing but honesty and lots of fun. Because buying a collector's watch must remain one first and foremost. From now on, for any new selection you will find an episode of our series OLD FASHIONEDto show you, among other things, our selections in pictures, but also to talk to you about collector's watches and watchmaking culture.
GIRARD-PERREGAUX GYROMATIC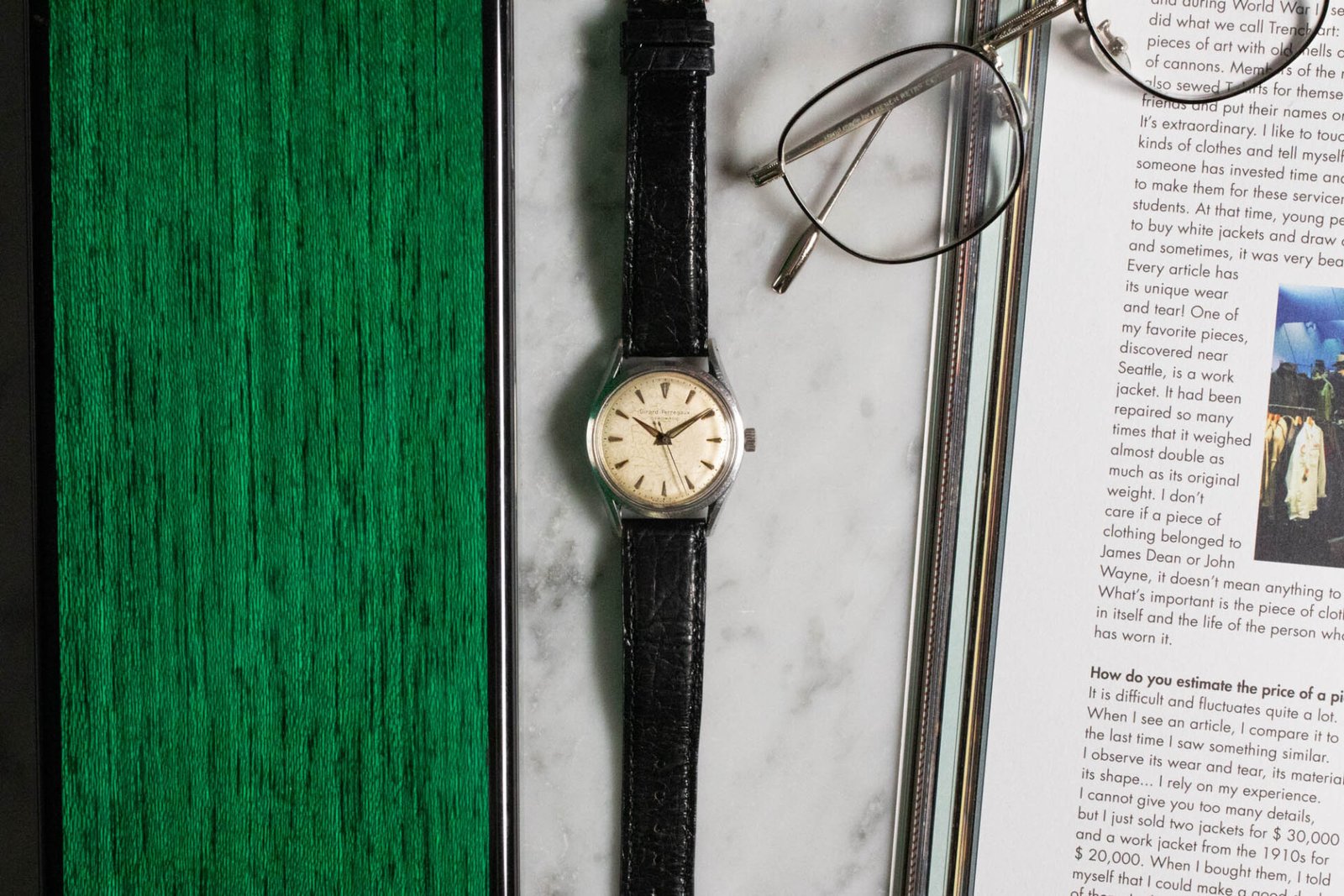 This is an unusual watch. First of all because it is a Girard-Perregaux from the 1960s in shape, but above all by its rather unique face.
First of all, we notice the horns of this Girard-Perregaux. Very thin, curved and inclined lugs which give the case all its dynamism. We appreciate the homogeneous patina of the dial and applied faceted arrow indexes, and the Alpha hands.
Inside we find a good Girard-Perregaux Gyromatic movement, In this watch, called by the house of Girard-Perregaux et Cie, "Gyromatic", the transmission of energy from the rotor is done by means of a clutch special called "freewheel", with better winding efficiency for the lazy.
A watch in very good aesthetic condition and which bears the patina of time. A quadruple piece signed on the dial, the crown, the caseback and the movement.
Girard-Perregaux Gyromatic
ROLEX OYSTER PERPETUAL DATE JUST
It was in 1945 that the Rolex Oyster Perpetual Datejust was unveiled for the brand's 40th anniversary. This watch has a recognizable design, particularly over time thanks to its Jubilee bracelet and its fluted bezel, then to its cyclops magnifying glass located at 3 o'clock a little later. We are pleased to offer you a famous reference 1601.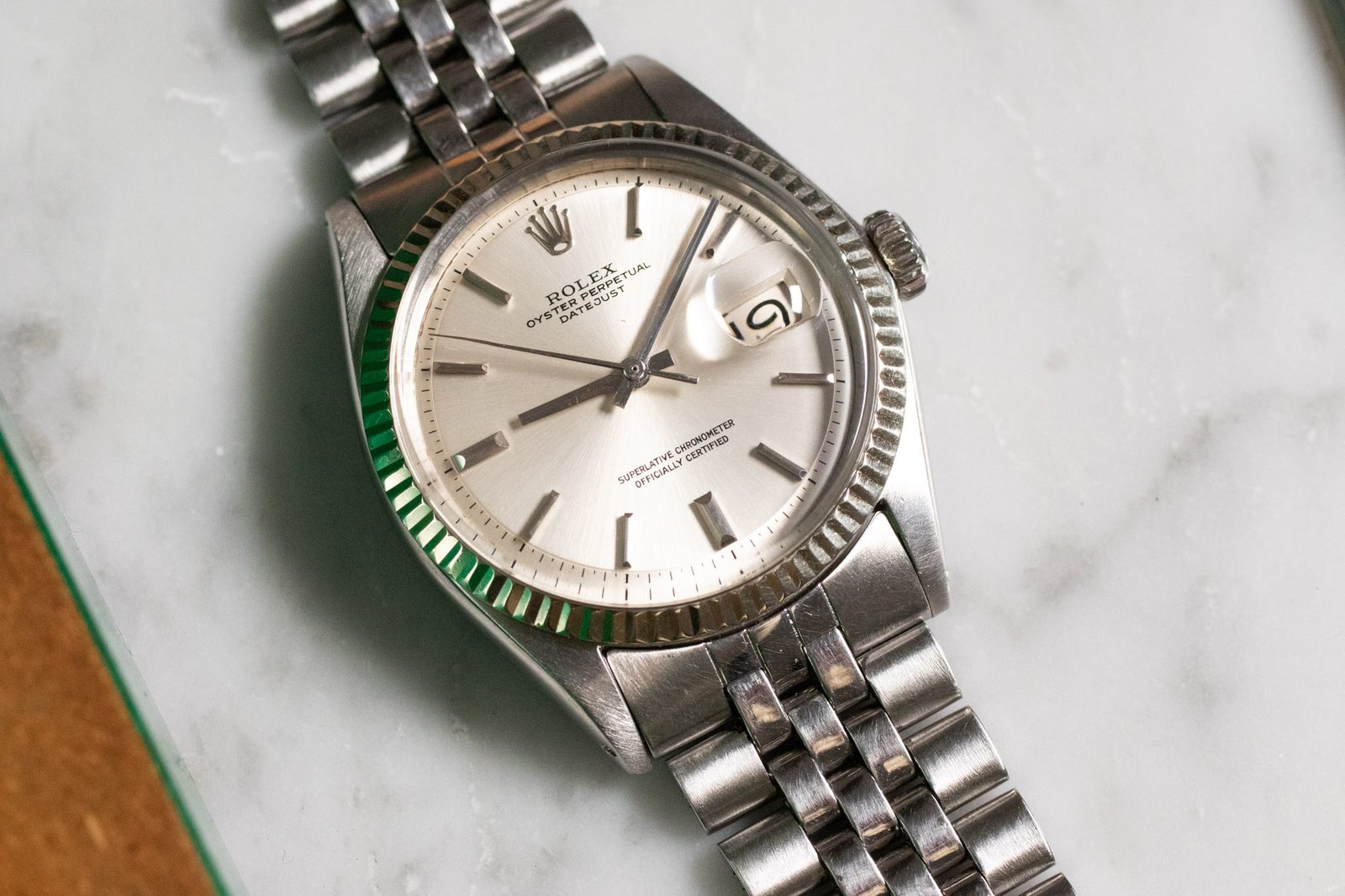 A Rolex Datejust that we appreciate with its "no lume" dial with beautiful short faceted indexes as well as its fluted bezel in gold alloy and its folded steel jubilee bracelet.
Rolex Datejust 1601
ROLEX OYSTER PERPETUAL DATE
The Rolex Oyster is a legendary watch. It began its career as a foolproof luxury "sportswoman" in November 1927 on the wrist of a young secretary, Mercedes Gleitze, who swam across the English Channel in 15 hours and 15 minutes.
Unlike its little sister the Rolex reference 6694, the Rolex Oyster Perpetual 1500 is equipped with an automatic movement. This reference appears in the early 1960s.
The piece we are offering has a dial of rare beauty, playing with light and revealing several shades of grey. If we add to this all the tritium points in good condition and the very beautiful steel and beige indexes, we obtain a rare and absolutely beautiful configuration.
Rolex Oyster Perpetual Date 1500
ROLEX Oyster PERPETUAL DATE 1505
Just like the Rolex reference 1500 presented just before, here is a later version in gold and steel under the reference 1505.
A watch with an original face since in addition to the mixture of gold and steel to dress the central links of the Oyster bracelet, crown and bezel, this Rolex offers us a beautiful white dial, black painted Roman numerals as well as golden indexes and hands.
Rolex Oyster Date 1505
OMEGA DE CITY QUARTZ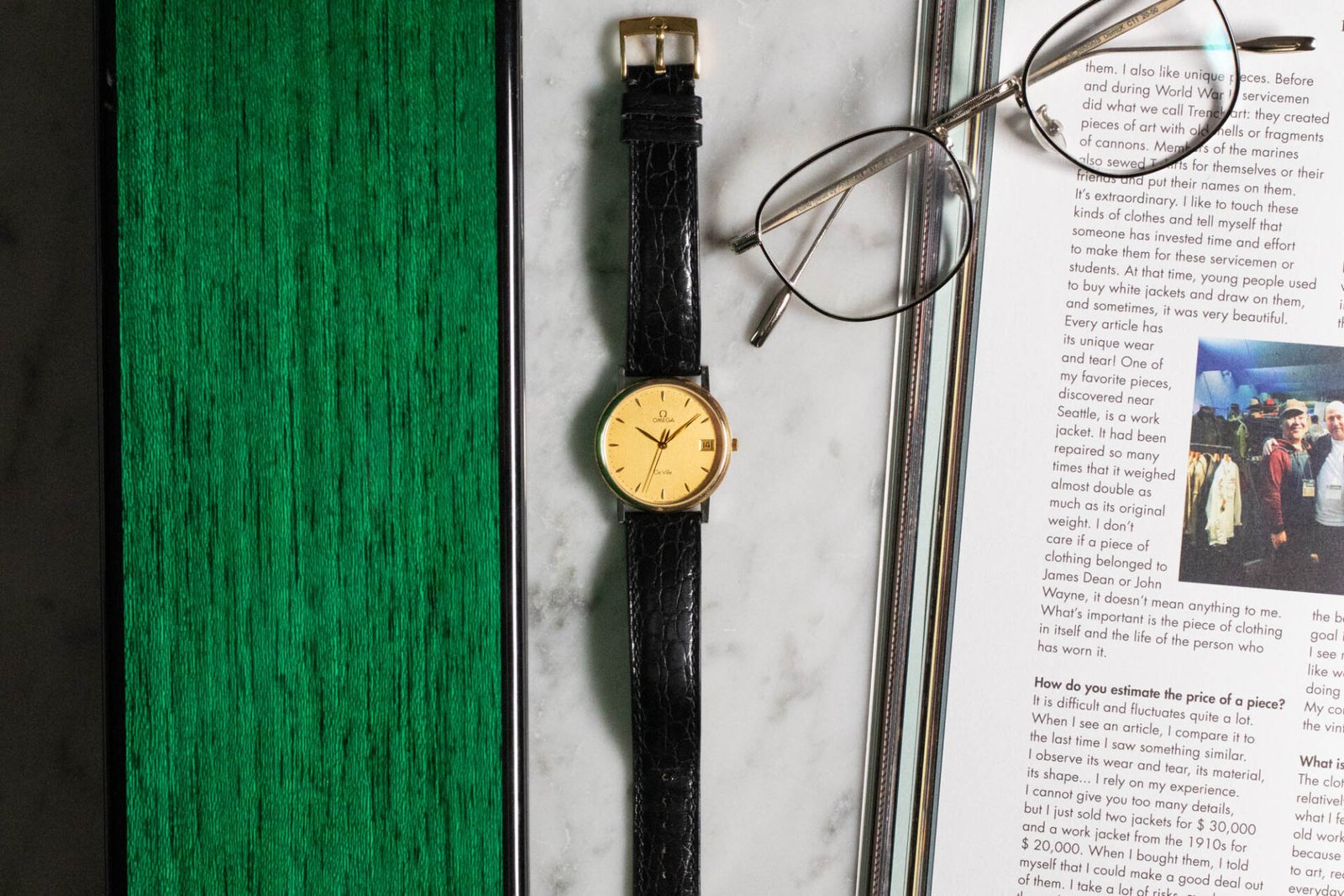 "In the world of fashion, chic and charm, De Villes with their distinguished style and meticulous finish symbolize elegance, from the most sober classicism to the fantasy of the best taste" the phrase from the book Omega by Marco Richon couldn't be clearer. Here is a small Omega De Ville quartz watch in superb condition.
An Omega watch with a pretty golden dial featuring very beautiful golden leaf hands and a date at three o'clock. On the back is the famous "Chicago Skylines" medallion for a watch from the mid-1980s.
Omega De Ville Quartz
OMEGA AUTOMATIC CITY
Here is the example, in comparison with the previous watch, that the Omega De Ville can take on very different faces. Here a very beautiful Omega De Ville automatic in an intermediate size and which presents a pretty gray dial separated in 4 shades, and two wire hands.
Omega Automatic De Ville
OMEGA GENEVA AUTOMATIC
The name of Geneva appears on the dials of the Omega brand from 1953. A reference to very elegant watches, with "particularly luxurious" finishes and presentation according to Marco Richon's book on the history of Omega. It will then also identify a good part of ladies' watches, Automatics, Ladymatics, among others. The reference we offer today is in very good condition.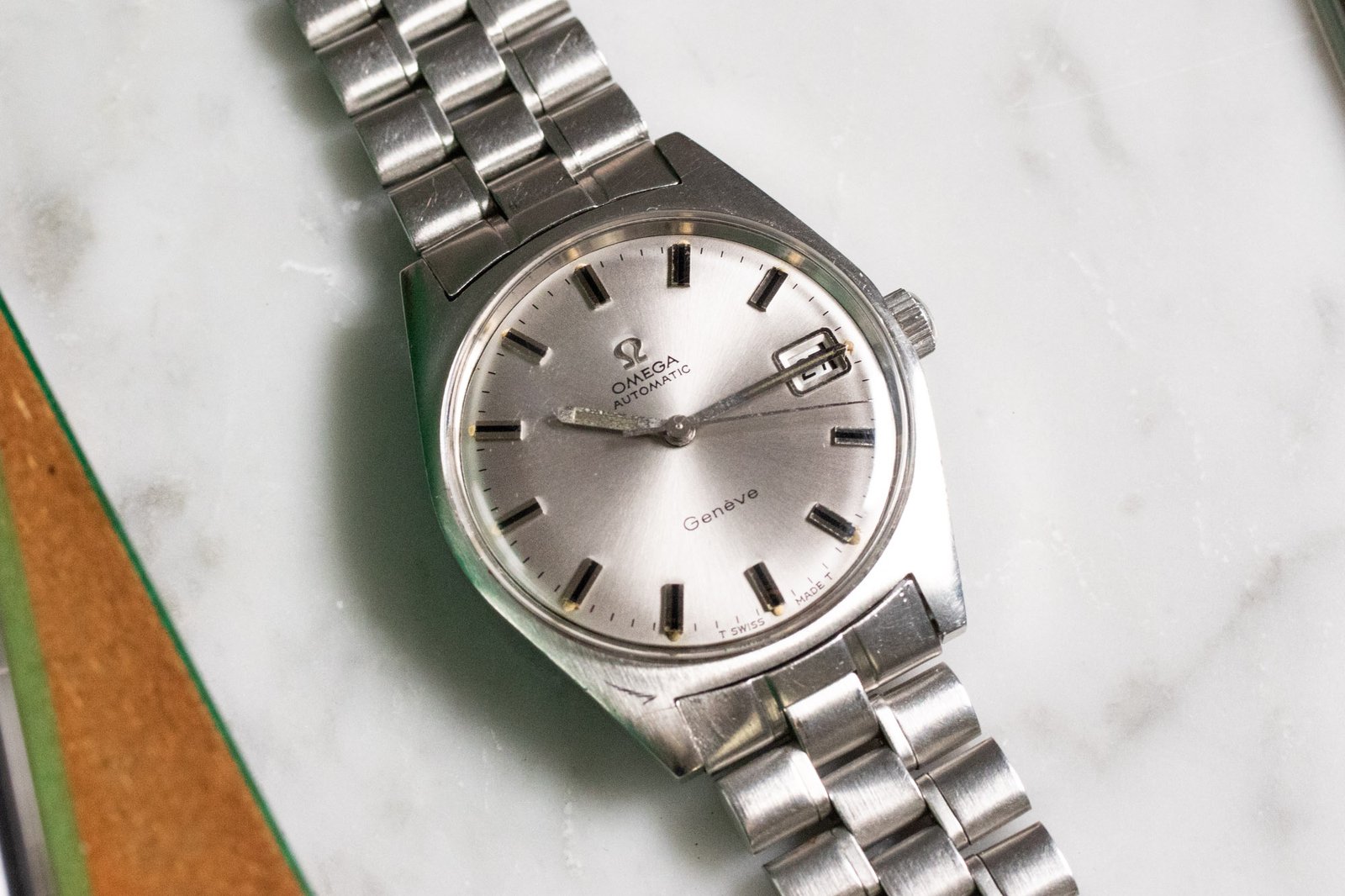 A superb Omega Genève Automatic in its original condition, with its signed Omega glass. A round format for a 34 mm steel case with short horns which reveals a magnificent sunburst steel dial, applied steel indexes, silvered hands and a central second, without forgetting the date at three o'clock enabled by the automatic caliber 565 which beats inside and very well made.
We are pleased to offer it on a superb Omega steel bracelet reference 1118, which is not necessarily on it originally but which gives it a great charm.
Omega Geneve Automatic
UNIVERSAL GENEVA EXTRA FLAT
In line with the idea of ​​the Shadow family that we recently presented to you at JOSEPH BONNIE, we had the pleasure of crossing paths with a piece with a formidable design, enhanced by its beautiful shiny white dial and its black painted Roman numerals. .
A Universal Genève which is characterized by a beautiful size of 32 x 35 mm, great finesse, and a beautiful mechanical movement with manual winding signed Universal. When we add to that a bracelet of great flexibility also signed, we obtain a watch with great charm!
Mechanical Geneva Universal
IWC AUTOMATIC 8541
We end today with a rare IWC watch with an elegant and sporty style, characterized by a very beautiful size of 37 mm in a cushion case, but above all the iconic 8541 caliber that drives it.
An IWC with a beautiful sunburst silver dial, its steel and onyx indexes, hovered over by hands with a small black detail. Inside, the exceptional 8541 automatic movement, more efficient thanks to the famous Pellaton winding, simpler thanks to its mechanism which allows it to be revised like a manual mechanical watch by dissociating the automatic mechanism.
IWC Automatic
---
A selection of women's and men's watches that once again demonstrates the technical and graphic richness of 20th century watchmaking creations.
If you wish to have more information or simply come and try one or more of the watches presented, do not hesitate to make an appointment with us to come and discover these marvels in store.