Back to school is often synonymous with a few nice auctions. Today we are pleased to present a selection of pieces from a very fine prestige sale to be held at the Grand Palais Éphémère at Bonhams Cornette de Saint-Cyr Thursday, February 2 under the expertise of Alexandre de Lamberterie. For all the practical information, it's at the end of the article.
AUDEMARS PIGUET AUTOMATIC – LOT 211
You know our interest in fine, elegant and slightly original watches. This Audemars Piguet is the perfect example. With its beautiful size of 32 by 32 millimeters, and its shape close to the cushion of which it has the softness, it reveals a very beautiful sunray light blue dial, brilliant-cut diamonds, which only two wire hands come to fly over. Inside, a nice movement signed Audemars Piguet automatic.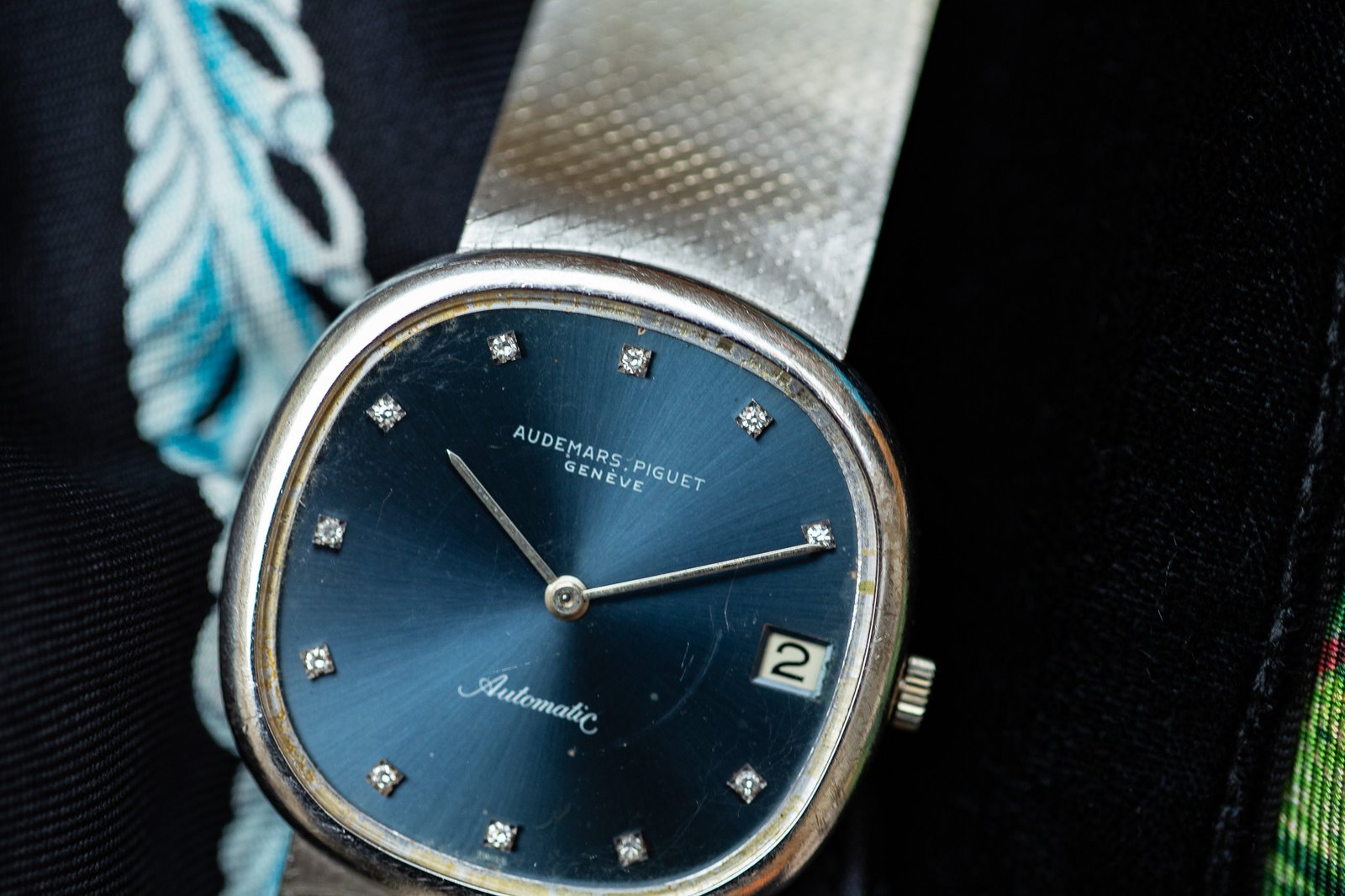 Add to that a beautifully slender bracelet, also made of white gold, ending with the initials "AP" and you have the most beautiful watch to go to the ball.
Audemars Piguet Automatic
PIAGET MALACHITE – LOT 220
As if the previous Audemars Piguet wasn't enough, I suggest you add a little stone to vary the exercise of the elegant watch. Who better than Piaget to present us with beautiful stones on dials and bezels? Here a smaller, more feminine reference which offers us a beautiful case in yellow gold with an octagonal bezel decorated with malachite rods, a certain echo of the dial also made of malachite, hovered over by two very beautiful golden dauphine hands.
The strap, in green alligator signed Piaget, completes the watch and its colors perfectly!
Piaget malachite
ROLEX CHRONOGRAPH REF. 4537 – LOT 233
By very often observing Cosmograph chronographs at Rolex, we have lost the habit of seeing what was before. Namely chronographs always with a sporting spirit, but resolutely different by their time of birth. Here born in the mid-1940s and produced for about a year, a wonderful and unusual anti-magnetic chronograph reference 4537 in the very beautiful size of 36 mm. We obviously find an Oyster case, here made in 9k gold, a rarity for this piece. And to make his heart beat inside, a Valjoux 72 caliber.
Chronograph lovers will also appreciate the magnificent patinated dial and its pretty tachymetric and telemetric measurement scales.
Rolex chronograph Ref. 4537
LONGINES CHRONOGRAPH REF. 8350 – LOT 238
Let's continue our momentum chronograph, but in a completely different register. That of sports competition at Longines, which we spoke to you about several times last year, and the measurement of 1/10th of a second. We can discover in lot 238 a magnificent "pocket" chronograph watch which is cut out for competition, and which we had the opportunity to see in the Longines museum. A remarkable piece first of all by its size of 66 mm, but also its significant weight by its all-steel.
The other charm of this sporty piece relates to the colors that can be found in it. From orange for the hands linked to the chronograph, to yellow for the markers attached to the central seconds hand, not to mention the slight silvery champagne color of the dial. A piece that comes with its original case used during competitions, to put around your neck of course!
Longines chronograph Ref. 8350-1
CARTIER TONNEAU 1339 – LOT 244
Some Cartier designs still have a pretty magical effect when you have them in your hands. While remaining simple, that of the barrel has always seduced us. Here in a mixed version, we are pleased to find a very slightly curved case, barrel-shaped ending in superb handles and their screws.
The center of attention, the "Cartier Paris" dial offers us a beautiful guilloché pattern, painted Roman numerals, hovered over by two blued sword hands: what more could you ask for from Cartier? A piece from the 1990s that you never get tired of.
Cartier Tonneau
PATEK PHILIPPE CLOCK – LOT 248
Let's leave the sphere of wristwatches for a moment. Watchmaking objects always having a strong appeal for us, a magnificent clock caught our attention. Signed Patek Philippe, it has a large case in gilded brass, and our eyes quickly focus on its very "Ellipse" dial revealing a beautiful blue color that goes perfectly with the gilded indexes and hands.
The height for this Patek clock is to offer a movement powered by solar energy, which we discover the panel on the top. A piece that we have the mad desire to put on our desk, which comes with its box and its papers.
Patek Philippe clock
ROLEX COSMOGRAPH DAYTONA 6263 – LOT 298
After the archetypal chronograph from the 1940s that we presented to you in lot 233 with reference 4537, let's revise our classics with a very beautiful example in 18k gold of the famous reference 6263. Taking over from reference 6240, with an appearance in 1971 for a production that will extend until the end of 1980, we recognize the reference 6263 thanks to its black epoxy bezel insert and its screwed pushers.
No "Big Red" dial here but a rather crazy configuration, for a golden dial with sunburst finish, golden faceted indexes with all their tritium points in remarkable condition, black snailed sub-counters, which fit together wonderfully in a 18k yellow gold case in a rare state of conservation. To propel it, a Caliber 727 which is none other than a Valjoux 72 modified by Rolex. A choice piece among the watches in this selection, especially in this condition.
Rolex Daytona Ref. 6263
AUDEMARS PIGUET CHRONOGRAPH – LOT 303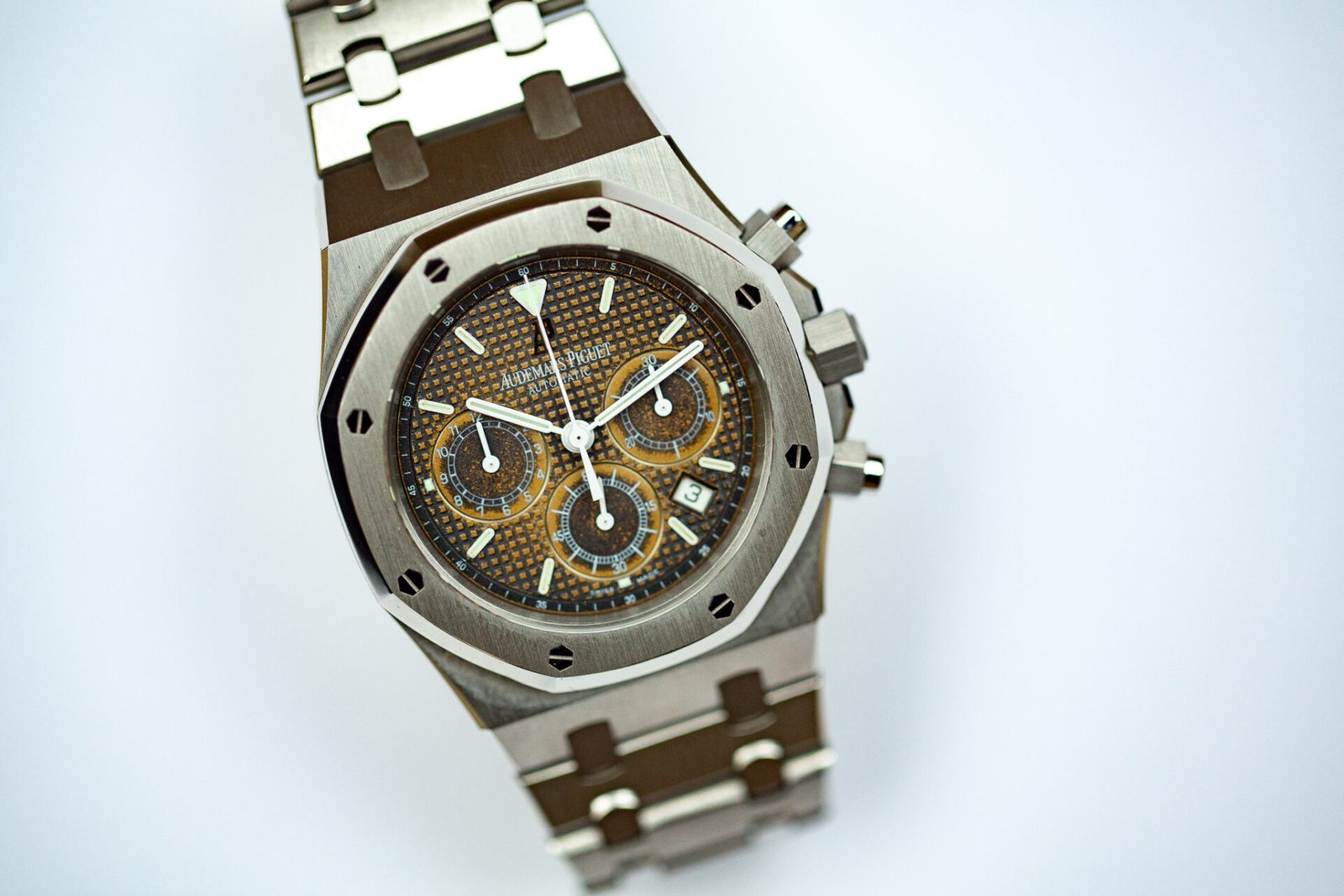 Definitely, the chronographs will have been talked about in this sale. We end with a very famous Audemars Piguet Royal Oak, the famous "Kasparov" chronograph, named after the famous chess player then ambassador of the brand, which here reveals a rather crazy charm. The proposed reference 25860ST is none other than the first Royal Oak chronograph reference unveiled in 1997 for the 25th anniversary of the Royal Oak and appeared on sale in 1998.
Some pieces from the first series have had the chance to develop a remarkable patina on their dial, which turns here towards a very beautiful bronze/golden color that would make more than one person love chocolate. Important fact for this reference, a beautiful diameter of 39 mm, like its sister the Jumbo two needles. A watch with case and bracelet in superb condition, delivered with its extract from the archives and its service note from 2022.
Audemars Piguet Royal Oak "Kasparov"
Useful information
Never forget, it is very important to remember certain points before participating in an auction.
First of all, in this Bonhams Cornette de Saint Cyr sale, and like any auction, auction fees are applied, which may differ from one lot to another. Costs always to be added to the "hammer" price, therefore, and which constitutes your final purchase price. So, when you set a limit, remember to add the fees, otherwise it can sting!
When you see a watch you like, don't hesitate to ask for a condition report. The sales expert, here Alexander de Lamberterie will tell you more precisely the small details to notice and especially the operation of the watch, conditional or not of a revision. This also allows you to adjust your budget accordingly. Also, exhibitions are organized to go see and touch the pieces, if you can do not hesitate to move.
If you do not have the opportunity to leave your phone number or go to the room, you can obviously bid online on the sale page.
The rest is up to you! I can only encourage you to go and see the catalog of the other pieces in the sale, which includes other very beautiful pieces.
BONHAMS CORNETTE DE SAINT-CYR
Prestigious watches at the Grand Palais Éphémère
2, place Joffre, 75007 Paris
Thursday, February 2, 2023
10:00
EXHIBITIONS
4, rue de la Paix, 75002 Paris
Thursday 26 & Friday 27 January 10 a.m. to 6 p.m.
Monday, January 30 10 a.m. to 6 p.m.
Grand Palace Ephemeral
2, place Joffre, 75007 Paris
Wednesday, February 1 9 a.m. to 6 p.m.