In addition to the small daily problems that can generate more or less deep scratches, or even break the glass, it can happen that a watch suffers major damage during an accident: fall of the watch or its owner: -/ For example.
Maintenance of damaged watches always asks specific questions because the damage (parts that unhook, deform or even break) must be analyzed finely to determine whether the parts can be saved or not.
The IWC Engineer watch for example below was on the wrist of its owner during a small scooter accident. In this case, the seconds register circle (the sub-counter) fell off and the bezel was badly damaged. It should be noted that the watch was stopped when it arrived at the workshop.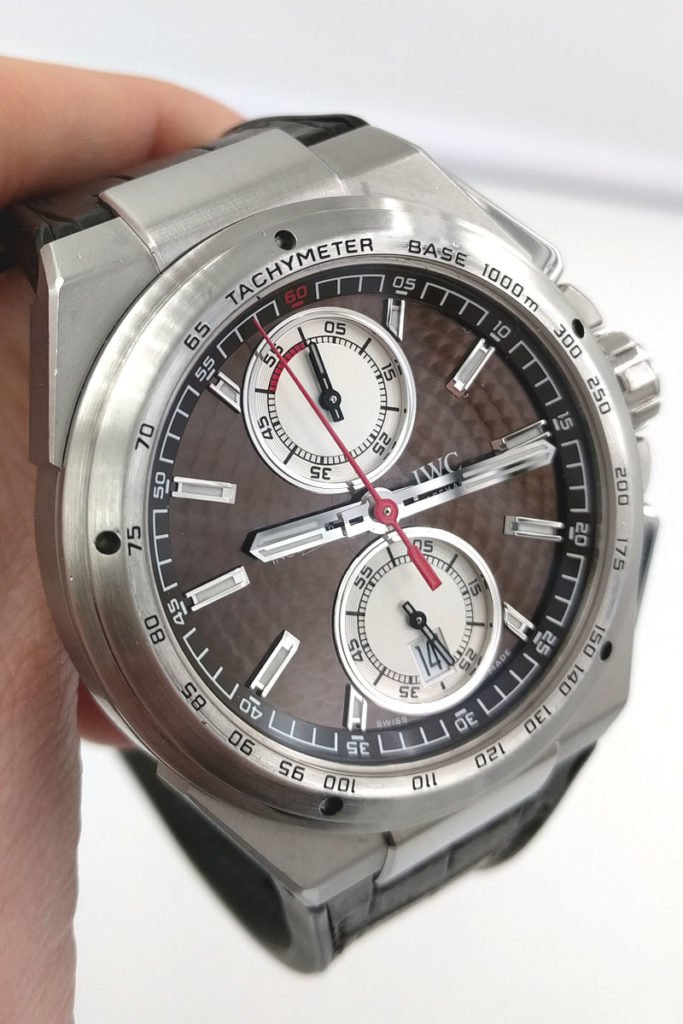 Based on this fact, the after-sales service of the brands generally replaces the parts for this type of repair because it has the necessary stock and requires a complete overhaul. Repair costs at the brand can therefore be very high. if the case or the dial are damaged as in this situation.
The repair policy at Hometime is always find the most suitable and economical solution possible rather than requiring the replacement of parts.
What work was done on this damaged watch?
Intervention on the movement and the dial: Once the dial part was removed from the watch and the seconds hand freed, the analysis of the operation of the movement made it possible to determine that it was working perfectly, without the slightest functional problem (functioning of the chronograph, of the date, etc.). ) or in terms of performance (amplitude, early or late…). In addition, the unhooked piece could be reattached to the dial.
Intervention on the box: The bezel had a very large, very deep mark. Re-machining work has been proposed to minimize the impact. This technique made it possible to obtain a very satisfactory rendering with minimal deformation of the case.
What are Hometime's recommendations for avoiding accidents with your watch?
– Always handle your watch first above a soft support a few centimeters away and then take the time necessary to do so.
– Handle your watch off wrist For avoid breaking your watch winder.
– When your watch has suffered a shock, take the reflex to ask a specialist watchmaker before going to see the mark.
– If the brand's after-sales service has offered you a very expensive estimate including the replacement of many parts, do not hesitate to come and see us!