The update One UI 5 Watch, which will be available later this year, will improve the capabilities of your Galaxy Watch, especially in terms of sleep tracking. Healthy sleep habits are at the heart of this update, which includes changes to make your sleep data easier to access and understand.
Samsung recognizes the importance of sleep and has focused on three key elements to help users sleep better: understanding personal sleep patterns, developing healthy habits, and creating an environment conducive to sleep.
A new user interface Sleep Insights lets you quickly see your sleep score, plus metrics like blood oxygen levels, snoring, and sleep stages.
Samsung's Sleep Coaching feature, which compares your sleeping habits to those of animals and shows you how to improve your sleep, will be fully accessible from your Galaxy Watch — previously you had to check your smartphone for all the Sleep details Coaching.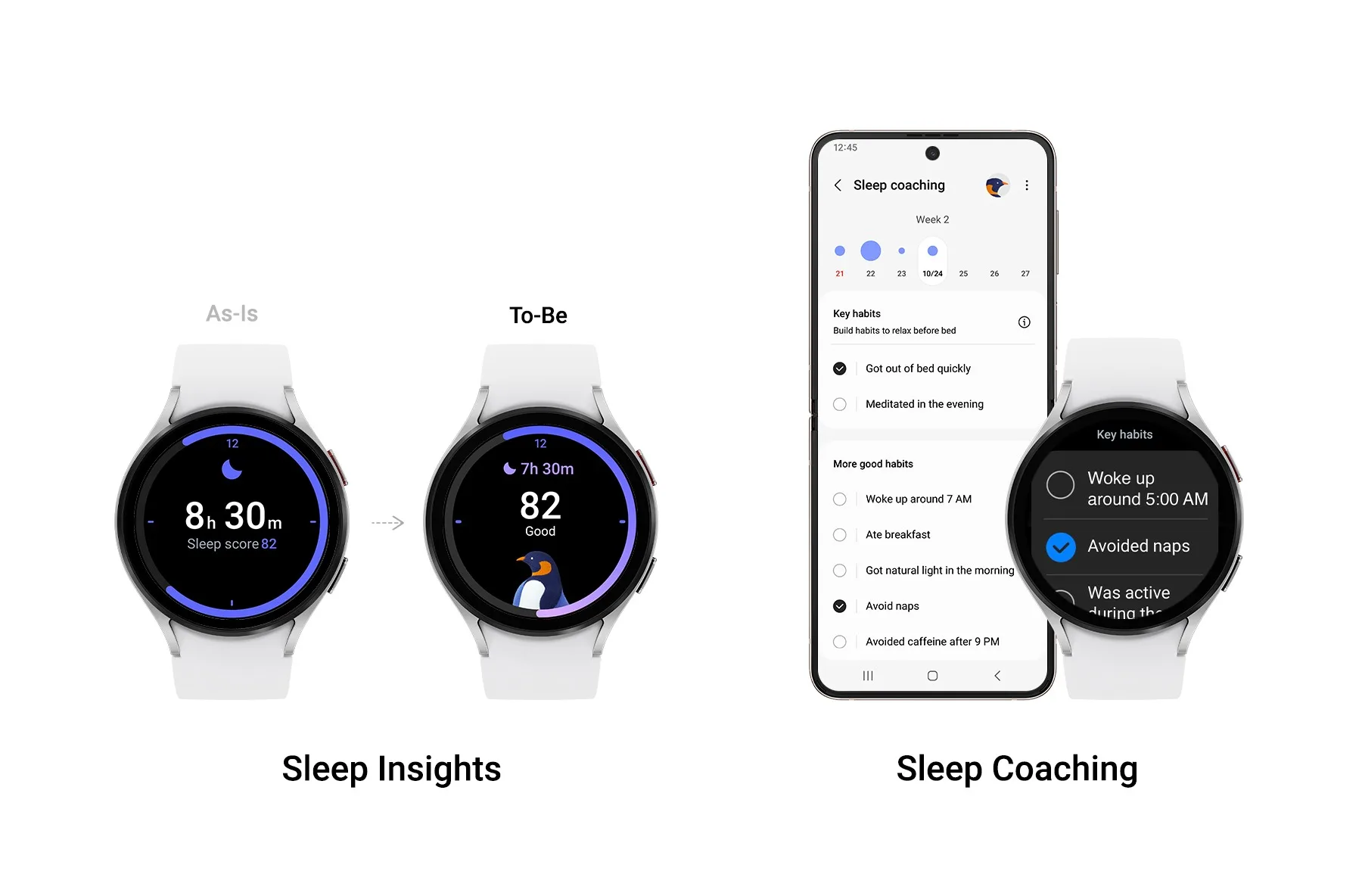 Additionally, creating a comfortable sleeping environment is crucial for quality sleep, and even small distractions can have a significant impact. Interestingly, Samsung will also make it easier to connect the Galaxy Watch with SmartThings devices.
By using a sleep routine, the Galaxy Watch will automatically detect when you fall asleep and perform a series of predetermined tasks. For example, it can turn off your connected light bulbs or lock your door when you fall asleep, or disable notifications and dim your smartphone screen.
Improved fitness experience in One UI 5
Samsung's One UI 5 Watch also includes a custom heart rate zone for custom running tools, which defines five levels of optimal training intensity according to the physical capacities of each one. This feature allows users to set their fitness goals based on their abilities, whether it's burning fat or doing high-impact cardio.
The update also supports various outdoor activities such as hiking, cycling, walking, and running. Galaxy Watch Pro users can access the GPX file database and receive recommendations for new routes through the Samsung Health app.
The One UI 5 Watch update will also improve emergency services on the Galaxy Watch. If you make an SOS call, for example, emergency services will be able to see your location and medical information. Samsung will also enable fall detection by default for all users from a certain age (not specified).
Availablity
Samsung will launch the One UI 5 Watch update alongside the Galaxy Watch 6, which should arrive in August (assuming Samsung follows last year's schedule).
Galaxy Watch 4 or 5 users in the US and Korea can sign up for the One UI 5 Watch beta program from the Samsung Members app.