Nowadays, it has become commonplace to buy a luxury watch or to buy a vintage watch on the internet and have it delivered directly to your home. A large number of sites offer ads for all types of watches and for all budgets. But what about the sale?
How to sell your luxury watch (or not for that matter) safely? If you are a collector and sometimes like to change watches, buy, resell, collect, then you may have wondered how to do it. Selling watches can raise a lot of fears and questions. The fear of the scam, the fear of the loss of parcels or even the fear of theft quite simply.
In this article I will give you my opinion on the matter and advise you on the right choice of platforms to use to sell your luxury watch online. Let's attack from the base: have a simple and clear ad with the right information.
Write your ad well to sell your watch!
Before attacking the posting of your ad on a platform, you must start by writing your ad and make interested potential people want to discover your watch.
To begin, never forget that of course, everything goes a lot through the photos but also through the text. Start by doing beautiful pictures of your watchfrom all angles:
case of your watch from the front
back case
watch crown
dial zoom
bracelet and bracelet clasp
box and also papers
picture of the watch worn
emphasize details and flaws
Indeed, do not hesitate to show the apparent defects of your watch because it is better to be sincere and not to surprise the buyer who could return the watch to you if it is not in conformity.
As for the text, it is also very important. Be specific, explain malfunctions if any and above all doa list of watch features. The passionate or novice buyer will be happy to know the diameter of the watch, the thickness, the type of glass, the caliber used, the power reserve, etc.
Nothing very complicated in this step, beautiful quality photos and a complete text will allow you to attract buyers. Regarding the price, it's up to you to find out about the value of your watch, but if I have any advice for you: sell at the right price (beep, beep, Vincent Lagaffe). More seriously, offer a price consistent with what is done on the market, because selling your watch at the right price means selling it faster. If you're overpriced, your ad may stall and take much longer to sell. You may even have to lower the price. So be careful, take the time and once your ad is ready, let's tackle the sale of your watch. Let's go!
Sell ​​your watch on classified ad sites
I'm sure one of the first ideas you're going to have is to list your watch on a classifieds site like The good corner Or other. So to start, know that it's not a bad idea in itself BUT… there is a higher risk of scam on this kind of peer-to-peer sales platform.
Although the world of watchmaking be a world of enthusiasts, amateurs and benevolent people, you are not immune to falling on a few smart guys who will do everything to make it upside down for you.
Sell ​​a watch on Le Bon Coin

The good corner it is THE biggest classifieds site in France with 130 million visitors per month. Every day, there are thousands of advertisements and thousands of sales made on the platform from individuals to individuals, but some professionals also work with Le Bon Coin for the sale of their items.
The platform remains very interesting for the sale of your watch because you will have great visibility and it is easy and quick to put your ad online, but however, it is also on this type of site that scams are common. Be careful of yourself especially when you are the seller. The buyer has protection, but you don't.
If you sell your luxury watch on The good corner I advise you to get acquainted, to discuss with the interested parties and then to ask for the transfer directly complete or a deposit before purchase. Serious buyers will not be put off by this method. You can also send and request photos of the ID card.
Advantages & Disadvantages Le Bon Coin
✅ Ease and speed of posting ads online
✅ Secure payment
✅ No price limit imposed
✅ Ability to boost your ad
✅ Shipping slips managed by Le Bon Coin
❌ A lot of person-to-person scams
❌ Sales site only Francophone
❌ A site that is not only dedicated to watchmaking
Belly my watch on Le Coin des Affaires

Le Coin des Affaires is a historic site that is literally THE website for watch classified ads in France. If you want to sell a particular luxury watch, collectible then this is the site for you.
It's a passionate site where trust reigns and where you can share great discussions with other people. watch lovers And beautiful mechanics. On this site there are only announcements and linking. For the rest it is up to you to manage either by transfer or by cash, the choice is yours. It is also up to you to meet the person for the transaction or to send the watch. The people there are very serious (still be on your guard, nowadays people are ready for anything) and unlike Le Bon Coin it is a site specializing in the sale of watches only.
Advantages & Disadvantages The Business Corner
✅ THE site specializing in watch ads
✅ Less scams because passionate site
✅ No price limit and free listing
❌ Always be careful of you PAP
❌ It's up to you to manage the transaction from A to Z
Sell ​​your watch on Vinted

How to talk about selling watches online without talking about Vinted, THE platform that has been a hit for a few years. To be honest with you, Vinted is a bit like Le Bon Coin but with a wider influence that concerns: France, Belgium, Spain, Italy, the Netherlands, Luxembourg etc…
The ad system is super simple to master but like Le Bon Coin, there is buyer protection but not seller. A lot of smart guys have fun ordering and pretending that the package never arrived or announcing that it is not compliant in order to request a refund. So there too, be careful.
I have personally already sold a lot of my watches via Vinted without any worries so it remains a very interesting platform for small amounts.
Pros & Cons Vinted
✅ Simple app is free
✅ Visibility France ++ (Spain, Italy…)
✅ Payment and slip management by Vinted
✅ Ability to boost your ad
✅ No commission on sales
❌ Presence of scam so be careful!
❌ Price limit set at 9000€
❌ Few verifications from Vinted
Sell ​​your watch on Ebay
eBay is one of the first online sales sites to emerge. This American site offers immediate sale and an auction system. I personally have a mixed opinion on the platform as a seller. I find the site not very ergonomic but it is one of the rare platforms which offers international visibility.
Recently, the site has offered protection for sellers and customer service remains quite responsive, but beware, scams are hiding everywhere, especially when you sell your luxury watch via an ad broadcast around the world. Although it is an interesting platform, a friend of mine has already been scammed.
To conclude on the classifieds sites, be careful, it makes you want because it is easy to use and sometimes less expensive BUT I can only advise you to opt for specialized sites or professional retailers for your luxury watch. On the other hand for a small watch, a vintage watch of average value (1000 to 2000 euros maximum) then it is a good alternative.
Advantages disadvantages eBay
✅ Completely free website
✅ International visibility
✅ Payment management by Ebay
✅ Auctions available
❌ Presence of scam so be careful!
❌ Fee of 0.35 EUR per sale + 10% if less than or equal to 2000€ and 2% if greater than 2000€
❌ Ergonomics of the site not crazy
Sell ​​your watch on specialized sites
What could be better than a sales site specializing in watchmaking in order to sell your luxury watch? This kind of site only deals with announcements related to watches, possibly accessories or spare parts, but that's all. Most often, scams are much rarer or almost non-existent. (well, always keep an eye open huh). There are quite a few but I present to you 2 very reliable and well known to lovers of luxury watches.
Sell ​​your luxury watch on Chrono 24
We no longer need to present Chrono24, which is none other than THE N°1 platform for the purchase and resale of luxury watches or vintage watches. The site is super easy to use, it will only take you a few minutes to put your ad online and your ad will be broadcast to the whole world and above all only to people who are really looking for a luxury watch and not a lawnmower. .
Specialized sites offer solid guarantees and this will allow you to make your sale with less stress and more serenity. Chrono24 offers protections for buyers and sellers. The payment process is carried out via Chrono24's trusted third party account in order to guarantee you and your buyers, a completely secure transaction.
Advantages disadvantages Chrono24
✅ Free and international announcement
✅ Site specialized in watches and luxury watches
✅ Fewer scams
✅ Buyer and Seller Protection
❌ Commission on the sale of 6.5%
❌ Fee of 0.35 EUR per sale + 10% if less than or equal to 2000€ and 2% if greater than 2000€
❌ Ergonomics of the site not crazy
Sell ​​your luxury watch on WatchFinder & Co

WatchFinder & Co is one of Chrono24's "competitors", but the system is not completely the same since it is the platform that decides whether or not to buy your watch directly to resell it. Several protections are also available, so the scam is non-existent. The site even offers free collection of your watch at home.
Be aware that since 2018, Watchfinder & Co belongs to the Richemont group.
Advantages disadvantages WatchFinder & Co
✅ Platform specialized in luxury watches
✅ Home collection for free
✅ It's WatchFinder that buys your watch at the best price.
❌ Purchase price often a little lower than expected and depending on the market price
❌ The site does not buy back your watches all the time
Sell ​​your watch on auction sites
We sometimes don't think about it enough, but another way to sell your luxury watch is via auction sites, especially if it's a very specific version or reference that arouses interest. collectors.
For a small watch with a reasonable budget, I advise you to turn to a site like catawiki which will do the job very well or to Ebay as well. On the other hand, if you want to sell your luxury watch at auction then it is better to go through professionals such as Drouot Paris for example.
Sell ​​your watch on Catawiki
Catawiki is a super nice site when you're looking to buy a watch at auction, but it's also great if you want to sell your watch easily and more or less quickly.
The platform remains easy to use and there are no hidden costs for the seller, it is for the buyer that the bill is higher on this kind of auction site. I have personally already bought a lot on this site but I have not yet sold a product.
Advantages disadvantages Catawiki
✅ Site specialized in auctions
✅ Free Ads
✅ No fees for sellers
✅ You can set a reserve price
❌ Buyers are protected so be careful.
❌ The sale is not instantaneous
Sell ​​your watch on Drouot Paris
If you are new to the auction system and you do not want to take the lead especially if your watch is a relatively expensive watch, then I advise you to go through sales professionals like Drouot Paris.
In this type of auction house, it is directly the auction house that manages the photos of your watch as well as its promotion. On the other hand, there are some disadvantages because the sales take place on very specific dates, so don't miss the boat.
Advantages disadvantages Drouot Paris
✅ Professionals in the sale of luxury watches at auction
✅ An auctioneer makes a complete estimate of your watch
✅ Drouot manages the photos and the announcement
✅ You can set a reserve price
❌ Relatively high fees: Discover
❌ Sales take place on specific dates, be careful not to miss the mark
Sell ​​your watch via professional watchmaking sites
Before ending this guide to selling your luxury watch on the internet, I wanted to introduce you to a super cool and above all very reliable alternative: simply selling your watch via watchmaking professionals.
I could name a lot of them because there are more and more of them, but some have nothing to prove and have been on the market for years. Most of the time they will buy your watch directly at the best price or they will offer you a deposit-sale system. This allows you to put your watch on sale with peace of mind and not have to worry about anything.
One of the most iconic is of course The Collection'Heure, Antoine Rauis. Mr Rauis is a former business lawyer who has been collecting watches for 25 years and has been selling them professionally since 2001. He has 4 establishments in Brussels, Paris, Luxembourg and Ibiza.
In Paris there is also TOKANTE, a site specializing in the purchase and resale of luxury watches. The team looks great and the site and platform DNA is really cool. Here too you won't have to do anything, no photos, no text, it's the team of TOKANTE who manage. However, you must agree with them on the commission they will take on the sale. It's normal because they are the ones who do all the work 😛
Professional sites are a great alternative that I highly recommend if you start selling watches at fairly high prices such as Rolex, Audemars Piguet or even Patek Philippe. Here have no fear, everything will be managed from A to Z by watch enthusiasts who know your watch.
Sell ​​your watch via Facebook groups and Instagram pages!
To end this article, you can also go through Facebook groups or Instagram pages to promote your watch, but here too, it's a bit of a sausage fair. You will have to manage everything, the ad, the transaction, the shipping etc…
It's a job that can be long and the scam is sometimes present in this kind of group although the accounts are verified by administrators. I wanted to talk to you about this solution which in my opinion remains interesting for low budget watches or vintage watches.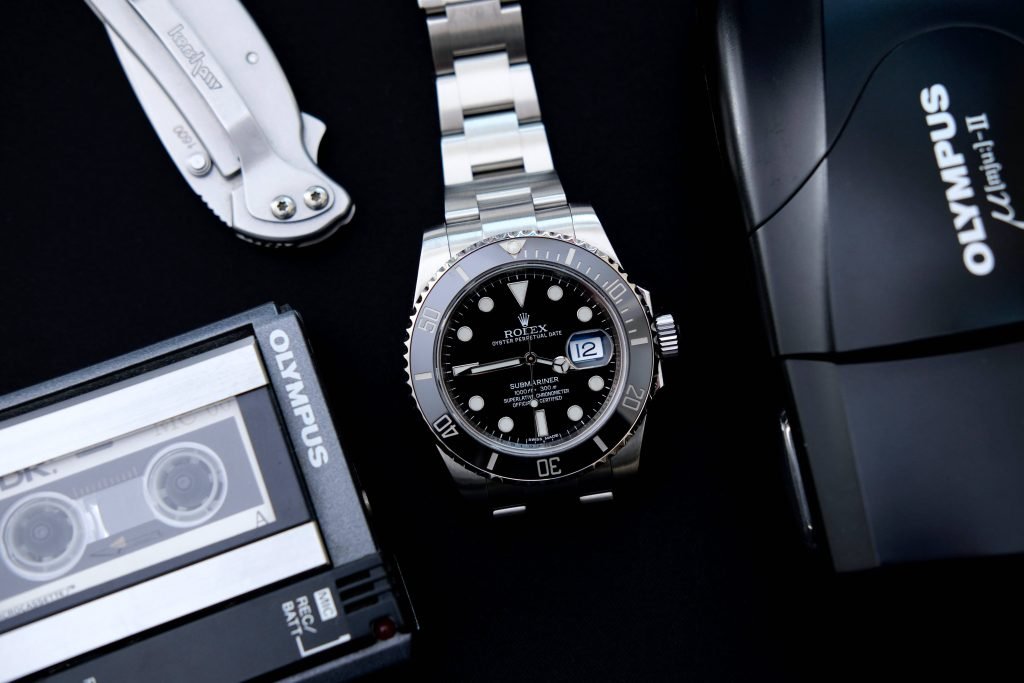 So much for this guide to selling watches online. I hope you are now leaving with the necessary baggage to make your choice on the platform you need to sell your luxury watch (or your vintage watch, eh).
In summary keep in mind that on ad sites between individuals you have to remain very vigilant. Even if you think you can sell your watch faster and perhaps more expensive, it is between individuals that there is the most scam. Prioritize reliable sites like Chrono24 or go through watch sales professionals so that everything goes as smoothly as possible.
See you soon friends,