When we think of luxury watches, the brand Rolex is one of the first that comes to mind. Founded by Hans Wilsdorf in 1905, Rolex has established itself as a reference in the world of watchmaking thanks to its unrivaled quality and precision. But who was this visionary who revolutionized the watch industry? Let's look back together at the biography of Hans Wilsdorf, founder of Rolex.
The beginnings of Hans Wilsdorf
Born in 1881 in Germany, Hans Wilsdorf grew up in a modest family. At the age of 12, he lost his parents and was placed in the care of a relative. It was at this time that he discovered his passion for watches, inheriting that of his father.
After completing his studies, Hans Wilsdorf worked in various watch companies in Switzerland and England. He immersed himself in the environment and learned the workings of this booming industry. During this period, he also developed a particular interest in wristwatches, which were still not popular at the time.
The creation of Rolex, a visionary brand
In 1905, Hans Wilsdorf decided to found his own company with his partner Alfred Davis. Their goal: to design superior quality wristwatches.
Hans Wilsdorf then had a revolutionary idea: rather than simply assembling the parts provided by the manufacturers, he chose to develop his own mechanical movements to guarantee accuracy and reliability of his watches.
In 1908, Hans Wilsdorf registered the trademark Rolex. This name, easy to pronounce in all languages ​​and short, would allow the brand to be quickly identifiable and memorable. It also registers the iconic crown logo, which symbolizes success and excellence.
The first certified pocket chronometer
Over the years, Rolex made a name for itself in the watch industry thanks to the innovations brought by Hans Wilsdorf. In 1910, Rolex obtained the first chronometer certificate for a wristwatch movement, issued by the Official Watch Control Office in Bienne, Switzerland. This distinction demonstrates the brand's commitment to precision and quality.
The first waterproof watch, the Oyster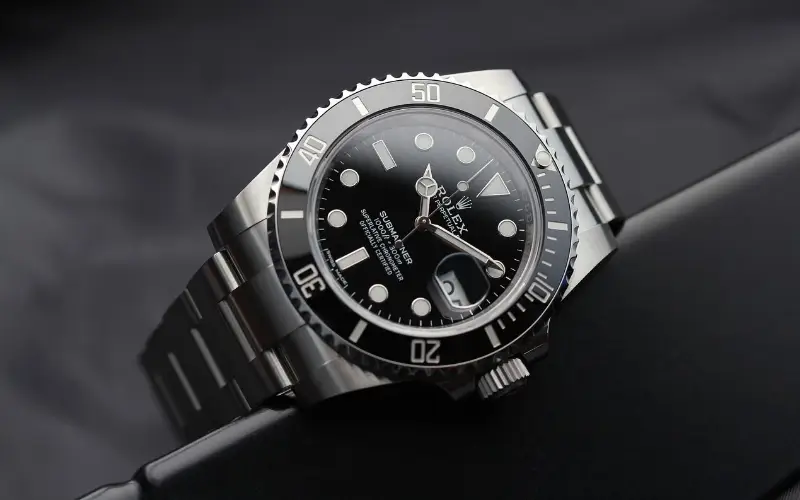 In 1926, Rolex launched the world's first waterproof watch, called Oyster (oyster in English). The airtight case protects the movement from water, dust and shock. This major innovation gives Rolex watches exceptional robustness and durability.
Watches that mark history
Throughout its existence, Rolex has stood out for the quality of its products and the exploits achieved thanks to its watches. Among these feats, we can cite:
The first crossing of the English Channel in 1927 by swimmer Mercedes Gleitze, equipped with an Oyster watch, thus testifying to its water resistance
The first non-stop transatlantic flight in 1933, carried out by Charles Lindbergh with a Rolex wristwatch, attesting to its reliability even in extreme conditions
The 1953 ascent of Everest by Sir Edmund Hillary and Tenzing Norgay, who also wore Rolex watches
These events helped to forge Rolex's reputation as a benchmark brand in the watchmaking world.
A lasting legacy
Hans Wilsdorf died in 1960, but his vision continues to guide the Rolex brand. Today, the company is managed by the Hans Wilsdorf Foundation, created in 1944 to ensure the continuity of its work. The brand continues its commitment to excellence by offering ever more innovative and efficient watches.
Rolex and sport
Since the 1920s, Rolex has been associated with numerous sporting events, such as tennis, sailing and Formula 1. These partnerships demonstrate the brand's desire to be involved in demanding disciplines and to support athletes in their performances.
The social role of Rolex
Rolex is not just a luxury watch brand: it is also committed to promoting human excellence. The Hans Wilsdorf Foundation funds various educational, cultural and environmental initiatives around the world, thus perpetuating the visionary spirit of its founder.
Through this biography of Hans Wilsdorf, we discover a passionate, determined and visionary man, who knew how to transform a simple idea into a true watchmaking revolution. Its success is based on its ability to constantly innovate and seize opportunities, making Rolex an unbeatable and timeless brand.