Let's start by calming the ardor of the purists: it's not a NATO, yes, but the CasiOak has the style! In this new series named GM-2100C Utility Metal G-Shock reuses the bracelet adapter used on certain limited editions, in particular for its collaboration with HUF, but in permanent collection to sport a nylon strap. A superb combo that will delight fans of the Japanese brand.
Casio is a company that is loved all over the world. Since its inception in 1946, this iconic Japanese brand has offered watches with stunning designs and diverse functions. Casio's G-shock models offer exceptional performance and great robustness. The new GM-2100C-5AER watch has an octagonal resin case reinforced with fiberglass combined with stainless steel. With a diameter of 44.4 mm and a thickness of 11.8 mm, it remains a popular choice worldwide, especially among young people. With a weight of 72 grams and a lug-to-lug length of 49.3 mm, this watch will fit perfectly on any wrist. The case is surrounded by a shiny forged metal bezel that gives the watch a more exclusive look. The watch's functions are regulated by 4 push-buttons located on each side of the watch case covered by a mineral glass. Finally, a bottom held in place by screws ensures a water resistance of 20 ATM.
The combination of metal and nylon
It is a global success. There "CasiOak" has been nicknamed by watch enthusiasts since its released in 2019 because of its octagonal bezel that has a certain air of Royal Oak, the iconic model designed by Gérald Genta for Audemars Piguet in 1973. First entirely made of resin, the GA-2100 will quickly be declined with a steel case to become the GM-2100. Last year, this model evolved again to sport an all-metal construction. The GM-B2100 was born. The version that interests us today mixes the best of both worlds: a steel construction with the finishes that go with it, in particular the pretty brushed ones, then a nylon strap in NATO style but in two strands. A style alliance that brings a whole new dimension to a brand often only associated with resin. Three models are currently offered: steel on beige nylon (as in the photos), gunmetal on khaki nylon and completely black.
An ultra-robust watch
It is almost a monopoly of robustness. With its watches recognized for their resistance, G-Shock has a unique proposition on the market watchmaking, and at unbeatable prices. With its restrained size – compared to the brand's other models – the CasiOak is suitable for all wrists.
This GM-2100C-5A that we took over measures 44.4mm wide, a very wearable jig as the watch does not actually have lugs. It is also surprising to note that between the GA-2100 in resin and the GM-2100 in steel, the thickness is almost identical, even reduced by 0.1mm for a total of 11.8mm. This steel construction also makes it possible to get rid of scratches if you wish to go through the repolishing box at a qualified watchmaker. In terms of robustness, the watch is still impact resistant.
It is even reinforced since it has a hybrid construction with a resin heart surrounded by a steel shell, and always with a water resistance of 200 meters which gives you total freedom. There strength of nylon is no longer to be proven; after all, this is the material used for parachute straps! A nod to NATO, it is also the material chosen by the British MOD (and not by NATO) to equip its soldiers in the 1970s.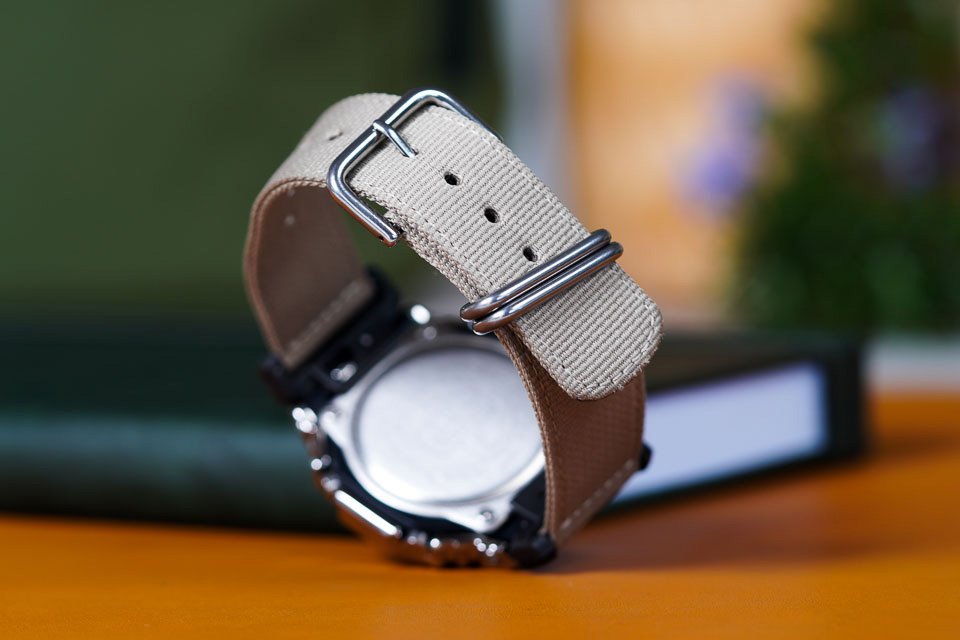 Our first impressions
It's hard to criticize a watch that has met with worldwide success. This evolution is not necessarily logical, because it was not expected. But it's a very smart choice because it's a cool option that could take a nice place in the G-Shock catalog. If in addition the brand starts to offer bracelets to be purchased separately, it may even be a fashion phenomenon.
The resin adapter is very well thought out, unhooking from the case with a system almost identical to the fast pumps, but requiring a needle with a fork to be removed. For the bracelet itself, there are traditional pumps as on any watch, with holes at the level of the adapter to access it as on pierced horns. However, this adapter extend the watch, bringing its total length to 60mm, but more or less taking the place of a first plunging link.
For a G-Shock, it's almost a detail. The comfort provided by nylon is undeniable, while the style is clearly there, a price of only 229€ it will definitely be a success.
FEATURES – CASIO G-SHOCK GM-2100C-5A
The dial
In summary: black background – silver applied indexes – digital & analogue display – double LED lighting – hands coated with Neobrite luminescence
This watch is adorned with a black dial with a matte finish that gives this model even more elegance. The analog display is materialized by the insertion in the center of two hands running along a minute rail accompanied by twelve indexes to indicate the hours and minutes. All with luminescent coating, you will be able to benefit from a time reading even in a dimly lit environment. You will also notice between 03.00 and 06.00 an LED display positioned so that you can also benefit from a digital display. Also, for more precise timing, an aperture at 9 o'clock will indicate the day. Finally, to close this dial, the brand applies its name and collection below 12 o'clock.
For all those who like precision: The countdown timers remind you of important or recurring events by emitting an acoustic signal at the specified date and time. The time can be programmed in seconds, up to 24 hours in advance.
Functions
In summary: Bluetooth connectivity – Tough Solar solar-powered power supply – world time – self-timer – complete calendar – energy saving function – stopwatch – alarm signal – battery level display – accuracy of +/- 15 seconds per month – autonomy 7 months on rechargeable battery
5 daily alarms
An audible alarm reminds you daily of your due dates at the scheduled time. This model has five independent alarms to flexibly remind you of important appointments.
Hand movement function
This function allows the hands to be moved when they prevent the time, date or stopwatch function from being visible.
On/off key beep sound
The key beep can be deactivated with the mode key. After deactivation, there is no longer a beep sound when switching from one function to another. However, the programmed alarms or countdowns remain active after the key beep is deactivated.
Movement
This model is powered by a quartz movement. Reliable and robust, it will provide continuous analog and digital display.
Bracelet
In summary : lined nylon fabric – double metal loops – mounting on resin adapters – flash pumps – polished stainless steel pin buckle clasp
Casio has equipped this watch with an olive green-colored nato strap. It fits perfectly with the rest of the watch and you can easily put it on thanks to the pin buckle.
Sealing
This model has a water resistance of 20 atmospheres, or 200 meters. Here, ladies and gentlemen, is a watch that can accompany you in your deep-sea activities! This model is designed for freediving! Not afraid of water, you can also handle high-pressure washers with this watch on your wrist without fear of drowning it. Showering, bathing, sport swimming and snorkeling are possible. But for diving, we recommend a watch with a higher water resistance class. Also, be careful not to manipulate the crown or push-buttons during immersion, to preserve the integrity of the mechanism.
G-Shock GM-2100C Casioak Videos
An now, 2 videos showcasing the new design and functionalities of the G Shock watch!