He has been with the firm for 30 years and 3,800 G-SHOCK watches have passed through his hands. Tatsuya Izaki is the R&D director of G-SHOCK and visits Mexico to celebrate G-SHOCK's 40th anniversary. "Our motto 'Never Give Up' will continue after the 40th anniversary," says Izaki. "We will continue to improve our product and technology, and after I pass away, the spirit will continue in new generations. "We are not going to betray the fans." G-SHOCK has grown so much that it has already become a brand with its own entity within Casio. "It is impressive how G-SHOCK has become part of the urban culture of Mexicans in the last 10 years," he adds. Diego Núñez, head of marketing for Casio in our countrywho accompanies us in the interview. Tatsuya Izaki He assures that they did not expect so much success at the beginning. And, for the moment, let no one dream or fantasize about a mechanically wound G-SHOCK. "If Ibe is the father, I am the compadre of G-SHOCK."
An unexpected brand
—G-SHOCK has grown so much that it has become its own brand within Casio. Did you expect this success?
—I started the relationship with this development department in 1992. At this time, G-SHOCK was just beginning to expand. We were always focused on the work of the present and the future and we asked ourselves, "tomorrow, what are we going to do?" But at that time, we did not expect this success.
—How has G-SHOCK technology evolved since Mr. Ibe's discovery until today?
—Since it was born in 1983 until now, we have always looked for ways to renew watches and for G-SHOCK to have current technology. Now the parts incorporate many new functions, but the G-SHOCK maintains its shape. For example, in the 40th anniversary piece it maintains a small box with more functions.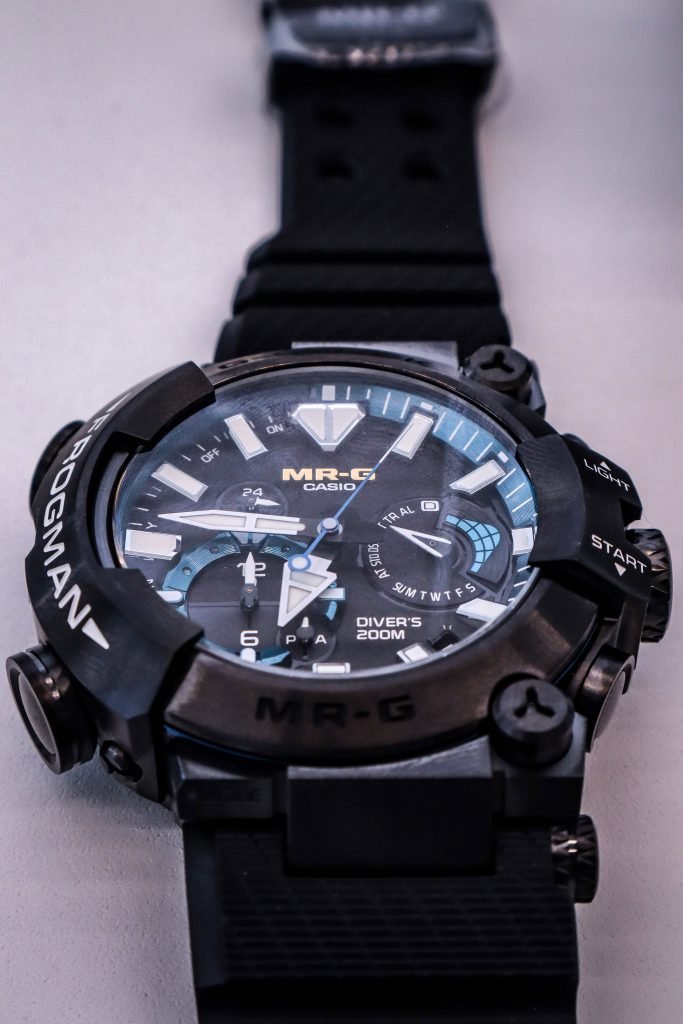 G-SHOCK Evolution
—In this evolution over 40 years, has it achieved greater resistance and hardness?
—The hardness and resistance remains as at the beginning. It is something implicit. We started looking for new features for people who, for example, practice sports and can check blood pressure, heart rate control, etc. Casio even gave some gift models to the Moles of Mexico. Our idea to renew G-SHOCK is to look for the best so that fans continue to like the brand. We always have to improve. "Never Give Up" is our motto. The idea is resistance and that it will never fail you. Materials such as titanium and biodegradable straps are also now being worked on, under the concept of sustainability.
—Have you thought about manufacturing a G-SHOCK with an automatic mechanism and not a quartz or electronic one?
—We have participated in Baselworld when the fair was taking place, surrounded by brands that had automatic movements. It's always been a question. We have had many meetings in the company about it. But our idea is that the value with which Casio and G-SHOCK have grown is due to technology, which is why it is also admired by its fans. And we are going to prioritize this technology.
—G-SHOCK is a watch that offers many creations with colors, materials and new trends every year. Are there any certain guidelines for aesthetics and functionality? How does your design team work?
—To determine the models we are going to have, we carry out market studies and trend analysis, we are always investigating the public's demands to have exact information.
Successful pieces
—What has been the most successful and sought-after G-SHOCK edition by fans and collectors in its history?
—It is difficult to choose a model because there have been many series that are limited editions. But if we have to choose a successful series, I think it would be the Frogman. The first model was born in 1993 and continues to have many followers since the beginning. A special edition has now been launched for this 40th anniversary, limited to 700 pieces worldwide.
—Will there be special editions for the Mexican market on this 40th anniversary?
—Now we have a special piece with the America soccer club. There will also be two special pieces with Coca Cola. We investigate the demand in Mexico and we are going to continue looking for a way to launch pieces for Mexico.
The future
— What is your favorite G-SHOCK model? Because?
-It's complicated. I've been at Casio for 30 years and have seen 3,800 pieces of G-SHOCK. But I would choose DW-1983-1 because it is the first project I did. Now there are limited editions, but this watch was the first time it was made in a limited way. And it was the first anniversary watch, 10 years, of G-SHOCK, it was launched in 1993. And this model had a special box. Now there's a 40th anniversary reissue, with the Project Team Tough logo on the cover. On each anniversary we put this logo to remember the beginning of this project at Casio: what motivation it had, the feelings, the theme, etc.
—How do you see the future of G-SHOCK, what will happen in the next 40 years?
—Our motto "Never Give Up" will continue after the 40th anniversary. The context is always changing, we have to adjust, but the motto will not change in each era. We will continue to improve our product and technology, but after I pass away, the spirit will continue in new generations. We will not betray G-SHOCK fans.
G-SHOCK 40th Anniversary Fan Fest held at Torre Manacar in Mexico City on September 5, 2023.