Today the house Casio has presented its new G-Shock X League of Legends. Two new watches resulting from collaboration with one of the video games most played Worldwide: LEAGUE OF LEGENDS.
The models are called GM-B2100LL and GA-110LL, they are inspired by the world of the game, with details of League of Legends on its dial, case and strap. The GM-B2100LL incorporates the Hextech fusion of magic and technology, while the GA-110LL is based on the popular character Jinx, with striking colors and details inspired by his style. Both watches show the logo de League of Legends on the case and strap. In this way, the G-SHOCK collection is expanded for fans of the game.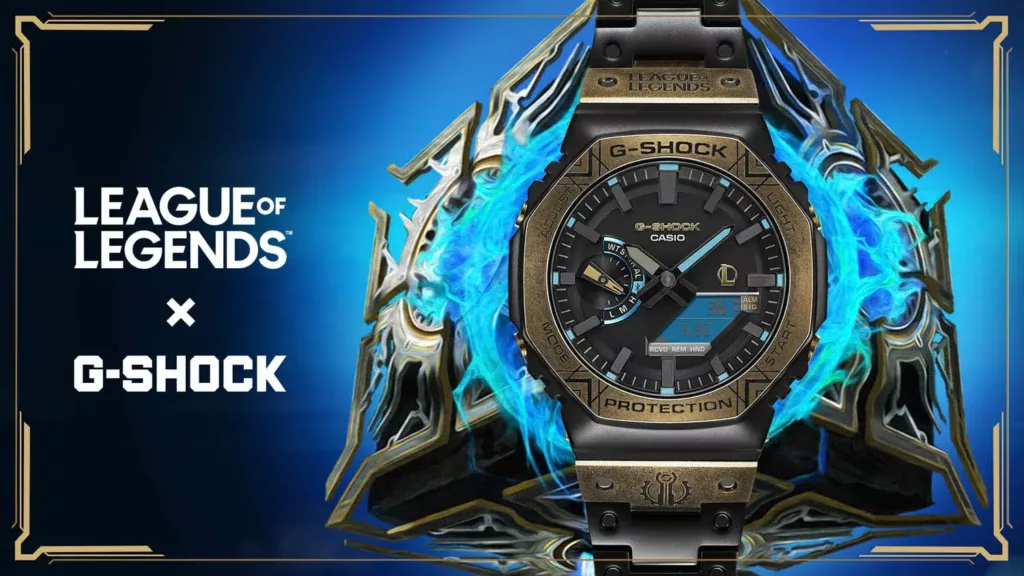 League of Legends is a five-on-five competitive multiplayer game. Players control characters called "champions" as they fight to reach their opponent's base. A wide range of characters, images, music and other content has made the game a global success.
G-Shock X League of Legends
The two new watches, the GM-B2100LL and the GA-110LL, are collaborations with Riot Games, a global leader in eSports and developer and publisher of the hit game, League of Legends. Each of the models is based on the design of one of the G-Shock models in an original and surprising way. They are based, respectively, on the all-metal GM-B2100 with octagonal bezel and the GA-110 with its distinctive three-dimensional dial.
GM-B2100LL inspired by Hextech technology
The design features the Hextech fusion of magic and technology from the world of League of Legends. The bezel and bracelet parts are treated with an antique finish for a time-worn look and feel. The blue accents on the LCD screen and minute hand represent the color of Hextech technology.
Among its features it has bluetooth and solar charging with a charging duration of approximately 7 months after full charge, using all functions, but without solar charging about 18 months with the energy saving function ACTIVATED after full charge . It has a size of 49.8 × 44.4, a thickness of 12.8 mm and a weight of 165 grams.
GA-110LL inspired by the popular character Jinx
The popular and charismatic champion, Jinx, is represented on the bezel and strap with a vivid color scheme. The strap and indicator needle on the dial inserted at the 9 o'clock position are reminiscent of the rocket that is Jinx's signature weapon.
It has a battery that lasts approximately two years. The size is 55.0 × 51.2, a thickness of 16.9 mm, and a weight of 72 grams.
Precio
The GM-B2100LL-1AER and GA-110LL-1AER models They will be available in November with an approximate RRP of €1,099 and €199 respectively. G-Shock