In recent years, the rectangular watches experienced a growing trend among female audiences. They are distinguished by their characteristic shape which differs from the more common traditional round models.
Want to wear an original creation? Discover in this selection three models of rectangular watches for women.
First of all, what explains the craze for this type of timepiece? Distinctive and elegant, timepieces that feature this shape are often seen as more modern and bold than their rounded counterparts. Certainly contemporary, but they also have a sort of retro connotation, and that's the whole paradox. Many women indeed appreciate the nostalgic and timeless aspect of these watches which allows them to wear a classic accessory with a touch of modernity.
Another advantage of rectangular watches is that they adapt easily to all wrists, wide or thin, sometimes even giving a more balanced appearance. Likewise, their versatility allows them to be worn in different contexts, whether formal or casual events, and with all styles of clothing.
Let's now look at the three creations that Ocarat Magazine has chosen to highlight.
Lip Churchill T13 – 671207
Particularly refined and modern, this timepiece designed by the historic house Lip is distinguished by two major elements. The first directly concerns the rectangular shape of its stainless steel case whose diameter of 13 x 29 mm gives it a particularly delicate and feminine appearance. Here we have a watch that is almost more like a bracelet, its build is so narrow!
This visual effect is amplified by its second distinctive element, namely a double wrap bracelet in smooth leather. Offered here in a fawn brown, this one is also available in a very sparkling orange on the reference 671209.
We remain in the subtlety with the white dial whose two-tone finish is embellished with two small silver hands for the hours and minutes. The indexes are adorned with black for more readability. It's understated and elegant!
Powered by a Miyota 5R21 quartz movement, this creation is, like all Lip watches, made in France, in Besançon, in the brand's workshops. It is a piece that can be worn during the day at work as well as during a formal dinner.
Lip Churchill T13 on Ocarat.com
Herbelin 1925 Art Deco spirit – 17478/08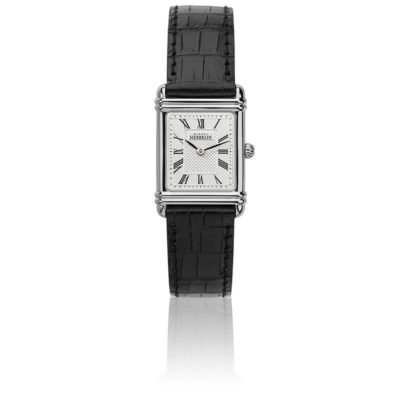 We continue our selection of rectangular watches for women with a creation signed by the very beautiful French watchmaker Herbelin.
This timepiece is expressed in a more traditional style than the previous model, but just as elegant! On the program, a black alligator-style leather strap, joined to a 316L steel case 24.40 x 20.30 mm in diameter adorned with a few gadroons. The classic look is reinforced here by the white dial with its Roman numerals black as indexes, its fine black hands also, as well as its central rectangle textured in clous de Paris.
At the heart of this room beats a RONDA 751, a movement at swiss quartz renowned for its reliability and endurance.
This tocante is a city car! A perfect model to enhance your daily or special outfits with an undeniably chic touch.
Herbelin 1925 Art Deco spirit on Ocarat.com
Baume and Mercier Hampton – 10673
To meet all the desires of these ladies, it is another style of rectangular watch that we offer here with the prestigious Swiss watch brand Baume et Mercier. It must be said that this room surprises with its architectural design whose clean lines have something almost futuristic about it.
Another touch of originality, its sublime and sensual burgundy hue! It is found on the calfskin strap, on the cabochon stone of the crown as well as on the dial stitched with a discreet and pleasant glitter finish.
Talking about the dial minimalist, this largely contributes to the stripped-down look of this timepiece since it features only two fine sword-like hands as well as the brand's logo and name. For the rest, this model has a rectangular case of 22.2 x 35 mm in polished gray steel.
Finally, know that this luxury watch is also available, under reference 10674, in a superb deep blue version whose middle case is crafted in 750 pink gold.
Overall, we have here a refined contemporary that will appeal to women looking for a high-end watch that is both sober and distinctive, which can be worn day or night.
Baume and Mercier Hampton on Ocarat.com
As you will have understood, feminine rectangular watches are regaining ground. Their geometric and angular lines offer us a new way of reading the time on a daily basis. The passage of time takes shape here in an interesting form to be taken as an invitation to appreciate each of the moments that life offers us!