Founded in 1985 by Tommy Hilfiger himself, the brand's goal is to offer modern clothing that embodies classic American style. This ability to offer contemporary pieces that do not erase the past has allowed the brand to establish itself in the fashion sphere.
After having developed a whole set of accessories such as shoes and even perfumes, the house decided to launch into the world of tocantes at the very beginning of the 2000s.
Two decades later, Tommy Hilfiger watches continue to gain fans among fashionistas, Swiss Made Watch Magazine invites you today to take a look back at this trend which is not weakening!
A fashion style
If you appreciate the brand's clothing that plays on a look fashion, you should then love the timepieces designed by the house. Always decorated with the famous blue, white and red logo recognized by everyone, the Tommy Hilfiger men's watch presents itself as a distinctive accessory that can brighten up your daily outfits even further.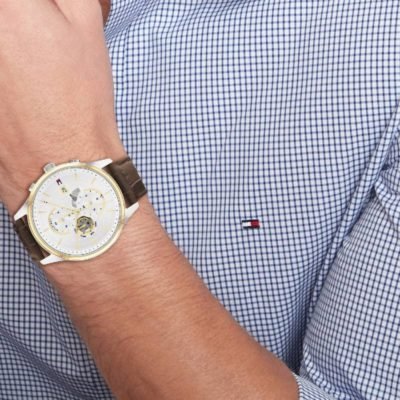 The stylistic association with your clothes, let's talk about it! Although the brand is greatly associated with the world of preppythe watches it develops have the particularity of being able to fit into both casual and more formal looks.
Offered in various sizes, you can choose a piece perfectly suited to your tastes. Men wishing to opt for a certain form of classicism can head towards diameters considered standard, ranging from 40 mm to 43 mm. Conversely, those wanting a more imposing creation will easily find several references easily exceeding 45 mm which will entirely correspond to their desires.
Available in a wide range of colors, the dials are generally adorned with sober and refined shades, part of the very DNA of the house, all synonymous with elegance. Navy blue, deep black, anthracite gray or even dark green, here are some of the recurring configurations! The Hilfiger logo is often located at six or three o'clock, depending on the model.
Quality mechanisms
Just like other designer watches, Tommy Hilfiger pieces are to be observed as true trendy accessories and not as horological timepieces strictly speaking.
But, however, make no mistake, a large number of Hilfiger watches for men are powered by Japanese mechanisms proven, the quality of which no longer needs to be proven.
This is how several references embed a quartz movement Seiko Or Miyotatwo big names in watchmaking whose products are considered safe values ​​to turn to with your eyes closed!
Surprisingly, it is even possible to find some automatic watches accessible powered by an oscillating weight caliber signed Miyota. Some of them even incorporate interesting design elements like the image of the open heart which, by allowing a glimpse of certain cogs of the automatic movement through precisely cut-outs made on the dial, will turn the heads of new watch enthusiasts.
Watches designed for everyday life
Made from durable and resistant materials, the Hilfiger men's watch follows you on all your urban adventures. Its case is adorned withstainless steel and reveals current or even downright minimalist lines.
Master key, versions golden and silver are undoubtedly the easiest to adopt. For more originality, models with black or blue frames are offered by the brand. The latter will not fail to attract attention thanks to their bold, futuristic and ultimately unusual style.
On the bracelet side, there is a wide choice of possibilities available to you! Indeed, if it is possible to select sporty male models with metal links, it is also easy to find a watch accompanied by a bracelet made of a braided metal of the Milanese mesh type, or even in a more conventional one. real leather.
Under a mineral glass flat, these watches reveal large indexes as well as a railway timer which recalls the rails on which trains run around the world. This stylistic choice based on purity gives Tommy Hilfiger's creations a high level of readability.
Added to this are various and varied complications. Between models equipped with a classic function dateof a more complete calendar or even a very useful chronographthere is bound to be a watch that will speak to the fashion lover that you are!