Silvio Berlusconi left us on June 12, 2023, at the age of 86. Undisputed protagonist of entrepreneurship, politics, football and Italian culture, he is undoubtedly one of the figures who have forever marked the history of our country.
We at Italian Watch Spotter, of course, will say goodbye in our own way with an excursus on some of Silvio Berlusconi's watches that he wore throughout his incredible life.
Audemars Piguet Perpetual Calendar
In this shot, Silvio Berlusconi wears an Audemars Piguet equipped with one of the most sophisticated complications, the perpetual calendar. Perpetual calendar watches also recognize leap years; the date must be changed only in the years officially recognized as leap years but not divisible by 400 and therefore 2100, 2400, etc.
In particular, the model worn by Berlusconi is the reference 5548 which mounts the caliber 2120/2800 and was produced until 1990, in less than 3000 specimens and in various variants. Round case, stick indexes and an extremely reduced thickness, this model is considered a unique timepiece of its kind, sought after by all the most sophisticated collectors.
Patek Philippe Minute Repeater Tourbillon ref. 3939
In this shot, Berlusconi wears a beautiful yellow gold Patek Philippe with manual winding, with a 33 mm round case. Again, Silvio Berlusconi's preference for the round case stands out.
Equipped with the RTO27PS caliber, this highly complicated model features a minute repeater function and a tourbillon. The hours are indicated by gold Breguet numerals. The strap is in black crocodile.
Patek Philippe Calatrava Ref. 3514/8
On this occasion, Berlusconi showed off the legendary Calatrava by Patek Philippe, in the yellow gold version typical of the 60s. This watch was born in 1932 and takes its name from the Spanish military order of Caltrava, founded in the 12th century.
This model has a waterproof round 18K yellow gold case measuring 34 mm and stick indexes, with date at 3 o'clock. The bracelet, which wraps sinuously around the wrist, is also in yellow gold. Berlusconi's Calatrava houses an automatic movement cal. 27-460 m.
Cartier Panthere Round Steel and Gold ref. 1057920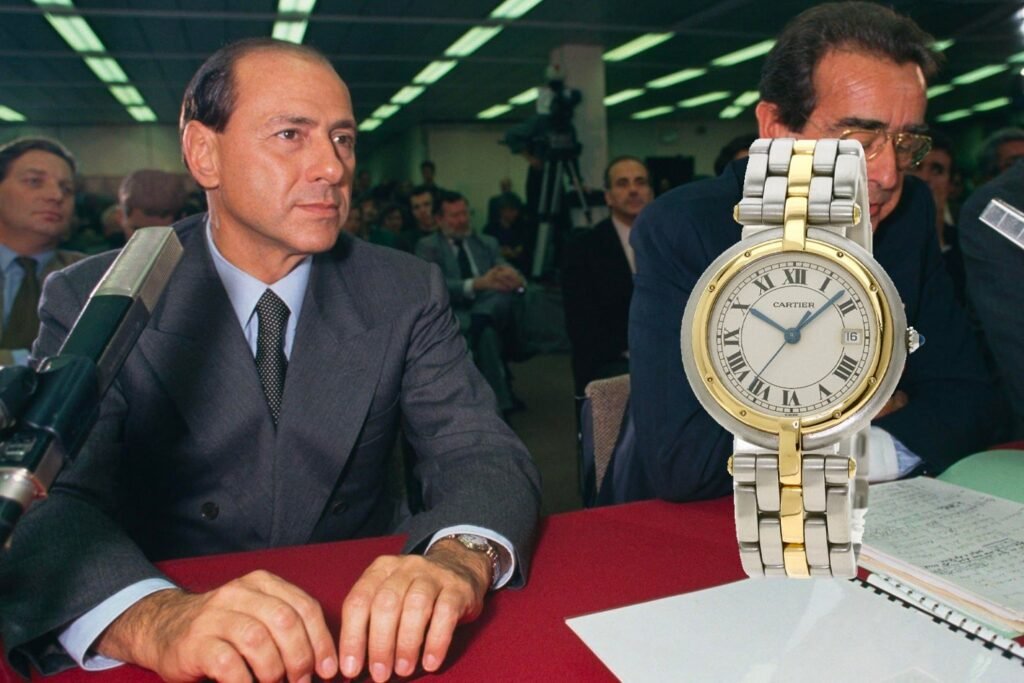 A Cartier model cannot be missing from Silvio Berlusconi's collection, also with a round case (while the current Panthere line has a square case).
Equipped with blue sword-shaped hands, like the classic winding crown with cabochon, it is a simple and classic model at the same time. The hours are indicated by Roman numeral indexes and the date is placed at 3 o'clock. In this case, the movement is quartz and the material exploits the classic combination of steel and gold.