Home Citizen has introduced three new watches from its Attesa Eco-Drive Radio controlled collection. Three new models that arrive celebrating the 30th anniversary of the launch of the first radio controlled multi-band watch. Three new timepieces sharing a new caliber with a fully automatic analogue moon phase indication function. They belong to the ATTESA collection by Citizen, which is the high-end of Super Titanium watches.
It uses a unique mathematical formula to calculate the moon phase for each day based on date signals received from radio transmitters. The moon phase is automatically displayed on the dial in the moon phase window, at the six o'clock position. The new watches also have a north-south shift feature that allows the moon phase display to be changed to match the view from the northern or southern hemisphere.
Citizen Attesa Eco-Drive Radio Controlled
These three new watches, in addition to their style and caliber, coincide in the main material used for their case, Super Titanium. two of them come with a matching bracelet (BY1001-66E and BY1006-62E) and another with a leather strap (BY1004-17X).
The dial design is classic, elegant and also highly legible. A design that combines gray and black, barely broken by the applied indices and chrome hands. The moon phase window shows a beautiful silver moon floating in a sea of ​​stars. City names have been removed from the inner ring to create a clean, uncluttered design that ensures proper legibility.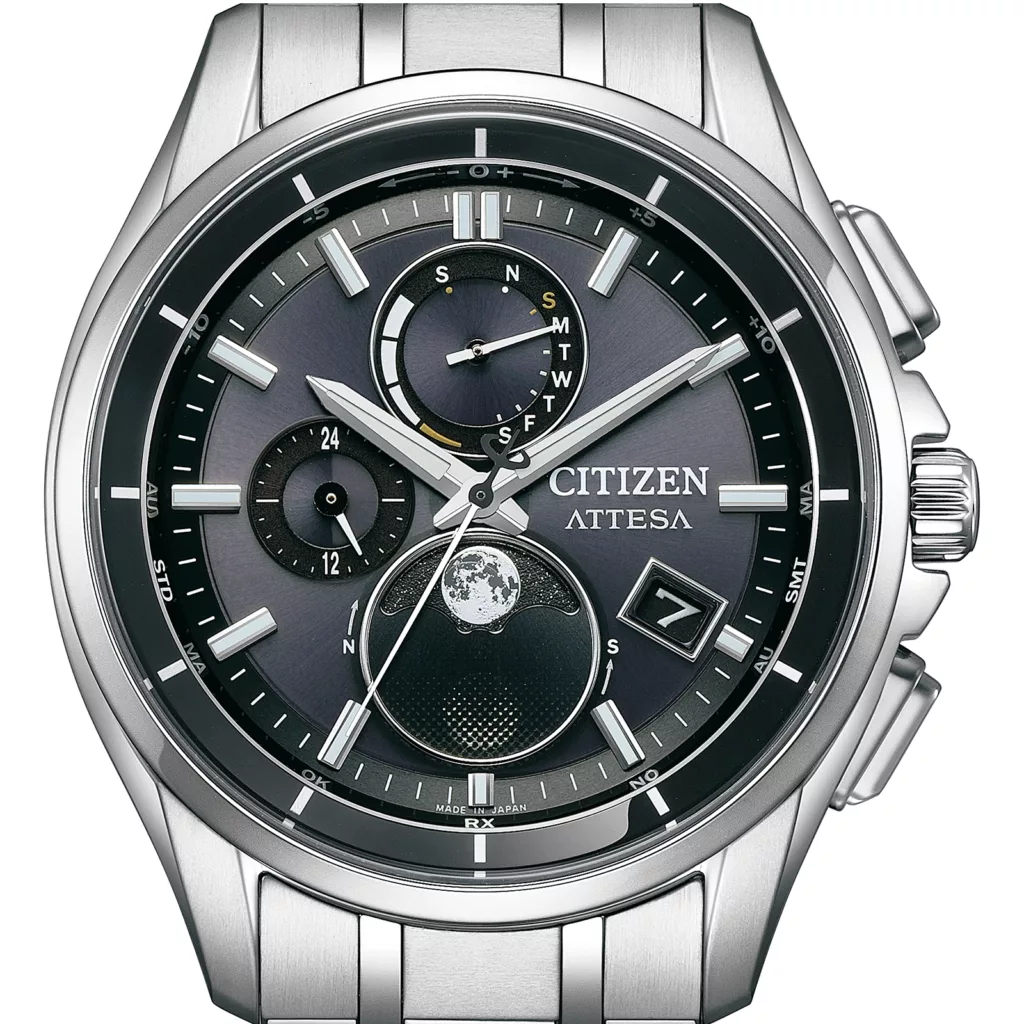 As we have already mentioned, the box is made of Super Titanium. The case is finished in Duratec Carbide on the BY1001-66E, DLC Coating on the BY1006-62E and Duractec Carbide with a pink Duratec bezel on the BY1004-17X. The size is 41.5mm in diameter and a thickness of 10.8mm. It has a water resistance up to 10 bar, 100 meters.
The caliber inside is the new H874. Eco-Drive with a power reserve of 2.5 years on a full charge (in energy saving mode). It has radio control. It is accurate to ±15 seconds per month (without time signal reception).
Price
The approximate RRP is $1,080 for BY1006, $800 for BY1001 and $730 for BY1004. Citizen