As you may have understood by now, I have a penchant for independent and specialized brands. Especially brands that have a history, that are not known and that have been taken over by a family member or an avid collector who have made things much better. A few weeks ago I wrote about the takeover of Ollech & Wajs by a fan of the brand who have since released some exciting new designs that pay true homage to the brand's heritage. Today I am going to present to you circulateda German and family brand founded in 1955.
Circula is the fruit of a long German watchmaking tradition located in Pforzheim, the watchmaking heart of the Black Forest. If today we hear of Glashütte as the cradle of German watchmaking, Pforzheim also played an important role. And Circula has never left the Black Forest, despite the brand's many transitions. In this article, therefore, we will talk about Circula and its history, the current owner and the most recent collections.
History of Circula
What's most interesting looking at the history of Circula is that, yes, the brand has been passed down from generation to generation. The current owner, Cornelius Huberis the grandson of Heinz Huber, the founder of Circula. The latter inherited a wholesale business of watches and jewelry which was created in 1926. Imagine a giant store that sells all kinds of jewelry, including pendants, bracelets, rings, as well as watches from several brands and accessories like bracelets. Maybe it's because I'm barely in my forties that I have trouble imagining this kind of store. Nowadays, we are used to multi-brand luxury stores or single-brand boutiques. Would have loved to see Cornelius' family store in the 1930's.
For nearly 30 years, the family business has thrived. Selling watches from many brands meant having the chance to learn about various watchmaking qualities and also seeing what the customer was looking for, what they liked and what they didn't like. It was in this context that Cornelius' grandfather decided to take a leap into the unknown and create Circula, his own watch brand. Circula flourished until 1985, when his father took over the family business. But the latter focused more on the wholesale side of things instead of developing Circula. As the story goes, Cornelius decided at a very young age that Circula could be something different and better. But let's not get too far ahead.
The new owner and his philosophy
As one can imagine, being born into a family of watch enthusiasts and retailers, Cornelius was driven to venture into this business himself. Although perhaps it wasn't entirely deliberate on his parents' part. Cornelius told me that most of the family dinner conversations revolved around watches and that as a young man he worked in his parents' business to earn pocket money. His story is similar to that of famous businessmen like Rockefeller and JP Morgan who did odd jobs in their younger years.
These jobs allowed them to learn some important lessons about business and life, and especially how to behave with people. I bet that was also the case for Cornelius.
When he was around 13, Cornelius heard about this brand new line of watches that was unlike anything he had seen before. There Casio G-Shock. Those huge, oddly shaped, ultra-tough, affordable watches that made waves decades ago and are still making waves today, had caught his eye. So much so that he started selling G-Shocks during recess when he was a teenager. If that doesn't indicate the direction his life will take, I don't know what would. A few years later, Cornelius opened an online store to sell G-Shocks. It was 1998 and unfortunately the world was not ready for it.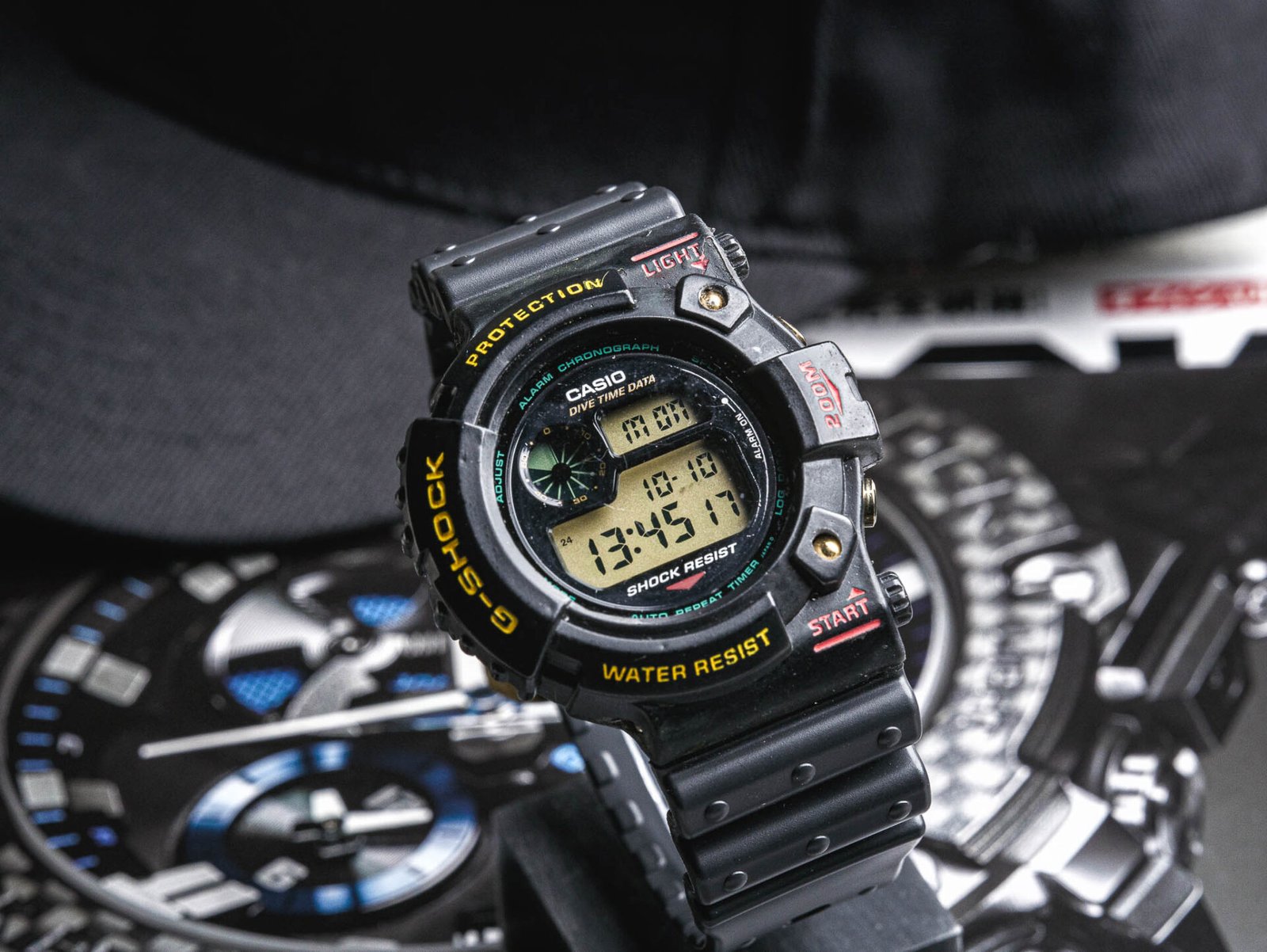 When I was a college student living in Washington DC, I volunteered at the National Museum of Natural History. I remember that there was a part of the exhibitions which concerned paleontology. Behind a glass wall was a scientist sitting at a desk in a lab (it looked too perfect to be a real lab, at least to me as a teenager), demonstrating how to clean and study bones of dinosaurs. This scientist had the job of my dreams, at least at that time, and I was amazed to be able to see him working. It left a deep impression on me, and even though I didn't become a paleontologist, I was fascinated by the science behind the profession, the tools used and what came out of it.
I think that's why I like to write about how brands are created and how watches are designed and made.
Similarly, Cornelius told me the story when, in his early teens, he accompanied his parents to watch-related events. Events organized by brands such as Casio And Junghans. One day he visited a Junghans factory in an old warehouse where he got lost and saw watchmakers at work behind display cases. During his explorations, he went to the attic of the building where he came face to face with a poster of a Junghans pilot's watch. Excited by this find, he quickly told his parents about it. Coincidentally, Cornelius received the poster and the watch on it from his father for his birthday. This was certainly an important step in Cornelius' relationship with watchmaking.
take things apart
Talking with brand owners often brings up an interesting story or two, something unique about the person's experience that I find particularly fascinating. Growing up with parents who sold watches and made jewelry – Cornelius' mother made the latter while his father sold the watches – he spent a lot of time getting behind the scenes of running the family business. His parents not only sold pre-assembled watches, but also worked with watchmakers who assembled movements and mounted watches. So Cornelius shared something that really caught my eye: the fact that the movements arrived at their store unassembled, the various parts wrapped in tissue paper and stacked in repurposed banana boxes!
Cornelius took part in the delicate and tedious tasks of unpacking the parts to sort them in order to make the work of the watchmakers a little easier. Just as young Einstein spent years working in a Swiss patent office reviewing patents for all sorts of inventions, which got him used to the way things are put together, the intimate connection that Cornelius made with the hundreds of parts that make up a movement fascinated him. He was hooked and became interested in how movements work, how parts work together, and how some of them can only be fully appreciated under a microscope. Today, as an adult running a watch business, Cornelius remains intrigued and fascinated to learn all that went into crafting the watches he proudly wears every day. Especially his own brand watches.
The succession of Circula & its beginnings
Knowing that he grew up in the world of watchmaking, attending watch-related events and even helping his parents with their watch business, one can easily imagine that Cornelius would take over the business. That's what he did. He first started doing Kickstarter campaigns and slowly releasing quartz models to test the waters without taking any major financial risk. After all, quartz movements are cheap, reliable and easy to maintain or, even better, to replace. He began the slow and careful process of reviving the brand while working full-time as a management consultant.
One day, however, he was approached by a movement maker based in his hometown of Pforzheim who offered to buy a batch of "new old stock" (NOS) mechanical movements. This was a pivotal moment in the new history of Circula which gave Cornelius a good reason to delve deeper into the revival of the family brand, and to make watches with mechanical movements. After making the quartz model heavily inspired by the designs of the 50s, Cornelius released AquaSporta diver inspired by the watches of the 70s owned by his father, and probably the first collection that brought the brand to the international scene and under the gaze of collectors.
The line of watches AquaSport has a unique visual DNA and presents solid watches, now available in limited editions and in GMT version (more on that later). And the most interesting thing about Cornelius' early life is that he enlisted the help of his father to continue running the brand. The latter closed the wholesale business in 2017 but continued to manufacture watches which he sold directly to loyal family customers. His father now runs the operational side of things and handles quality control for all aspects of production and even handles after-sales service.
A Circula Strategy: Design Crowdfunding
While not unique, Circula is one of the few brands I know of that uses crowdsourcing for their model design process. Designing a watch is usually a personal and intimate operation – at least that's what I understood after interviewing many brand owners – so it was interesting for me that Cornelius went through this exercise on a regular basis. He told me that Circula is, for the most part, a company that is run by himself and his father. And they don't trust themselves to know exactly what 21st century watch enthusiasts are looking for in their watches, or at least they don't claim to know.
Cornelius therefore contacts his list of 25,000 watch collectors and fans of the brand to ask them what they expect from a diver, a field watch or the perfect GMT. The email list was less than 25,000 when he started going through this process, but it has grown rapidly over the past two years. This community process is smart and ensures that Circula doesn't make a watch that most enthusiasts would ignore. I recently spoke to a friend who thinks Cartier releases a new model every two years that flop and the brand is silently giving up.
Well, Circula wants to avoid doing that exactly.
Highlights of the current collection
Although the first Cornelius model to be introduced was a vintage-inspired dress watch with a quartz movement, looking at the brand's current catalog it is clear that Circula is a brand of watches tools. As we already know, the first and most important collection that Cornelius released was theAquaSport. It currently consists of 10 models which can be subdivided into three parts: the classic diver which bears the name of the collection, the SuperSport which is a true super-compressor diver, and the model GMT. The latter was announced just a few days ago, in February 2023.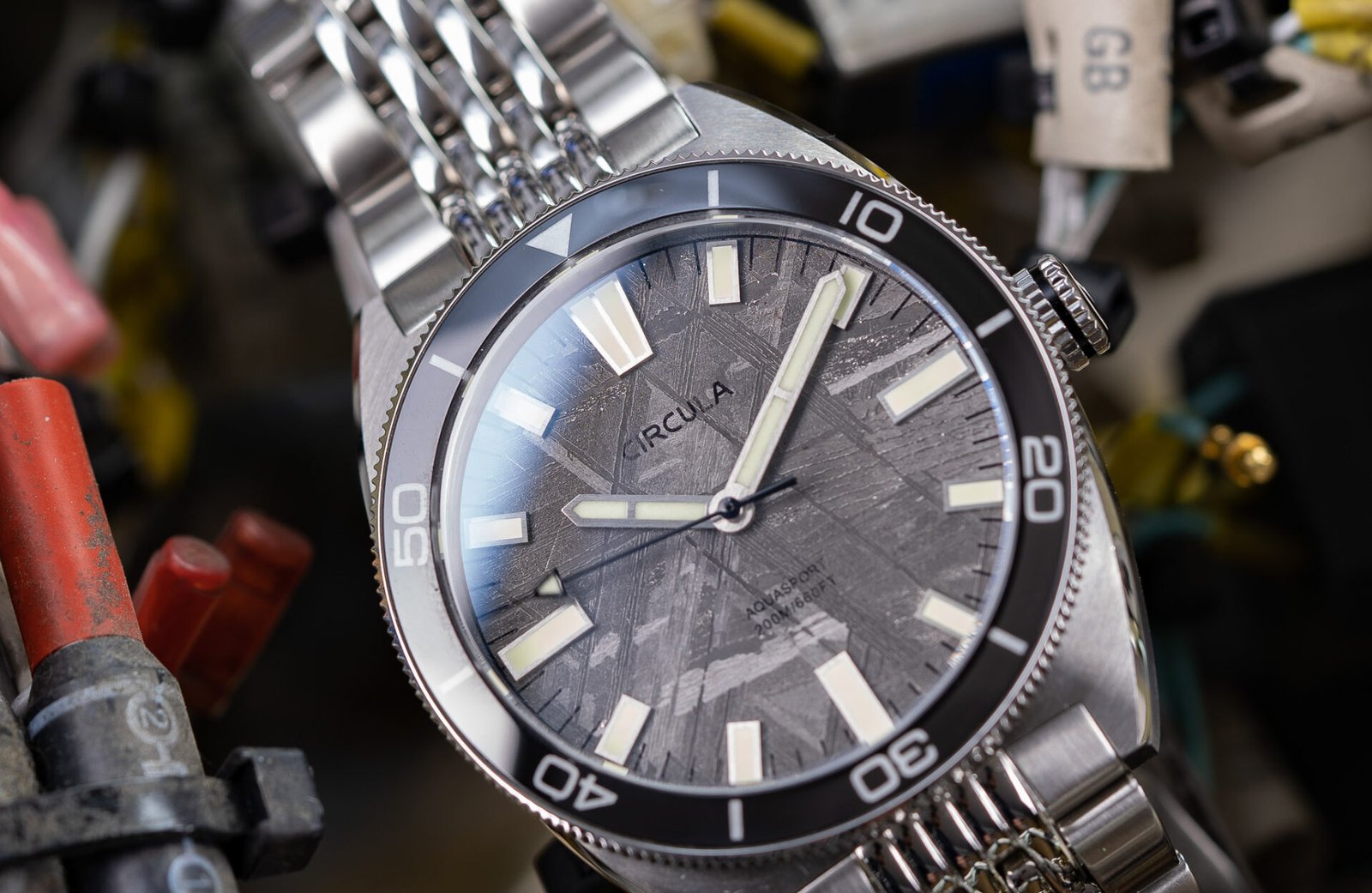 The AquaSport is available in different dial colors and strap options. They have a diameter of 40mm46 mm from lug to lug, a thickness of 13.4mm (including the glass) and a lug of 20mm. These standard dimensions for a diver guarantee easy wearing for most wrist sizes. The AquaSport is equipped with a gauge Sellita SW200-1, now standard on many Circula models. The AquaSport leans heavily towards utility type watches with a clean dial design, large crown and massive indexes. These models sell for between €799 and €899 on a rubber or stainless steel strap.
There SuperSport retains the same dimensions as the AquaSport but differs in its case construction. Indeed, the SuperSport is a real super-compressor diver since it is equipped with a 2-part spring box bottom. This means that the deeper you go underwater, the more pressure is applied to the caseback and gaskets, which therefore increases the water resistance of the watch. The SuperSport is also equipped with a movement Sellita SW200-1 and, in true super-compressor tradition, an internally rotating diver's bezel instead of the standard case-top mounted bezel. The unique feature of this scope is that it has 120 clicks.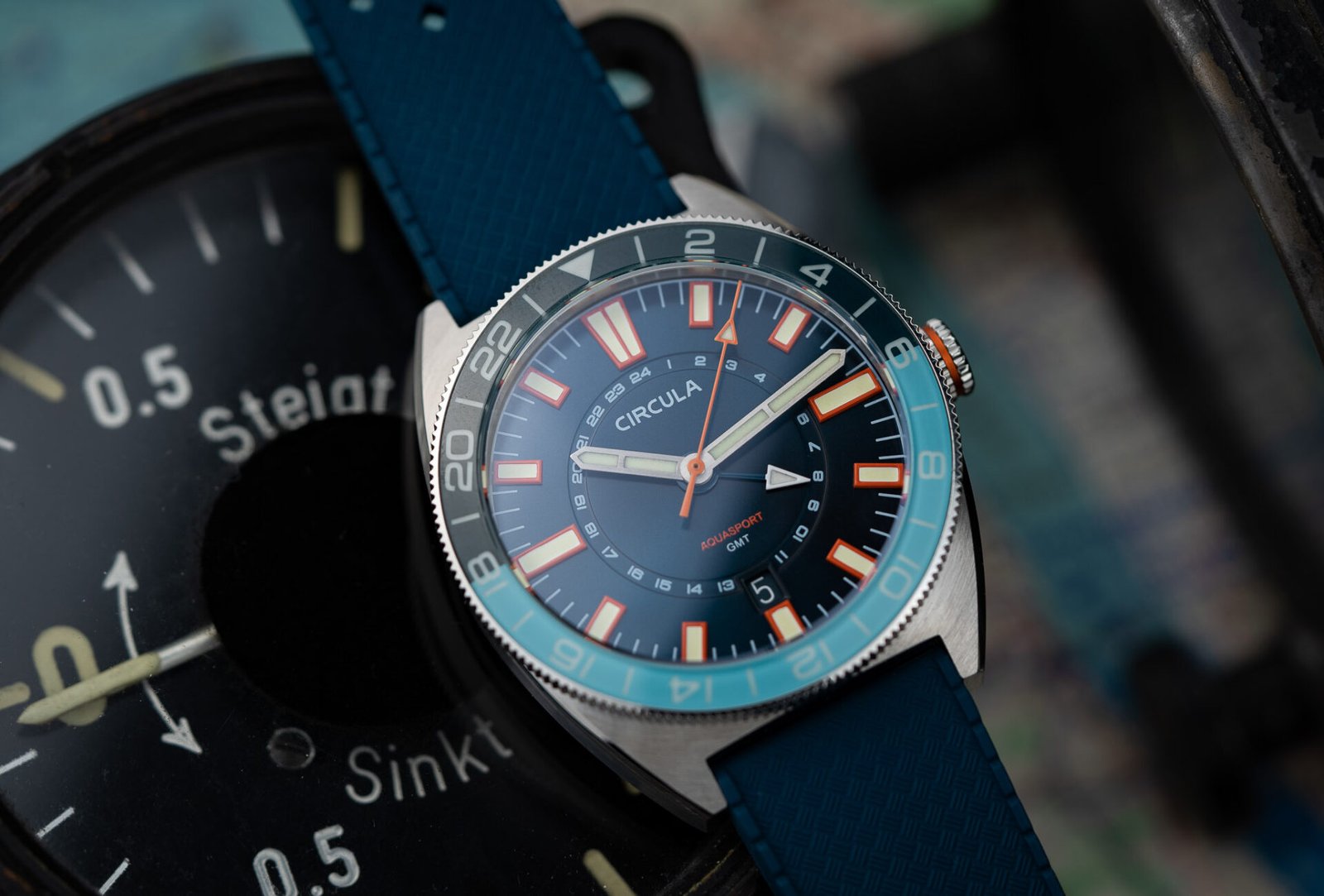 The last model that I will highlight is theAquaSport GMT. It uses the same visual language as the AquaSport but features a GMT complication, as you might have guessed. For me, the AquaSport GMT exemplifies the best of two worlds – diving and travel – brought together in a reasonably sized package while maintaining the brand's unique visual identity. Equipped with a movement Sellita SW300-2 of superior quality, the GMT AquaSport retains the diameter of the case of 40 mm, 46 mm lug to lug, a thickness of 13.4 mm and a space between lugs of 20 mm. Circula has fitted a 48-click bidirectional bezel and offers the wearer the ability to track two additional time zones by incorporating a second GMT scale in the center of the dial.
Conclusion: A brand with a great history and a promising future
The more I write about brands and watches, the more I realize how little I know about watchmaking. Not only that, but my tastes also change a lot over time, both in terms of the type of watches I like to wear and the type of brands that appeal to me the most. Well, since mid-2022, I've been very interested in independent brands that make solid watches and have an interesting history. Circula therefore corresponds perfectly to my watchmaking interests.
Cornelius' journey, being surrounded by watches and growing up with a father who lives and breathes watches (an unfortunate translation of an English expression), surely led him to take over the family brand. Or, to be more precise, to revive the brand and transport it safely into the zeitgeist (the zeitgeist) of the years 2018-2022 marked by the revival and promotion of historic niche brands. The most surprising and cool thing about Cornelius' story is that he works with his father, carrying on the family tradition.
If you want to know more about Circula and its collections, I suggest you visit their website here.