In our constantly evolving digital world, connected watches have established themselves as indispensable. These jewels of technology, combining practicality and versatility, are overflowing with features carefully designed to meet each individuality. However, what sum would it be fair to acquire this precious companion of modern life? Let's explore together the key criteria to consider before giving in to temptation.
To discover our wide selection of high quality connected watches, do not hesitate to visit our Connected Watches page on L'Heure Passion.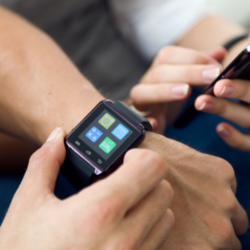 Understand the differences between types of smartwatches
Understanding the nuances between the various smartwatches available on the market is key to establishing an appropriate price.
There classic smartwatch is the most common, combining a diverse spectrum of features. It vibrates at the arrival of your messages and calls, orchestrates your agenda and informs you about the weather. Designed for perfect harmony with Android and iOS, it synchronizes with your smartphone via Bluetooth or Wi-Fi. Its cost varies between 100 and 400 euros, reflecting the diversity of brands and options available.

Affordable and discreet, the smart bracelet, focuses on tracking your health and physical activity. It records your steps, measures your distances traveled and monitors your sleep. For simple and economical sports monitoring, it is a wise choice, its price varying between 30 and 150 euros.

Passionate about sport and outdoor adventure, you will find, in the connected watch a rugged, water-resistant companion. Equipped with classic functionalities, it is enriched with additional sensors such as GPS, heart rate monitor or altimeter. Admittedly, its price, oscillating between 200 and 600 euros, is higher, but its resilience justifies this investment.
The criteria to take into account to determine the right price
To select the ideal connected watch, your budget matters, but also think about these essential criteria:
The operating system : Several systems are available, including Watch OS (Apple), Wear OS (Google), Tizen (Samsung) and Garmin OS. Your choice will mainly be dictated by the type of your smartphone and your personal taste. Watch OS watches have a higher cost, while those running Wear OS or Tizen are often more economical.

Fonctionnalities : The diversity of functions directly affects the price. Establish your needs: notifications, sports tracking, music management, contactless payment, and others, to better assess the appropriate amount.

The quality of the material : Made of various materials, connected watches vary in durability, comfort and aesthetics. The more expensive ones are usually made with high quality materials, such as stainless steel or sapphire crystal. Budget models, on the other hand, are made of plastic or aluminum. It is crucial to balance quality and budget.

Battery life : This criterion directly impacts the daily use of your watch. Some models offer autonomy ranging from 24 hours to several weeks. Watches with long autonomy are generally more expensive, but their acquisition can be profitable if you want to free yourself from frequent charges.
Conclusion: what price for a good connected watch?
Ultimately, the cost of a smartwatch weaves itself intimately around your needs, preferences, and budget. Armed with the criteria mentioned, you will be able to identify the right price to acquire your perfect connected watch.