The auction house Phillipsalways faithful to its high reputation and the exceptional watches it offers, invites us to meet on November 5 and 6 for a sale of modern and collectible watches, including exceptional pieces made by the great watchmaker George Daniels. We have prepared a small selection very oriented towards yellow gold.
A word about George Daniels
Let's start with a number. In his brilliant "career", the English watchmaker George Daniels only produced (or supervised the manufacture) 141 piecesof which 23 pocket watches and 2 wristwatches that he made entirely. Rest assured that a complete article concerning his person and his work will appear on the site in the coming weeks. To briefly tell you about his feats of arms, we must begin by evoking Abraham-Louis Breguet.
I who like to regularly quote you passages from his book "The art of Breguet", the 18th and 19th century watchmaker greatly influenced him. George Daniels received in his life the most beautiful rewards for his knowledge, their transmission, his manufacturing genius, and some remarkable inventions, such as double impulse escapement (which had been sketched by Breguet) of the Co-Axial escapement, allowing by its construction to drastically reduce friction, resulting in fewer interventions on the watch during its life, and also more precision. A great personality as interesting by his genius as his simplicity.
George Daniels Anniversary – LOT 30
To celebrate the 35th anniversary of his invention coaxialinvented in 1976 (but patented in 1980), George Daniels decided to produce 35 wristwatches, inspired by a wonderful tourbillon and chronograph pocket watch from 1994. The work on these 35 pieces was done with the collaboration of his successor the great watchmaker Roger Smith who produced the movements, leaving the execution and finishing to George Daniels.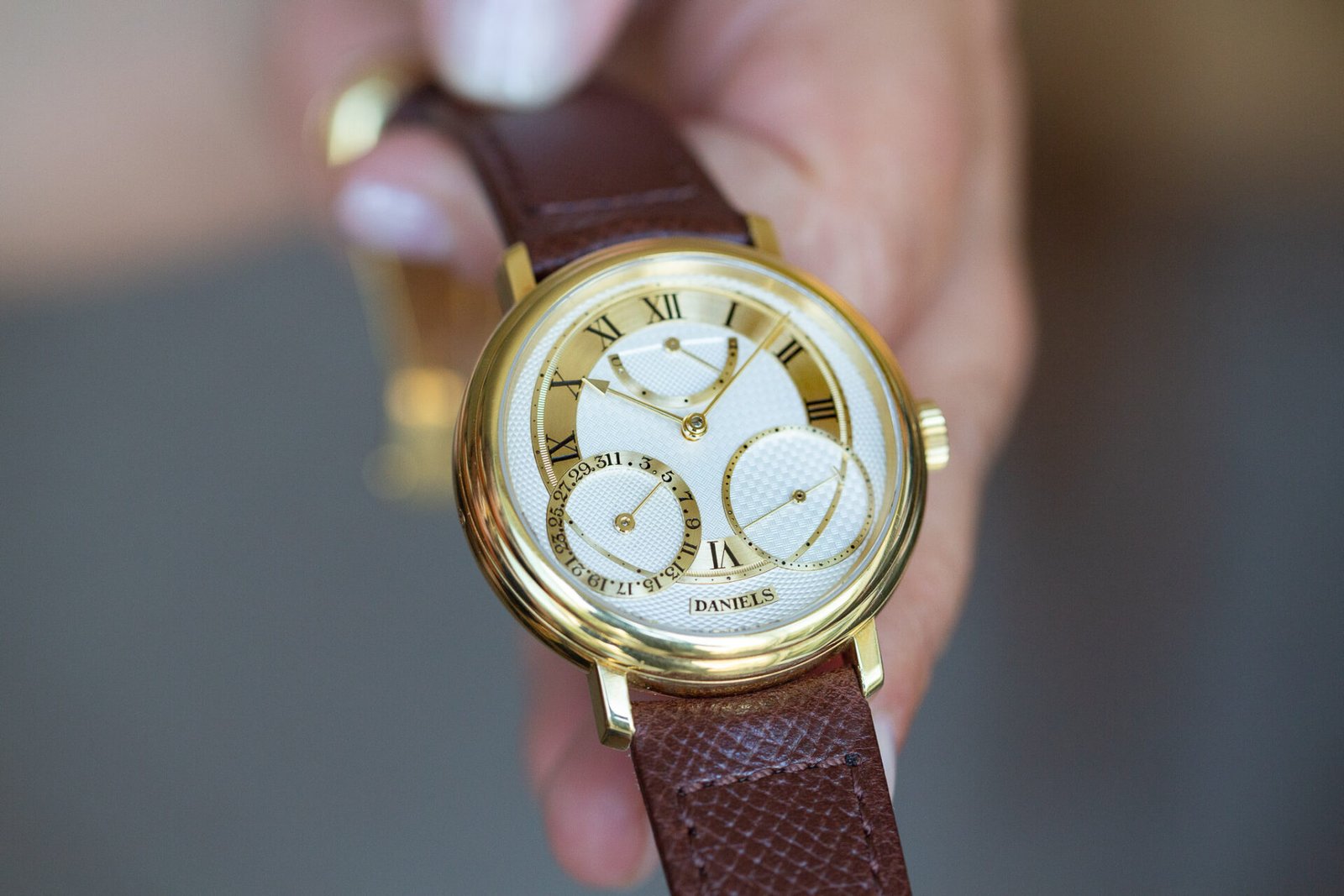 This piece is a summary of the story of George Daniels. An 18-carat gold piece equipped with a movement obviously specially developed which reveals a calendar complication in the lower part of the dial, close to a "big" small second, and a power reserve at noon. The madness of this piece, in addition to its movement part and its co-axial escapement, relates to the complexity of a dial with multiple reliefs and the diversity of guilloche and finishes it includes.
Of the 35 produced, this piece is number 24.
Estimate €312,000-623,000
George Daniels Anniversary
GEORGE DANIELS MILLENNIUM – LOT 141
In the same style as the anniversary piece I just mentioned, George Daniels produced some 48 copies in yellow gold of an equally exceptional piece for the transition to the 3rd millennium.
We are pleased to contemplate a dial that is still as well finished with its lot of reliefs and guilloches, which hides a sumptuous automatic movement with an off-centered and guilloché oscillating weight, very beautiful finishes, in particular an important engraving which runs over an entire part of the movement. We find our dear blued hands, which contrast with the mainplate and the golden bridges.
A watch that comes with all its original parts, box and booklets, but above all four handwritten letters by George Daniels himself for the first owner who entrusted the watch to Phillips. A small marvel in all respects, then.
Estimate 260,000-520,000€
George Daniels Millennium
George Daniels Spring Case Tourbillon – LOT 27
If you thought you saw the preceding lines very heavy (which is still the case) you are not yet ready for what will follow. Undoubtedly George Daniels' flagship piece of this Phillips sale. Know that this is one of two existing rooms of this model, made entirely by the master himself in 1992, and which he even had a lot of fun wearing for several years.
A piece that we obviously appreciate for its style and the complications it contains, but also for the construction of its cabriolet-style case, which allows you to read the information from the other side and contemplate the tourbillon with the snap of a finger. by pressing the small pusher on the edge. On the classic side always present in front of the gaze, we discover a dial in the pure George Daniels style, with a multitude of guilloches, and a very nice balance of the dial between a "big" small second at six o'clock and the display of the reserve walk at noon. On the other side, we find the display of the day and the date by two sub-dials, as well as the dance of the tourbillon, which never beats without its co-axial system.
A watch whose purchase threshold has been set at 1,030,000€ but which will achieve in my opinion a score well above by its rarity and its splendid realization.
George Daniels Spring Case Tourbillon
DE BETHUNE DB25 PROTOTYPE – LOT 136
Let's leave English watchmaking and the great George Daniels behind. But let's not leave the sphere of pieces that make us dream. Here a De Bethune piece prototype, owned by David Zanetta, who is none other than the co-founder of the brand. A part that foreshadows the DB25, but which is nevertheless very different in many details. On the other hand, it is similar to the DB25 with power reserve which appeared in 2007.
Inside we find the first automatic De Bethune caliber which was presented in 2006 and has a very fine 6-day power reserve, a balance wheel made of titanium and platinum as well as an anti-shock system which protects the bearings at beads of the automatic winding system.
We recognize in this piece all the spirit of the brand, which plays between the classic codes of watchmaking, mixed with a very futuristic look, in particular the exceptional openwork and dynamic lugs.
Estimate €41,800-83,600
De Bethune DB25 Prototype
ROLEX DAYTONA 6241 Paul newman – LOT 102
For the pleasure of the eyes and those who love gold Rolex Daytonas, this piece should please you. This is a reference 6241a rare reference produced a few years between 1966 and 1969and could not be more rare in an 18-karat gold configuration with a dial type Paul Newman. We find the beautiful characteristic of the 6241, namely the small recess around the crown to be able to wind it better.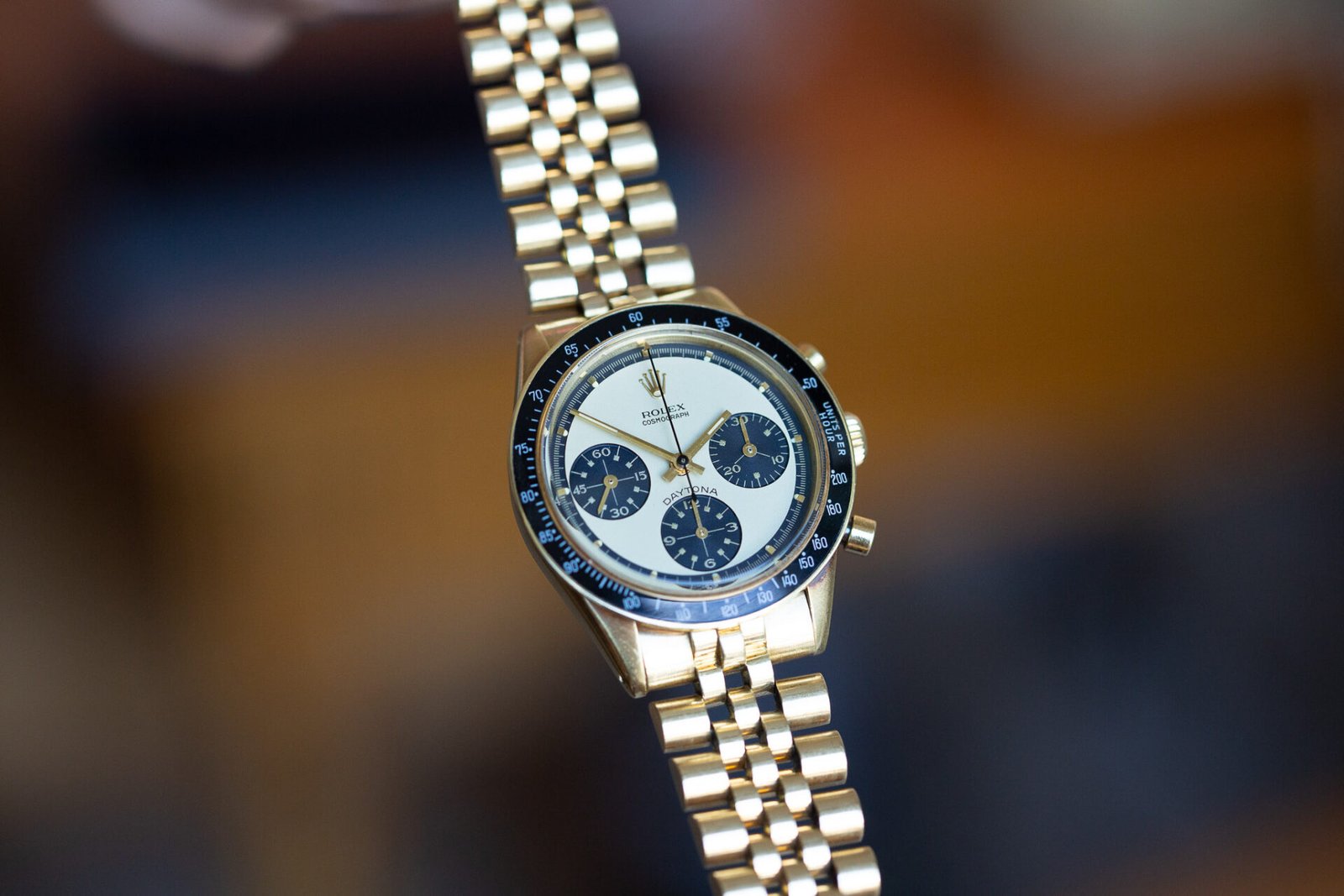 This watch has a magnificent cream dial with a grained texture, its tritium dots as well as the beautiful details that we appreciate on a Paul Newman type dial. The auction house adds that according to the information that watchmakers often leave on the back of the case to show that it has been serviced, it has passed through very few hands.
Estimate €418,000-836,000
Rolex Daytona 6241 Paul Newman
THE GENEVA WATCH AUCTION: XV
CATALOG
THE GENEVA WATCH AUCTION
Session 1 – November 5 at 2 p.m. (Lot 1 – 114)
Session 2 – November 6 at 2 p.m. (Lot 115 – 232)
Hotel La Reserve,
301 Lausanne Road,
GENEVA
The watches will be visible in Geneva from May 4 to 8 and the exhibition times are as follows:
Wednesday 2 November 2 p.m. – 7 p.m.
THURSDAY November 3 & Friday 4 November 10 a.m. – 7 p.m.
Saturday and Sunday 9 a.m. – 12:30 p.m.