You are a big fan of beautiful accessories. Skeleton watches are undoubtedly a must have for you as these objects represent a beautiful know-how. Some of the skeleton watches on the market are exceptional models that inspire more than one watch enthusiast. So, will you be able to recognize these watches? Answer in the following.
Recognized Skeleton Watch Brands
To begin with, it may be time to mark the occasion by trying to guess rather well-known brands in this domain. We give you some clues, the watches that follow were not created by accessible brands like Vulcain or HYT, which offer skeleton watches at more than 70,000 euros.
Find the first skeleton watch brand
The first brand that loves to innovate and offer its customers beautiful skeleton watches is a swiss brand (as is often the case). This brand over 140 years old and immense know-how in this field. It offers the self-winding watch with a thinnest skeleton tourbillon in the world. Originality? This brand knows!
So, have you guessed?
This brand is obviously famous in the world, we are talking about… Piaget.
A second brand of exceptional skeleton watches
The second manufacture that we highlight was founded quite recently, in 1995. She is best known for being one of the specialists in skeleton watches. Haute Horlogerie is obviously what best defines this brand. It offers watches inspired by racing cars like Lamborghinis. Do you see where we are coming from? You may have found the answer. If not, you are given a hint that the brand name is made up of a first and last name. So do you have it?
We're talking about… the Roger Dubuis watch brand, which offers exceptional skeleton watches that are original in every way!
Which skeleton watches should you buy in 2023?
A watch for athletes
Now let's talk about more specific watch models and start to sports fans and especially tennis fans. If we tell you that this skeleton watch is the reference of a great player like Nadal? The athlete wears it regularly and cannot live without it.
The very precise mechanics of this watch can be perfectly observed with this model of the Richard Mille brand. So what's his name? Its price is very expensive, we won't tell you more!
This exceptional skeleton watch is the… Richard Mille 27-03!
The most discreet skeleton watch
If someone talks to you about discretion and collaboration with a renowned artist, perhaps ideas are already coming to your mind. This Swiss-made watch has a transparent design which makes it at the same time original and discreet.
The artist who had the chance to collaborate with the brand to design this watch is… Richard Orlinsky. You must know this famous sculptor and his King Kong, but do you know the watch we are talking about? A little extra hint. This watch was produced in 90 copies, which makes it unique in its kind.
So drum roll! You have a few seconds left to guess…
We are talking about the Hublot brand watch, the Classic Fusion Tourbillon Orlinski!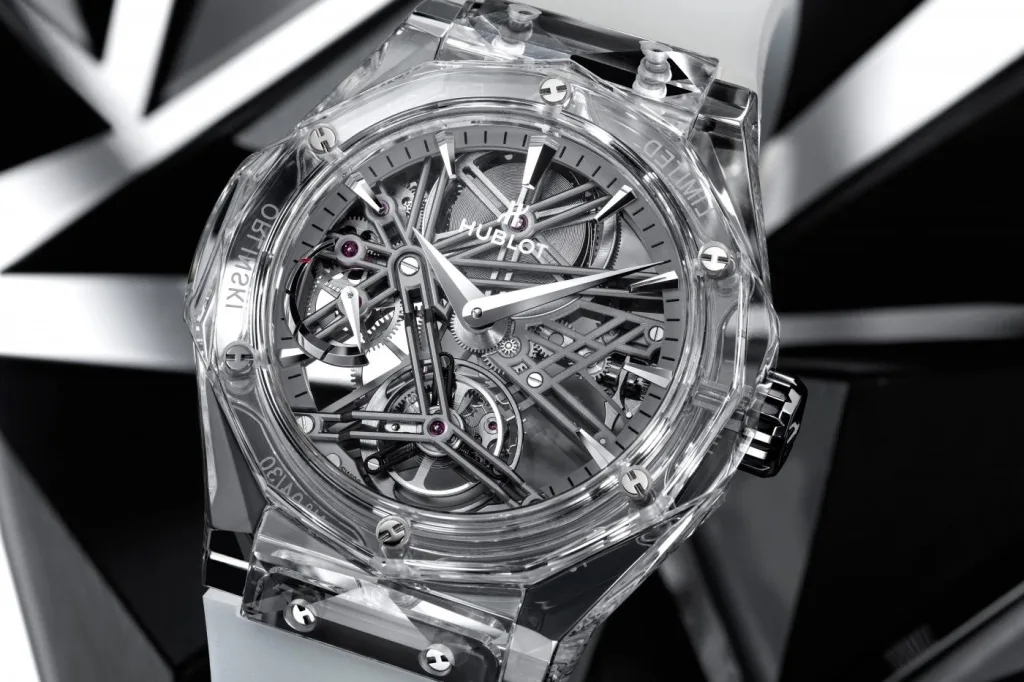 Vintage also has its place in an exceptional skeleton watch
To finish before the bonus question, let's talk about a last one for vintage fans and those who love the classic leather watch. This is a custom designed watch for those who would appreciate getting one. The strap can be chosen in brown leather or black leather. Its design is quite classic unlike the watches presented previously.
It is the Panerai brand that offers this model unique that allowsdisplay moon phases. This watch was released in 2018 and therefore offers fairly recent technology.
So which one are we talking about? Be careful, this watch is so unique that the name is… long!
This is the Astronomo Luminor 1950 Tourbillon Moon Phases Equation Of Time GMT!
Bonus question with expensive skeleton watches
Finally, here is a bonus question with watches that are, to say the least, expensive but which are exceptional skeleton watches!
It's a watch offered in titanium the price of which is offered to more than 650,000 by the Piguet brand.
We give you the choice between:
The Audemars Royal Oak Grande Complication Skeleton
The Skeleton 3878
The Magistere Tourbillon
So, have you found it? This watch at over 600,000 euros is the Audemars Royal Oak Grande Complication Skeleton.