Thanks to Apple and Samsung, it is impossible to have a mobile ecosystem these days without offering a range of high-end smartphones, a tablet, wireless headphones and a watch. Google now has a full Pixel ecosystem by offering the new Pixel flagship smartphones, the Pixel Tablet, Pixel Buds headphones and the Pixel Watch. Next October, we expect Google to unveil the Pixel 8 and Pixel 8 Pro, as well as the Pixel Watch 2.
We expect Google's Pixel Watch 2 to appear in the fairly near future, and the leak new watch faces for the smartwatch seem to suggest the device is indeed about to be unveiled.
These watch faces were kindly provided by Android Authority, and there are four in total. They will apparently be exclusive to the second generation of the watch, and they all offer plenty of options in terms of customization.
The four watch faces are Accessible, Analog Bold, Arc, and Bold Digital. If the rumors are true, we'll see these watch faces and the smart watch associated in October during the presentation of the Pixel 8.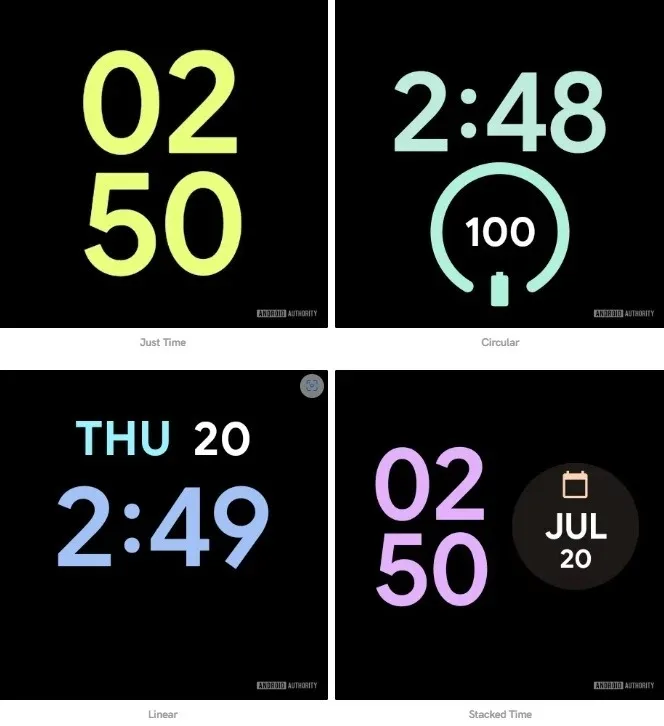 While it's disappointing that these watch faces won't be part of the original Pixel Watch launched last year, it's also worth bearing in mind that Google has packed several new features into the wearable over the past few months. .
4 exclusive dials
The first leaked watch face is "Accessible": it's very simple and easy to read, and you can have a variety of complications alongside the time (including the current battery level of the watch and the date). Then there's Analog Bold, which has a chunky hour hand, chunky dial, and a variety of color options to choose from. The dial can be customized in various ways, displaying the date and alarms if required. The Arc watch face is more complex, with 6 variations in total. These variants change the number of complications and their location, and control the display of different elements such as the date.
Finally, in watch face leaks, we have Bold Digital, which is based on one of the lock screen clocks recently added to Pixel smartphones running Android 13. Again, there are several options to choose from. in terms of colors and complications.