Apple just revealed the Watch Series 9 at the "Wonderlust" event, and it brings several improvements over the Watch Series 8, including a new S9 chip, brighter display, NameDrop, and more . However, what is worth looking into is the new Double Tap feature.
Thanks to the advanced neural engine of the S9 chip, The latest Apple Watch Series 9 comes with a new gesture that allows users to multitask, like answer a call, snooze alarms, start a stopwatch, etc., all with double taps of the index finger and thumb together.
Usually, we interact with the Apple Watch using its touchscreen. While this allows for precise on-screen taps, users can't do much if their other hand is busy. The Double Tap gesture fills this gap, allowing users to interact with the watch in a new way, adding to existing gestures, like the swipe (swipe), raise your wrist and mute with the cover.
As noted earlier, you can double-tap the index finger and thumb of your watch hand to activate the Double Tap gesture, which acts as the primary button in an app.
So if you're in the Music app, you can use the Double Tap gesture to play/pause music. If your alarm is ringing, you can use the gesture to pause it. Likewise, you can find more meaningful ways to use gesture to accomplish tasks faster and easier.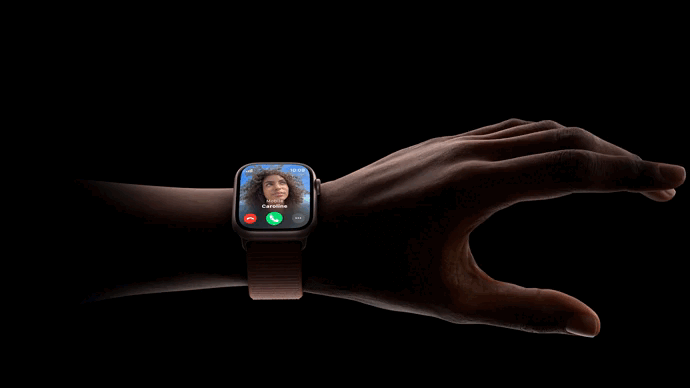 Available next month
Finally, you can use this feature as a remote camera shutter. You can use it to open the smart battery on the watch face, just like you would by turning the digital crown.
The new gesture builds on the S9's neural engine, which uses the watch's gyroscope, accelerometer and optical heart rate sensor. It incorporates machine learning to detect tiny changes in blood flow when double tapping the index finger and thumb. Double Tap will be available in an Apple Watch Series 9 software update next month.
Fortunately, we won't have to wait very long to get answers to our questions. The Apple Watch Series 9 is currently on sale from 449 euros. The other big star of Wonderlust 2023 was the iPhone 15. We got our first look at the titanium-clad iPhone 15 Pro, as well as the Pro Max model's powerful 5x periscope zoom camera.