When most people travel, they don't necessarily think of watches. However, the real watch collectors and watchmaking enthusiasts want to carry many, and often very expensive, pieces. That's why we've put together the top 7 tips for travel with your watches.
1/ The choice of watches to take away
Before packing your suitcase and taking any of your watchesit is interesting to know the activities planned during your trip.
In this way, you will be better able to choose the right pieces to take with you. For example, if you have planned to do scuba diving or water activities, it makes sense to take a diving watch.
On the contrary, if you plan to frequent chic places and renowned restaurants, it is better to opt for a dress watch. We therefore recommend that you choose your tocantes according to what you have to do on site.
2/ Use the GMT function
Some watches have the GMT function. It is a horological complication which makes it possible to have two time zones available, the Rolex GMT-Master is one of the best-known watches of this type.
There GMT complication generally works like this:
You set your local time on the main dial
You set an alternative time on a sub-dial
Either way, these watches allow you to keep time in two spindles different. This tool is incredibly convenient for travelers.
3/ Choose insurance for your watches
You have two options when it comes to insuring your tocantes.
travel insurance
jewelry insurance
Travel insurance covers a variety of possible issues, including health issues and theft. Although this service is useful, it may not be sufficient for watch owners. Indeed, coverage limits are often quickly reached. If you own a luxury watch, these amounts will not suffice. The second option is jewelry insurance, which most mainstream insurers offer and is probably a better idea for those of you with expensive pieces.
4/ Invest in a watch roller
Each watch collector must have a storage perfectly adapted for the storage of its precious jewels. There are a variety of beautiful cases to display them at home, but many of them are too heavy and bulky for travel.
Rather than risk scratches by keeping them loose in your bag, you should consider buying a watch roller. Not only will this container keep your belongings safe, but they are incredibly fun to open, close and pack. A roll is almost essential for travel with watchesso do not hesitate to get one.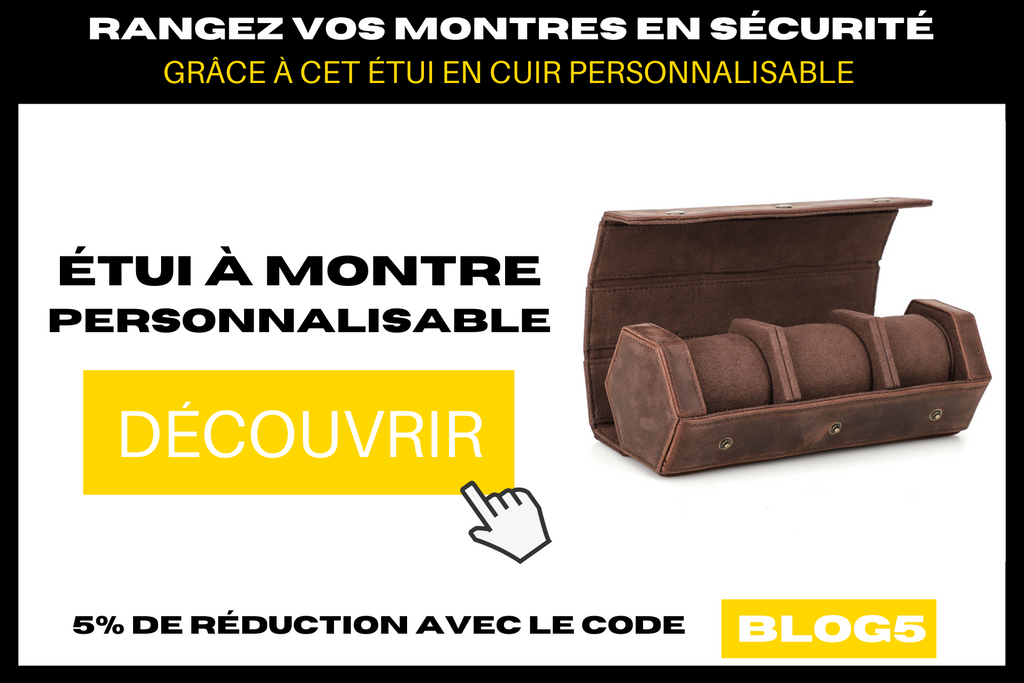 5/ Use the safe in your hotel room
Although Airbnb and other booking platforms are common these days, many of us still stay at hotels. Unfortunately, there is always a chance that your belongings will be stolen when you do.
This event can be tragic for the watch owners, as their accessories can be worth several thousand dollars. The best way to keep them safe is to put them in a safe. Almost every hotel has them and taking a minute to secure your precious watches is a good idea.
6/ Maintain your watches before leaving
If you have to be away from home for a while, you want your timepieces to be usable throughout the trip. That's why having them checked before you go on a trip is a good idea. Your quartz watches will receive a new battery and your mechanical watches And automatic watches will benefit from the necessary development.
7/ Keep your watches with you on the plane
Last tip and one of the most important: keep your watches close to you on the plane. If you only have one, you can obviously carry it on your trip. If you are bringing several watches, place your roll of watches in your hand luggage. Indeed, it happens that airlines misplace certain checked bags (or that they are stolen/mishandled). It would be awfully sad to lose your entire collection…