On July 20th, the new epic thriller from Christopher Nolan the film Oppenheimer where different period clocks of the house appear Hamilton. Specifically, there have been six watches, sought after among vintage collectors from around the world, with which the fundamental role of time in Nolan's new and fast-paced film is underlined.
For J. Robert Oppenheimer, played by Cillian Murphy, three different models were selected, a Cushion B, an Endicott and a Lexington, perfectly embodying American design heritage with elegant details. art Deco. All three models symbolize the precision and focus of science, but with a modern twist of uniqueness. Kitty Oppenheimer, played by Emily Blunt, wears a 14-karat gold Lady Hamilton A-2, a piece replete with intricate ornamentation. Hamilton's military splendor comes into play in the Piping Rock and Military Ordnance watches on the wrist of Lt. Gen. Leslie Groves, Jr., played by Matt Damon.
At the heart of the film world for over 90 years, Hamilton is the watch brand for filmmakers. Their collaboration with Hollywood and the film industry began in 1932. Since then, Hamilton watches have appeared in more than 500 major motion pictures. Behind every appearance of a Hamilton on the big screen hides a close job with the filmmakers. The collaborations range from the creation of a bespoke watch props, transfer of current collection pieces, to the search for historical watches that fit the period of the film. In all cases, each watch is carefully chosen and designed to perfectly define the characters and capture the filmmakers' vision in detail. Hamilton watches figure prominently in the argument for Oppenheimerthe Christopher Nolan film from Universal Pictures that is in theaters from July 20, 2023. Obtaining the watches, however, was not an easy task since they were obtained from collectors around the world.
About Oppenheimer
"Written and directed by Christopher Nolan, OPPENHEIMER is an epic thriller shot in IMAX® that transports viewers into the pulse-pounding paradox of an enigmatic man who must risk destroying the world to save it.

The film stars Cillian Murphy as J. Robert Oppenheimer and Emily Blunt as his wife, biologist and botanist Katherine Oppenheimer. Oscar® winner Matt Damon plays General Leslie Groves Jr., director of the Manhattan Project, and Robert Downey Jr. plays Lewis Strauss, a founding member of the United States Atomic Energy Commission.

Oscar® nominee Florence Pugh is psychiatrist Jean Tatlock, Benny Safdie is theoretical physicist Edward Teller, Michael Angarano is Robert Serber, and Josh Hartnett is pioneering American nuclear scientist Ernest Lawrence.

OPPENHEIMER it also features Oscar winner Rami Malek and once again reunites Nolan with eight-time Oscar® nominee actor, screenwriter and filmmaker Kenneth Branagh.

In the cast we also find Dane DeHaan (Valerian and the City of a Thousand Planets), Dylan Arnold (Halloween Night Saga), David Krumholtz (The Ballad of Buster Scruggs), Alden Ehrenreich (Solo: A Star Wars Story) and Matthew Modine (The Dark Knight Rises).

The film is based on the Pulitzer Prize-winning book American Prometheus: The Triumph and Tragedy of J. Robert Oppenheimer, by Kai Bird and the late Martin J. Sherwin. The film is produced by Emma Thomas, Charles Roven of Atlas Entertainment and Christopher Nolan.

OPPENHEIMER is shot on a combination of 65mm IMAX® and wide-format 65mm motion picture film, and includes, for the first time ever, black-and-white IMAX® analog footage.

Nolan's filmography, with titles like Tenet, Dunkirk, Interstellar, Origen and the trilogy The dark knighthas grossed more than $5 billion at the box office worldwide and has received 11 Oscars® and 36 nominations, including two for Best Picture."

Hamilton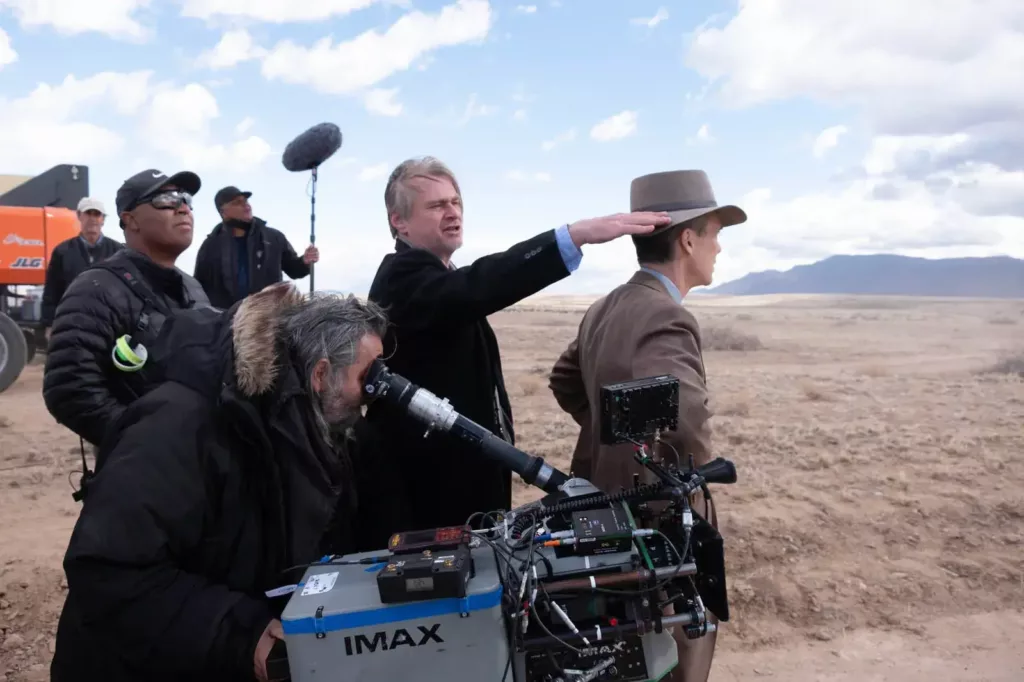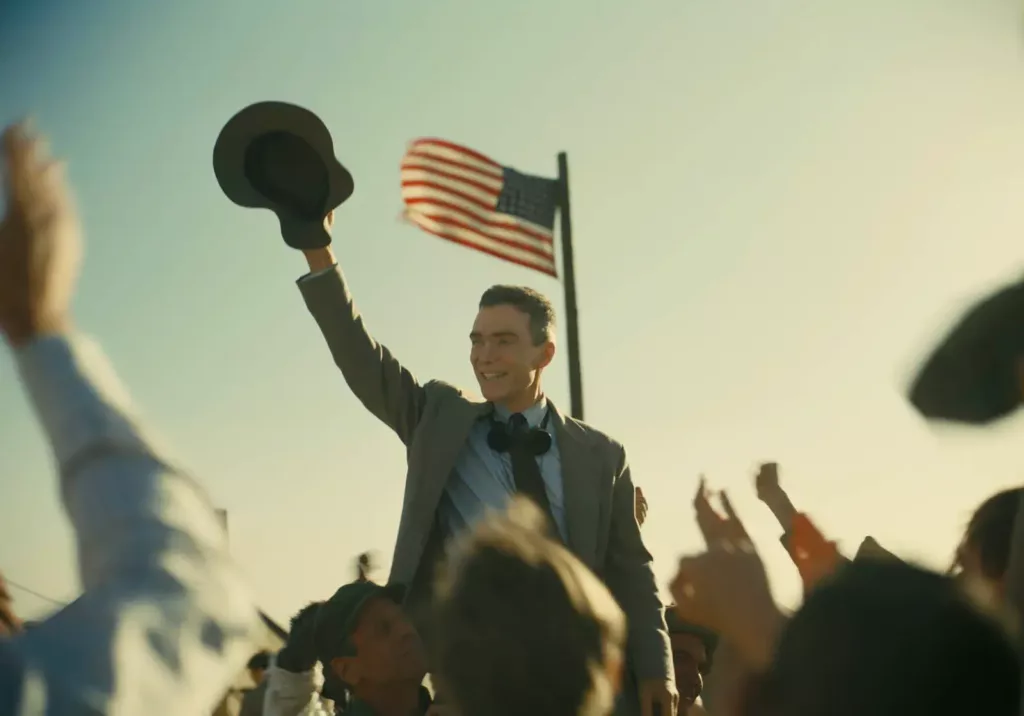 Hamilton watches at Oppenheimer

1 – Cushion B (1930s), on the wrist of J. Robert Oppenheimer
| Feature | Description |
| --- | --- |
| Case | Gold plated 26.7 x 26.7 mm |
| Thickness | 10.8 mm |
| Width of Handles | 15 mm |
| Ball Color | White/Cream |
| Motion | Mechanical Movement |
| Bracelet | Brown Lizard Leash |
2 – Lexington (1940s), on the wrist of J. Robert Oppenheimer
| Feature | Description |
| --- | --- |
| Case | Gold/Silver plated 29 mm |
| Thickness | 10 mm |
| Width of Handles | 16 mm |
| Ball Color | Black |
| Motion | Mechanical Movement |
| Bracelet | Green Calfskin Strap |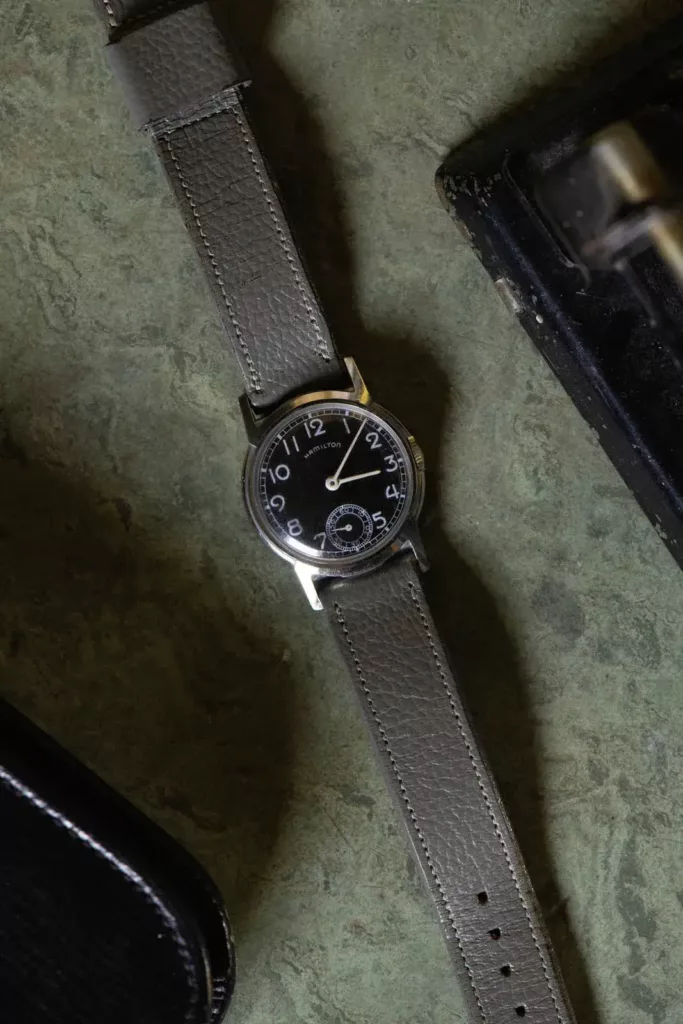 3 – Endicott (1940s), on the wrist of J. Robert Oppenheimer
| Feature | Description |
| --- | --- |
| Case | Gold plated 27.8 mm |
| Thickness | 10 mm |
| Width of Handles | 16 mm |
| Ball Color | Champagne |
| Motion | Mechanical Movement |
| Bracelet | Brown Calfskin Strap |
4 – Lady Hamilton A-2 (1947), on the doll of Kitty Oppenheimer
| Feature | Description |
| --- | --- |
| Case | 13.5 mm x 15 mm Gold plated |
| Thickness | 8.7 mm |
| Ball Color | Blanco |
| Motion | Mechanical Movement |
| Bracelet | Brown Calfskin Strap |
5- Piping Rock (1920s), on the wrist of the Lieutenant General Leslie Groves
| Feature | Description |
| --- | --- |
| Case | 30mm x 30mm Stainless Steel |
| Thickness | 9 mm |
| Width of Handles | 16 mm |
| Ball Color | Champagne |
| Motion | Mechanical Movement |
| Bracelet | Black Calfskin Strap |
6 – Military Ordnance (1940s), on the wrist of the Lieutenant General Leslie Groves
| Feature | Description |
| --- | --- |
| Case | 32mm Stainless Steel |
| Thickness | 11.7 mm |
| Width of Handles | 15 mm |
| Ball Color | Negro |
| Motion | Mechanical Movement |
| Bracelet | Green Nylon Strap |