For several years, connected watches have been among the most used accessories. And among the reference brands in the field, it is impossible not to mention Garmin. With a very wide range of models, each with their own characteristics and advantages, it is very likely that you will find the one that suits you best. But how to choose your connected watch model? How do you know which model will best suit your needs? This is what we will try to see together!
Comparison of the best connected watch models from Garmin
As we have just said, Garmin is never short of models when it comes to equipping yourself with a connected watch. We have then selected the 5 best watches of the brand in order to give you a complete comparison.
The Garmin Fenix ​​7X, Solar Edition
Connected watches are real tools for athletes, and Garmin has understood this. Indeed, its Fenix ​​7X model is very often considered by enthusiasts as the brand's best model at the moment.
This little gem of technology is equipped with the brand's latest GPS watch technology. And that's not all. Think of any features present in this type of accessory, the Fenix ​​7X is equipped with it.
A GPS watch with amazing functionality, but also adaptability: its program incorporates a wide range of health monitoring, and this, for an astonishing range of physical activity. Whether you are a fan of skiing, mountain biking, climbing, running or even swimming, you will find an impressive number of exercises to perform.
All this with a certain elegance, due to the solar charge that softens the features of this sporty GPS watch.
Here is a short summary of its technical characteristics:
A screen resolution of 280 × 280 pixels
A screen size of 1.4 inches
Dimensions of 51x51x14.9 mm
Android and IOS compatibility
The Garmin Forerunner 955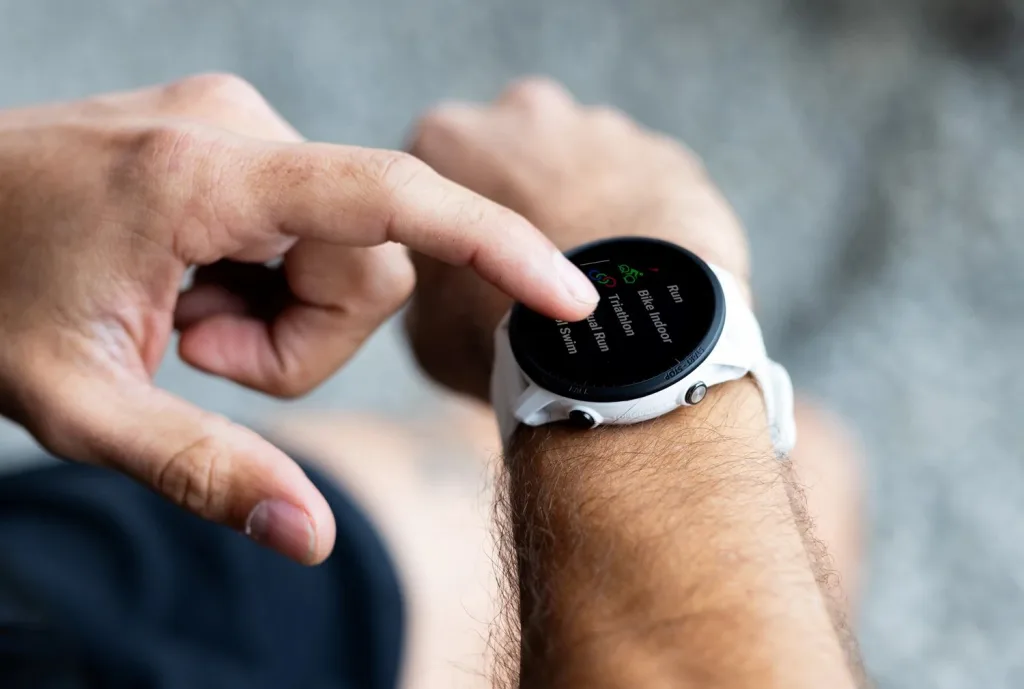 You will surely have guessed it from the title of this model, the Garmin Forerunner 955 is the most powerful connected watch for runners.
With this Garmin brand timepiece, you will be able to have access to a very wide range of features to monitor your performance and your physical condition.
In particular, we can mention a few features such as the presence of a multiband GPS, all new features allowing you to prepare for training, but also a heart rate monitor or a body battery. The precision of the sensors of this smartwatch is also to be highlighted.
Of course, even if the Forerunner is more suitable for running, it can also accompany athletes in the exercise of other activities, occasional or not.
Do you want to know more about its technical characteristics? Here are a few :
A screen resolution of 260 × 260 pixels
A screen size of 1.3 inches
Dimensions of 46.5 × 46.5 × 14.4 mm
Android and iOS compatibility
The Garmin Vivoactive 4
The Garmin Vivoactive 4 is:
A screen resolution of 260 × 260 pixels
A screen size of 1.3 inches
Dimensions of 40.4 × 40.4 × 12.4 mm
Android and IOS compatibility
Autonomy of 8 days
But it is also and above all the Garmin watch considered to have the best value for money.
Unlike the first two models that we have just presented to you, the Vivoactive 4 model is much more focused on monitoring the health and physical condition of its user. Its practicality is a great advantage, because it is possible to connect it to your smartphone in order to have access to many additional functions.
Even if she is still able to accompany you on the exercise of many physical activities, she will be very useful to you in the search for a higher quality well-being accompaniment. For example, you will be able to analyze the data concerning your breathing or the oximetry of your pulse.
But then why the Vivoactive 4 can not be rivaled in terms of value for money. This is explained by its great multidisciplinarity, because in addition to its well-being support, it will follow you in all your sporting activities, but that's not all. Its autonomy and its resistance to shocks make it an unequaled product, for a very reasonable price.
The Garmin Venu 2 Plus
Because not everyone wants their connected watch to be entirely dedicated to sports use, Garmin is presenting a more lifestyle model.
The Garmin Venu 2 Plus is a perfect mix. Indeed, it is possible to find both tools allowing you to monitor your physical condition, but you can also use your watch in daily use thanks to additional functions.
Need an example? You can answer your calls from your wrist without having to take out your phone, or benefit from the help of a voice assistant.
This watch is therefore the ideal compromise for people who practice sport on a regular basis, but who do not wish to own a timepiece for which this will be the only concern.
Here are the different technical characteristics of the Garmin Venu 2 Plus:
A screen resolution of 416 × 416 pixels
A screen size of 1.3 inches
Dimensions of 43.60 × 43.60 × 12.60 mm
Android and iOS compatibility
Autonomy of 9 days
The Garmin Forerunner 745
A screen resolution of 240 × 240 pixels
A screen size of 1.2 inches
Dimensions of 43.8 × 43.8 × 13.3 mm
Android and iOS compatibility
Autonomy of 7 days
Here is what the Garmin Forerunner 745 offers you. If the 955 version is particularly suitable for runners, this one will be the best friend of all triathlon enthusiasts.
Indeed, it contains an impressive number of features, but also ranges of exercises specially designed for triathletes. You will find most of the sensors present in the version for runners, with however a list of measurement tools much richer, with in particular the power of cycling or the recovery time.
And since comfort is never to be neglected, the Garmin Forerunner 745 is the brand's lightest model despite the presence of all these features. An asset also for the comfort of the eyes, this model being one of the most elegant of the brand.
How to choose your connected watch?
The best advice we can give you to help you choose your connected watch is to define the type of use you want to make of it.
For what use?
Indeed, as you will have understood from reading the descriptions above, each of the models has defined, but above all specific characteristics.
Some of them will be intended for much more sporty use, such as the Forerunner, and others will be considered more utilitarian on a daily basis, such as the Garmin Venu 2 Plus.
The presence of certain features will have a very big impact on the final price of your purchase. It is therefore preferable to know precisely that they are the ones you could not do without on a daily basis.
For which smartphone?
One of the main advantages of Garmin brand connected watches is that all models are compatible for both iPhone and Android. Advantage that it is important to underline, because this is unfortunately not yet the case within all brands.
So, even if it may seem obvious, it is still important to remember: be sure to take the type of smartphone you have into account when choosing your model. It is not uncommon for some users to find themselves unable to make full use of the features of their watch, due to a lack of a compatible device.
For what budget?
Finally, the last advice we can give you is to define the amount of your budget before your research.
It will then be much easier for you to segment your searches and not find yourself lost among the endless choices offered by the market.
For small budgets, do not panic! The most affordable watches are not necessarily poor quality timepieces. This is a received idea that it is important to deconstruct.
In summary, Garmin brand connected watches are very good models to turn to when you want help both during sports sessions and in everyday life. It's all about knowing your needs and wants. This will allow you to choose the most suitable model according to the use you would make of it.